Introduction
The Fake Hub Network is a group of seven sites which provide different types of fake situations. Some of the situations include fake taxi drivers, doctors, cops, and casting agents get hot, amateur girls to strip down and fuck them. All of the videos are in High Definition. By becoming a member you gain access to unlimited downloads, seven websites, fast streaming, and daily updates. The websites are mobile friendly and stream in high quality on all devices. In addition to the large amount of videos accessible there is supplemented by live cams for your enjoyment. The sites are updated every day, so you will never run out of hot scenes to get you off.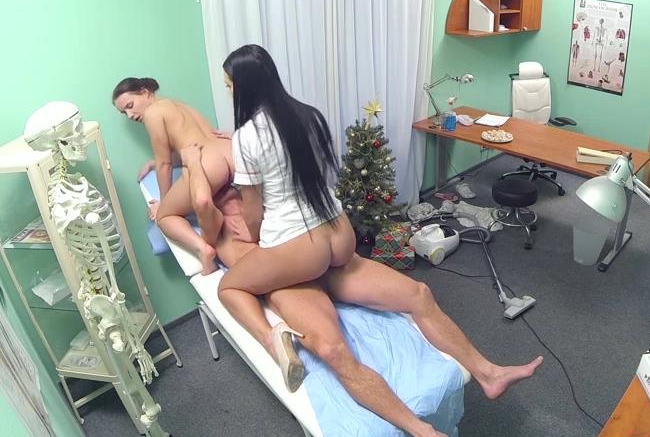 Site specs
The layout is unique and easy to use. On the top there are links to each website. So, you'll begin by choosing what kind of scenario you would want to watch on this reality porn site. If you'd like to browse through all the different scenarios just scroll down. There will be two tabs just above the videos; one will sort the videos by latest updates and the other sorts them by most popular. The rest of the page is filled with tiled photos that link you to each video. The website is filled with tons of videos. All seven sites are updated daily, so more content is added. You can't run out of hot videos! Once you become a member you gain access to unlimited downloads, fast streaming on all of your devices, HD videos, live cams, and multimedia formats. The sites are 100% secure and offer anonymous billing for all of their clients. You can rest assured with their hacker proof content and 24/7 technical support available.
The movies and the girls
This is a reality porn site, which means there are girls of all kinds available. These girls are hot. Some of them look like professional porn stars and others look like your cute ex girlfriend. In the fake hospital patients come in to have their ailments cured and the doctor cures it with his hard cock and wet nurses. In one of the videos a girl comes in complaining of back trouble. The hot blonde nurse preps her by massaging it. The girl reveals that she is bisexual and the two play with one another. When the doctor comes in to examine the girl, both ladies are fully dressed again, but the nurse fills him in on what she discovered in his absence. In cahoots with the doctor, the nurse decides to leave the two alone so he can try to seduce the patient. The doctor asks the patient to undress and lay down so he can massage her back. It's not long before she allows him to slip his fingers into her pussy.
She resists a bit, saying that her boyfriend is in the waiting room, but he simply reminds her that he is a doctor and good at keeping secrets. He then slips is cock inside of her and she lets him fuck her wet pussy right there on the exam table. Once he's done fucking her she enjoys sucking him off. She is a patient who knows where to go for all of her ailments. In the fake cop videos sluts are disciplined by hard cocks for their transgressions. In one video a tanned blonde takes a cop's cock into her mouth, bobbing ferociously up and down while his partner explores her pussy and ass with his mouth and fingers. It's not long before she's bouncing between the two of them, pinned and being fucked by both sides. In another video a curvy brunette is ordered to remove her panties so the cop can inspect her pussy. He then commands her to get out of the car and bend over the hood of the cop car. He fucks her hard until she has paid in full for her unlawful ways. The fake agent series is a set of films of girls doing whatever they need to in order to make it on the big screen.
There are four sites to choose from: Fake Agent, Fake Agent UK, Public Agent, and Female Agent. These girls are gorgeous and will do anything. In one film the agent tells the girl that they will not just want to see a blow job, but they'll want to see the whole cock disappear down her throat and that's exactly what she gives him, playing with his balls the whole time. Most of the fake agent interviews are conducted by guys, but on the female agent site you can find Celine, Sylvia, and Cynthia conducting hot and steamy interviews. They doesn't just interview men either, there are plenty of females they coerce into getting naked for the camera as well!
One of the videos begins with a pizza being delivered late to an irritated agent. She asks him if he knows where he is and that they are looking to hire talent. She is slightly demeaning to the muscular man, ordering him to get naked and lick her pussy right off the bat. The Fake Taxi site is dedicated to a cab that goes around picking attractive people up. During the ride the cab driver hits on the girls and does his best to lure them to bed. In one the driver dresses like Santa and picks up two girls who are dressed as elves. Both of them are horny and hit on the driver. It isn't long before he is in the back seat pounding them with his large cock.
In few words
Fake Hub is the doorway leading to seven sites of pleasure. It provides reality porn, filled with all kinds of hot women ready to have their debut on film. The site is secure and offers anonymous billing. There are daily updates, unlimited downloads, and fast streaming of all the content. It's mobile friendly and offers live cams for you to watch. This truly is a one of a kind site!

Check out the other best pay porn sites OR read more on Fake Hub from other popular review sites.