Introduction
Are you tired of watching boring sex scenes? If you are tired of watching typical porn films and want, something vicious then BrutalX is the perfect site for you. BrutalX is a website for those who love watching bitches banged hard in front of the camera. You should never ignore this site especially if you enjoy hardcore sex. BrutalX is a good site for porn addicts that love vicious sex as the site has many awesome videos that are truly breathtaking. This website is a good source of hardcore films wherein girls are disgraced and disciplined in ways you cannot imagine or maybe you have an idea even dreamt fucking a girl very hard, but just haven't seen a film that turns your dream into reality. If so, you should definitely sign up as a member since the site deliver what it promises. What does the site promise members? The site promise to deliver fetish fucking that will get you excited and horny. The website cool content is going to make any fetish addict cry, they are so good that you will be able to forget things for a while. Aside from having awesome hardcore films, know that the site allows downloading of episodes you want to watch later. The site has made downloading and streaming available to members who are often busy at work. Downloading your favorite episode to watch later or add to your collection is a good idea since it is free.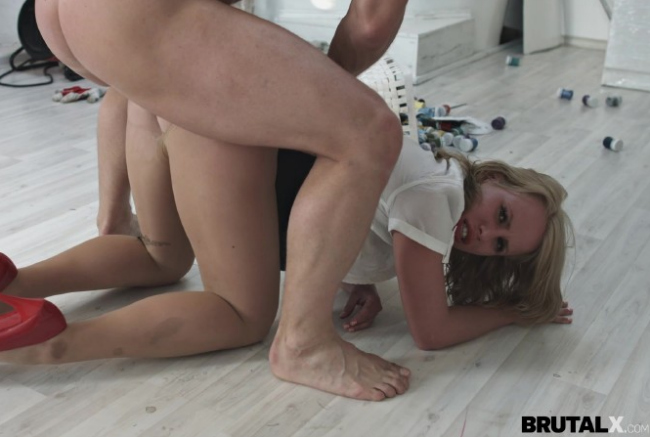 Site specs
BrutalX site design is just average looking, a typical porn website. But, the site simplicity is a good thing because the layout makes navigation easier for users. You can easily find the girls or episode you wish to see with just a few clicks on your mouse. As for the site features, rest assured that, they have thought of everything so you can expect features that will make your time on the site hassle free. What are the features that you can expect from this site? BrutalX has bonuses and freebies for its members and one of them is the free bonus sites. The site is part of a network called the Dirty Flix Network and once a member you get free access to all the sites under the network such as FuckingGlasses, X-Sensual, MakeHimCuckold, PrivateCasting, and TrickYourGF. On the website, top of the page you will find the tab that will take you to the different sites just scroll down and click through the site you wish to check out. That's how easy to access the free bonus sites that come with BrutalX memberships. If the bonus site sounds exciting already, know that it is just icing on the cake because there is more. This site has awesome benefits awaiting its members like high-definition videos that you can download. All the videos on the site are good, thanks to the 4K Ultra HD also known as UHD you get sharp images. You can clearly see each scene even if you stream the videos. Yes! Streaming option is available for those who hate downloading movies or just want to watch the episodes right away. The site download speed is good, so no need to worry unless you have a bad internet connection. By the way, the videos are available for download in multiple formats like Windows Media and mobile ready. So, you can watch vicious porn session anytime and anywhere you go. BrutalX provides daily updates to keep members informed about upcoming new videos. They regularly update the site to give you fresh videos to watch and enjoy whenever you want to jerk off. The site also has customer support service to assist members on whatever issues that may arise from their membership. Most importantly, the site is safe to use that is why you do not have to worry about giving your personal information.
The movies and the girls
BrutalX has quality content for fetishists out there. The site videos, which mostly feature innocent looking European and Russian beauties, are simply awesome. These girls are hardcore models that you will love seeing are banged by guys with big dick again and again. If you enjoy serious hardcore sex then this website got it. The website content is a mixture of hardcore stories. Some of the episodes you get to watch are a sex scene between stepbrother and stepsister. Many videos also involve clothes tearing. But, mostly the films center on chastising and degrading the girls. BrutalX models are sexy, gorgeous and they are not afraid to be fucked viciously by their partners. For example, there is a scene in which a girl with cool tits and nice butt is standing near a wooden chair and a guy with really big dick walks to her. She starts to feel how big the man's dick but he moves swiftly to immediately penetrate her too tight butthole. In other words, this girl gets the nastiest anal hole fucked, a scene you will not be able to stop watching. BrutalX is home to action-filled sex, so expect many breathtaking scenes that you will certainly enjoy watching especially if you love hardcore sex. So, check out the site before moving to the next porn site or you will regret the action.
In few words
BrutalX is the site to visit when you want to see breathtaking porn sessions. The website has many fascinating vicious scenes that you will enjoy seeing repeatedly. There is no doubt that you will be impressed by the slutty models getting pounded by a tattooed guy with a big dick. If you want to see men with big dick banging mouths, tight anal holes and sweet pussies of innocent looking girls as if it is the end of the world that the girls almost ripped apart, try this website. BrutalX is the website for sex enthusiasts that love fetish or hardcore sex.