Introduction
I bet getting showered with your own piss is the last thing that you could ever think about it. I mean, there is nothing attractive about it, and even for fresh chicks or guys, a pleasurable standpoint, this is not desirable. Well, you could not be more wrong about this! A couple of brilliant models have proven to us that pissing can be sexy. Let me explain further; WetandPissy is an adult site that showcases what piss play is all about. The models relieve their full bladders by peeing all over the floor and rolling on their piss in a way that will turn you on. While this may not be everybody's cup of tea, this adult site has made a great point of proving that piss play can be sexy if it is done in the right way. For a moment, I wanted to join these models in their sexual ventures as I want to know why their pee is so darn exciting!
Well referred to as the 'golden nectar', these girls go to the extent of drinking their urine before making themselves explode with orgasms. We would rather call this a pee-germ rather than an orgasm. For them, the end justifies the means. Established in May 2016, WetandPissy has been in existence for about four years. During this period of time, it has been able to build a great collection of 245+ scenes of dire pleasure and an equal number of galleries. For a total of 15 minutes, you will be submerged in the presence of these naughty models and the extent of pleasure that they are willing to go to in order to enjoy all that lies within their punani's.
The galleries are filled with over 90 pictures each, which are presented in high-resolution. The site has exclusive content, thus, you may not get the pleasure of enjoying these flicks on any other platforms. Luckily, there is no download limit to what the 220 gorgeous models have in store for you. Brought to you by the PuffyNetwork, you will never want for more as much as entertainment is concerned. The network has never been known to under-deliver, therefore there are many exciting moments that are waiting for you.
The best thing about WetandPissy is that the content has been presented in high-quality format. The collection only boasts of HD quality scenes, therefore, you will love all of the viewing options that have been offered for you. The videos can be enjoyed from 320p all the way to 4K. On the other hand, streaming is up to 1080p. Whether you are in the mood for European hotties peeing while playing with toys or getting orgasms while they pee, you will get it all on this site. As a member, you also receive bonus access to three other network sites that features a plethora of non-pee related content. Pussy play, facials and BJ's are also not but of the equation.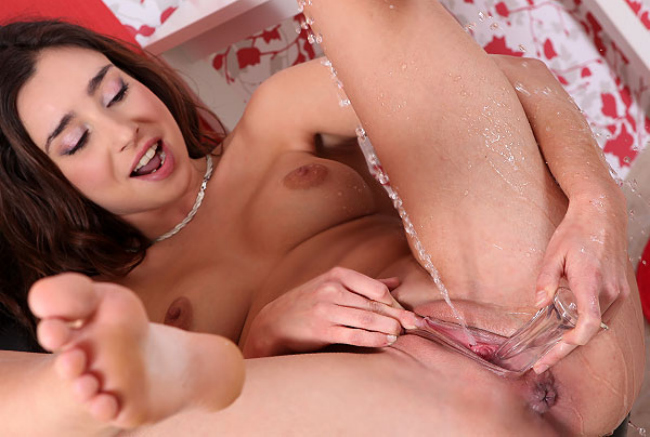 Site specs
Apart from this site having the best pee play action, it equally boasts of a great design and amazing features that will enable you to make your way around the collection easily. The site is faithfully growing and steadily adds many scenes to its already existing collection. Every time you visit, you will find new surprising scenes that are waiting for you to explore.
The site's layout is very detail-oriented and it is clear that WetandPissy professionals paid keen attention to all of the details that may affect your tour. The models are especially easy to find because the site mentions all of their statistics like their height, weight, and even cup size. We have already established the fact that the photos and videos are crystal clear. They can be downloaded by simply clicking on them. The pages load up pretty quickly and you do not have to spend unending hours waiting to enjoy a single flick. Picking a video from the collection is also easy as all of them are outlined for you.
The movies and the girls
The models on WetandPissy are highly attractive and the fact that they can go to great lengths to put on an incredible piss show for you makes them all sorts of worth it. Throughout the scenes, they seem to embrace their birthday suits, as they do not like any cover cups raining all of your joyous moments of pleasure. In a few scenes, they are only in their underwear, which enables them to pass through them as they do not look like third-grade models, they are most definitely glamorous and they have mastered the art of water sports.
When they piss, you may think that the scenes will be so unattractive but you should not be more wrong. The pleasure only seems to heighten when they piss and it seems only to bring them to another level of climax. You will equally get excited as well and they do not stop until they have exploded with long orgasms. The action is so riveting that you will be glued to the screen at every instance. The models employ the use of pussy pumpers, dildos, and vibrators in order to make them climax even faster and they surely do. You will get uncontrollably excited from arousal and who can blame you? These girls are too hot for comfort. They make the scenes something to behold and equally make it clear that they do not need to any big cocks to get them off.
In few words
WetandPissy is not an old site. It has able to tower over other adult sites because of its exceptional provision of content. The masturbation scenes are just perfect. The beauty of models will also show you that this is a site that you should grow with. You are definitely in for a treat.

Check out the other best porn sites pay OR read more on Wet And Pissy from other popular review sites.