Introduction
Top virtual reality porn site, Virtual Taboo would be your online paradise if you have naughty sexual fantasies that involve hot stepsiblings or stepparents. With a vast selection of hardcore VR movies offered at stunning 4K to 7K resolution, it is only fair to say that this community can give you the closest-to-reality experience of being able to fuck some of the hottest girls and mommas in this world! The 3D scenes are truly made up to surpass all of your expectations and you'd surely never want to step out of your room. No matter what kind of VR gear you have at home, you have nothing to worry about as all the scenes are compatible with all known VR devices!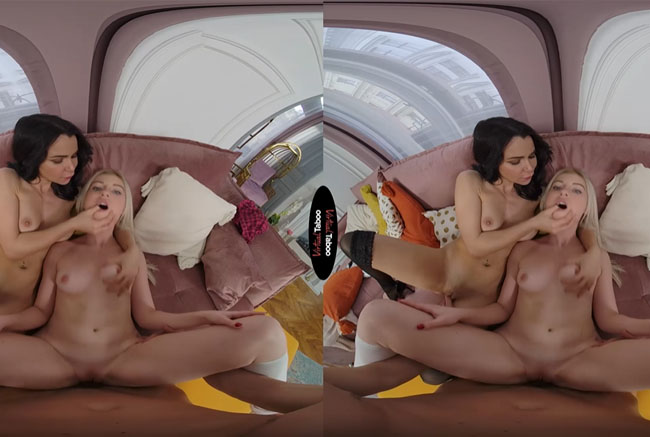 Site specs
While virtual technology might seem a complex streaming option to some, the setup at Virtual Taboo would surely take you out of the newbie group. If it's your first time, you might want to visit Virtual Taboo's Help page where you would find user-friendly instructions. And while most VR porn sites indeed come with a designated page for instructions, it's worth noting that this taboo community has done it a lot better than most. Within a few seconds of reading the information and navigating through content-rich pages, you would be happy to call yourself a VR pro. That's how intuitive the interface is, coupled with easy to explore homepage and menus.
On the welcome tour alone, you would see that there're a lot of hot 3D scenes to keep you going. The quality is ultra-sharp and it would feel like there's only a thin line between you and the hot performers. Browsing down, you would get an impressive display of the top-rated scenes. Just by looking at the videocaps, you'd quickly understand why the scenes are trending to the community members. The girls are just freakin' hot you would want them inside your room right away!
The movies and the girls
Although Virtual Taboo doesn't have a gigantic network that supports its push for the limelight, it's still quite a fantastic achievement to have over 600 top-rated and award-winning 3D scenes in just a few years it has been online. As mentioned, the hardcore actions can be enjoyed in 4K up to 7K visual resolutions. No wonder why the scenes look so good! Most of the movies run at amazing 60fps so, if you're a sucker for playback, then you know this is the real deal. Even the binaural audio would surpass your expectations and will help you achieve the most immersive VR experience possible. You can enjoy the hot taboo scenes using Oculus, Cardboard, Vive, Playstation, and Samsung, among others.
In few words
Though many would cringe or raise eyebrows once you've declared that you secretly fantasize about your hot stepmom or your gorgeous stepsibling, it doesn't make you a sinner to think so. That's human nature. However, actually making your fantasies come true is quite a challenge, and more likely you'd end up in an embarrassing situation. But why keep your sexy dreams to yourself when you can get as close to them as possible? This is where Virtual Taboo enters the picture!