Introduction
Awesome VR porn site, Virtual Porn is one of the newest online destinations for those who are looking for solo masturbation scenes presented in virtual reality. Watch new faces and top porn stars as they suck and ride big throbbing dicks from your perspective. The VR filming style allows you to easily slip yourself in the scenes and satisfy your sensual daydream fantasies in 180 degrees. Surely, you will cum earlier than expected with those sexy moans and unforgettable orgasms. Remember, your hands are free, so, do whatever it takes to experience that same level of xxx satisfaction!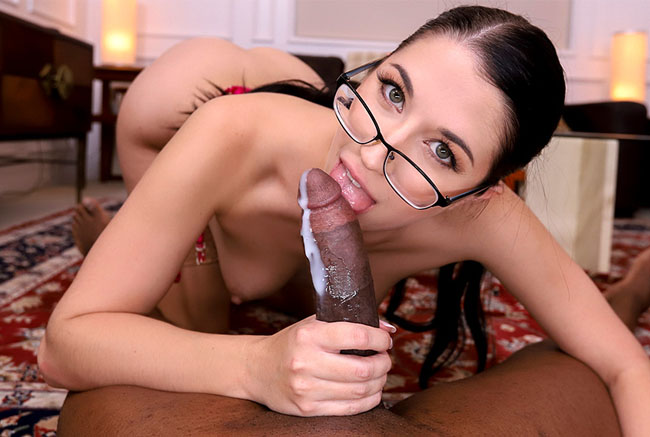 Site specs
The official website of Virtual Porn boasts a sophisticated outlook. It is a new community so expect to see the entire collection on the homepage. On the welcome banner, you'll see a lovely darling sucking a big black cock along with a photo of her ass hole filled with that treat, and of course, a preview of the hardcore fucking scene. Click on the round button below and you'll find scenes that feature other models and kinky scenarios.
Right away, you'll see what type of VR devices this website supports. You can enjoy the scenes in real 3D using Smartphone, Playstation, Oculus Quest, Google, HTC Vibe, and Samsung VR. You also have a 180-degree viewing area as well as a head tracking feature. New as it is, you will be amazed by the available features such as the site's seamless search engine, the ability to sort the videos from top-rated to keywords and models, and the likes. In case you do not know a lot about VR devices, there is a page that provides instructions and support, among other things.
The movies and the girls
Virtual Porn is an exciting masturbation paradise for all VR porn enthusiasts out there! It is home to a mix of fresh-faced models and VR queens such as Armani Black, Lolly Dames, Britt Blair, Kira Perez, Payton Preslee, Alex Cole, and Gianna Dior. There are more than 30 videos at the moment, with each one playing for almost an hour on average. The ladies often start messing around their sexy bodies before sucking dicks and enjoying vanilla parties. Aside from big cocks, you will also see them experimenting with huge dildos and vibrators, making their pussies drip from multiple cums! What would excite you, even more, is that there is always a stunning set of photos being released along with each scene. And, if you want to be a model or you happen to know someone who's interested to do VR shows, this site can be an excellent stepping stone.
In few words
As for the content presentation, you will easily give this VR porn site a 5 out of 5 ratings. You'll get a quick teaser and a compilation of the best photos taken from the actual performances. The names of the performers are provided as well, complete with the video description and release date. Below the creative summaries that will surely double your excitement and arousal are the list of relevant tags. Your VR gear options are also available below, just click the button of what you have at home to ensure you can maximize the viewing experience!