Introduction
Gay porn is the second highest searched category in adult entertainment sites, not only are they watched by gay men themselves but they are also watched by straight women and some straight men. One hunky, handsome man is good but imagine having two gorgeous and muscled men? It is even better, UkHotJocks is a gay porn site that features well-built men from all over Europe, America, Latin America and Canada, not only do they have incredible abs, biceps and chest but they are also gifted with massive and impressive cocks, with this site you will be able to enjoy a real, entertaining and lust filled gay sex.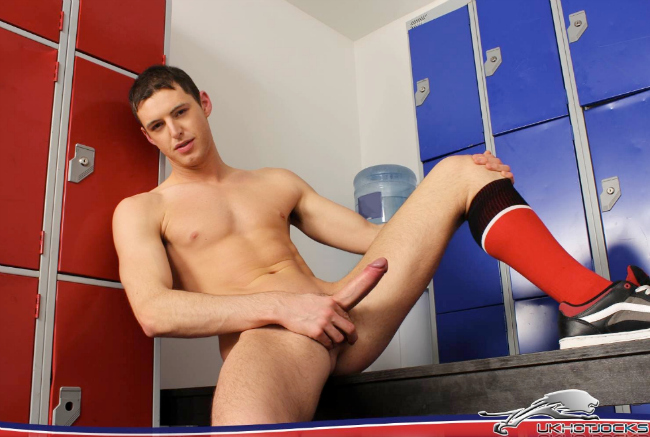 Site specs
Once you open the site you will be able to see a nice white, red and blue colours as their background and it very easy on the eyes, not much can be said about the site's content for at the top most part of the page they have a minute clip of hardcore gay sex that involves blowjobs, deepthroats and BDSM. They also have a list of their latest scenes, latest movies and their latest models. They have thousands of high definition videos that you can stream, watch on your mobile by using the mobile version of the site or you can download, they also have high-resolution pictures of their scenes and their models.
They have about 91 models and they update their contents and their model profiles regularly, their models are of different age brackets and they come from Latin America, America, Europe and Canada, they have their own profile pages and they give a brief introduction of themselves in a short clip that is attached to their profiles, they also wrote a biography and they listed the models' statistics from their location, age, height and weight to their hair, eyes, sexual orientation and whether they are versatile, top or bottom, they even included the model's cock size.
UkHotJocks will not only show you the best gay models on the web but they also give opportunities to those who wants to be a part of their team, they have a model form at the bottom most part of the page that you can fill out and email, if you have any questions regarding this, about the site or about your subscription then you can contact their customer support hotline which is available 24/7. You can also sign up to their newsletter so that you can receive updates through your email.
The movies and the boys
The site features hot and gorgeous men who have sex anywhere, in one video it showed a man with a snap back who walked into a confession room, he then started talking to the other guy that was at the opposite end of what seemed to be a compartment box, he told the other man that he knew about his previous boy lover, the man then felt pressured as he was cornered into the side and was pressured to admit the truth. The man with the snap back then said that if the other guy would do to him what he did to his previous lover then he will not tell anyone about his past ways. After having told him his plan to expose him he took his top off and he opened his zipper and pulled his pants down.
He stood up and made the other man open the window that was dividing them and when he did, it revealed the man with the snap back's cock, he then proceeded into sucking his cock as the other guy moved his hips so that it would go deeper into the other man's mouth and throat. As he continued to suck the cock of the guy with the snap back and lick and suck his balls, the other guy had already taken his clothes off and he was jerking off as he was being mouth fucked. The guy with the snap back pulled out and knelt down as the other guy slipped his cock through the window, as it was the guy with the snap back's turn to suck him, he grabbed his cock and he slapped his face with it before giving it a taste, he sucked the tip and licked the shaft before taking all of his man meat into his mouth.
From the window, the guy reached out and grabbed the head of the guy with the snap back so that he could mouth fuck him and held steady his head as he rammed his cock into his mouth and throat, once he was done, the guy with a snap back on transferred cubicle and joined the other man in his own cubicle, he then pinned him to the cubicle wall and inserted his hard cock into his ass and he started pounding him making the guy moan, the guy with the snap back grabbed the guy's waist to hold him steady as he went faster and faster.
They then switched places as the guy made the man with a snap back bend over and he fucked his ass too, it was slow at first, but when he was able to adjust to the size he went faster, he grabbed the guy with the snap back by the shoulder as he went faster and deeper, because of the impact of his cock drilling the guy's ass his snap back fell of and his cock was dangling. The video then ended with the kissing passionately as they sat side by side all sweaty, there were both jerking off as they kissed and they sprayed their seed in each other's mouths.
In few words
UkHotJocks does not only create and upload gay porn on their site for the members, they also make sure that each video is well thought, unique and exciting in its own way, they go to different locations and they perform different roles just to stay fresh and to be able to fulfil their subscriber's wild imaginations.

Check out the other pay porn sites list OR read more on UKHotJocks from other popular review sites.