Introduction
As you might guess from the looks of the TryAnalFisting, it's a few years old website, which has a compilation of heavy lesbian porn videos for you. There are hot chicks throughout in the videos, and they are doing some quite outrageous stuff. You will see these girls getting fucked in the ass by other girls… and to make it kinkier, instead of dildos and strap-ons, they use their fist to penetrate the other's tight asshole. If you have a fixation on asses, or you prefer anal sex, then these videos will satisfy you… for a short time. Though the TryAnalFisting has been online for four years now, it grants you only 10 actual videos, but they all feature juicy anal fisting. This is the whole collection the site can actually offer, but at least it's exclusive, and it's in HD! According to our research, the site is run by a company that operates with European porn, so we have to say that these flicks also come from Europe, so it's really the kinkiest of kinky: you can watch European cuties fisting each other's ass!
But, don't worry, the membership includes a whole lot more, and you won't find yourself without hot European porn to watch. A tier of bonuses cover stories and the live feeds. The stories are free, though if you want a private show from the live-chat performers, you have to cough up some extra credits. The second tier of extras is much more exciting: you gain access to a feed with DVDs' content. These extra videos are online-only, but they offer a wide range of regular and kinky niches covered: ass-to-mouth, interracial, facials, BBWs and grannies are all featured. If you love the chill of European porn, you will find these videos quite entertaining.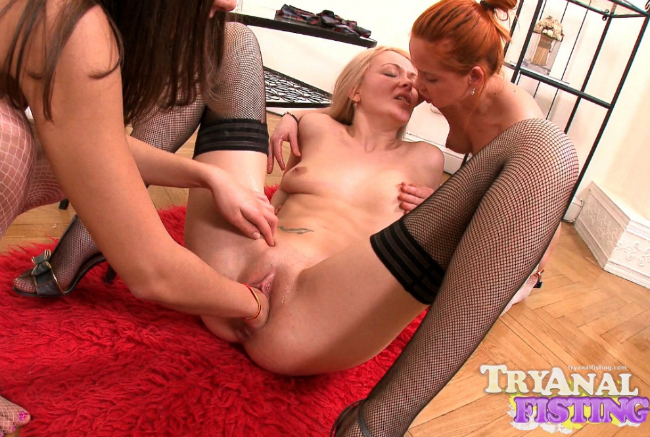 Site specs
We can't really tell you about the site's layout or design, because it's way too simple. There are big pictures listed throughout the tour page, and you can enjoy some really hard preview videos. The TryAnalFisting isn't hiding its content, so you should check those clips and decide whether it's interest you or not. But be careful, these are not the whole action, there are some more intense periods in the videos too. Now, after you enter the members' area, you will see that it's not really changing. The site says it has unique navigation, and if being simple and basic is that, then all right, it is unique. The videos' count doesn't really make it necessary to have an advanced navigation, so you have to settle with this, and it's quite enough.
The scenes of the site are coming from the better end. You can view them in a not too great online Flash-player, which won't be too convincing, but if you download the videos, you are going to love what you get: the WMV and MP4 files you could save offer some pretty neat 720p resolution. You will find here also galleries with over 400 photos, we advise to save the biggest zip file; that offers real HQ pictures.
The movies and the girls
The lesbians you can see in the videos of the TryAnalFisting are not exactly lesbians. They are porn starlet, who do some hardcore lesbian action too, but you can also find them on other porn sites, doing juicy straight hardcore too. When you open this site, you will see that these cuties are way too hot for this kind of porn, but they don't seem to care about it. Most of them are semi-professionals at least, but some actual professionals are also bound to be around, though we are certain that you won't really recognize them.
Every cute cunt you'll see here is in the age-rage of 20-28 years old, so their fine and fit appearance really reflects their age. However, the thing they do is really something you shouldn't ask your girlfriend to let you do. We found only natural girls here by the way, and they seem to be coming from Europe. We are not certain, but they have that kinky Euro-feeling about them. Every model of the TryAnalFisting is Caucasian, ethnic girls are not present at all. You may see somewhat older models, but they are rare. For other types of girls, you should check the bonus feeds of the site grants access to.
Every video here is exclusive, that much is true, and we have to give them credit for bringing us a collection of High-Definition porn movies. Also, the actual content of the videos is worth a prayer, because the hotties are going really hard on each other. These flicks are representing the "let's get to it" approach in porn, there is only sex in them. You won't see the girls talking (much) and there are certainly no story-lines to follow. There are guys who love this kind of porn, others don't really prefer it, but we have to say that in this case it's good, there wouldn't be much point in telling a weird story that leads to anal fisting… apart from lust for gaining this experience, there isn't much that could lead a girl to get her ass fisted. The action itself is pretty exciting, we are certain that you will love the site's fine selection of different places.
In few words
The TryAnalFisting is a curious site, and it's really unfortunate that new content is not coming anymore. As a kinky niche site, it's recommended to those who are really crazy about this kind of stuff, however, the regular porn fans, and simple-anal fans shouldn't be hasty to join. But, as we've told you earlier, there are some bonus feeds, and those really make the site worthwhile. You will find among the extra videos some juicy ass-to-mouth action, you will see more of these hotties, and you might love the granny sex, or the heavy interracial porn the feeds feature.

Check out the other porn paysites list OR read more on Try Anal Fisting from other popular review sites.