Introduction
Awesome MILF porn site, Touch My Wife is all about horny MILF wives who just can't stay faithful to their husbands. They cannot get absolute sex fulfillment from their partners and so they have turned to cheating and seducing gorgeous guys who come across their ways. The husbands, since they know they cannot do something about it, just go with the flow and simply make the most out of these encounters. Most of the time, they even take the role of a cameraman to record the nasty affairs. Surely, they have discovered along the way that there is an inexplicable kind of orgasm watching their sexy wives being fucked raunchily by strangers!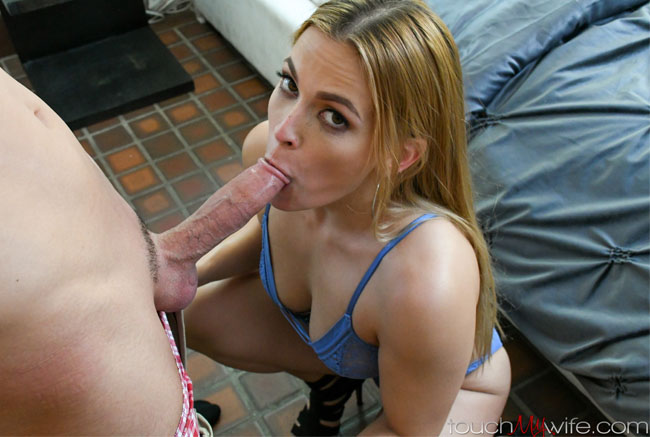 Site specs
As for the website, Touch My Wife's collection can be accessed in a very simple and user-friendly members' area. You'll find it easy to get around even if you are not an expert porn surfer. On the homepage, you will find the most recent episodes. The thumbnails are large and intuitive; you can easily get an idea about what to expect. The featured videos on the homepage are limited but you can always go to the Video section to view the entire collection. If you want to find something specific, you can rely on tags and a basic keyword search. On the Tags page, you will see a comprehensive list of xxx categories.
Currently, Touch My Wife offers its videos for streaming only. However, it has a shop wherein you can purchase your desired scenes or even rent them. There's a 'Watch Later' feature that allows you to compile your favorite scenes. You can also count on a free Roku channel once you've signed up for membership.
The movies and the girls
Touch My Wife is a subtle name for this collection. Clearly, the random strangers do not simply "touch" the cheating housewives. They demand a lot more from their willing lovers, something they don't get from their loving husbands. Most of the videos are shot in a POV-style; or should we say from the husbands' perspective. What makes the nasty affairs look even hotter is the fact that the roles of the horny housewives are being portrayed by some of the most delectable MILF models in the biz! You'll get Christiana Cinn, Richelle Ryan, Victoria June, Kali Roces, Gia Milana, and Victoria June in insane hardcore fucking actions. There's plenty of oral sex and dirty dialogues that will keep you fully focused throughout!
In few words
It might sound weird to meet someone who enjoys the thought of being cheated on. At Touch My Wife, one of the newest cuckolding porn sites on the Internet, you might get a pretty clear picture as to why some men do not give a damn at all. Either they are too in love with their wives and they want them to experience the best, or they just don't have a say about the matter. Whatever the real reason is, you'll surely feel thrilled to watch how each cheating or swinging story line goes in this cuckolding community!