Introduction
Awesome gay porn site, Stag Collective gives you amateur handsome guys on their first-ever experience with their fellow studs. They might be inexperienced when it comes to taking cocks in their mouths and assholes, but they are certainly a refreshing sight to see. Most of the models sit for an interview where they briefly share hot things about themselves. As a preparation for the next level, they usually give their cocks a good wank. If you are excited to meet new talents who can give you a breath of fresh air in the name of man-to-man sex, Stag Collective is definitely a great place to start.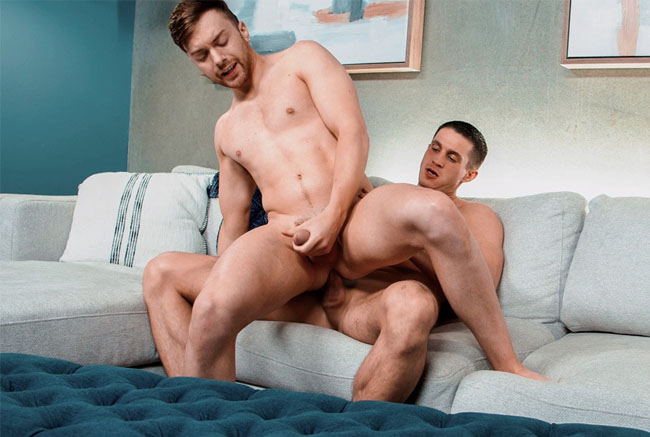 Site specs
Currently, the site's collection offers 51 videos, all are exclusive to community members. Some of the hottest scenes are available on the homepage, while the rest can be accessed on a designated Video page. Each scene comes with a hot screencap and an automatic preview. Below each video, you can check the names of the cast, the title which you can later use for searching, the date it was added on the website, and the number of members who have thumbed up the video. When you open a video to a viewing page, you'll get to see the trailers on a larger screen. You can also find other details such as descriptions, tags, and categories.
For only a dollar, you can check the caliber of this amateur gay porn site for three days. But of course, manage your expectations about what you can view or not as there are limitations in the trial package. Anyway, you can easily upgrade your membership to monthly, quarterly, and yearly. These three packages allow you to stream and download the videos and photos in six different sizes, with 4K being the highest.
The movies and the boys
Stag Collective is an excellent place to start with if you fantasize about handsome models who are looking to make it big in the adult entertainment industry. While watching well-experienced models is a good thing, there's also something exciting about guys who are exploring raunchy gay acts out of their curiosities. They might look nervous at first, but they certainly have the passion and willingness to learn everything there is to learn about cock-to-cock actions. Some of the models you must watch out for are Nick Thompson, Kian Kane, Chris White, Sylvester Red, Maksim Johnson, Ian Daniels, Tyler James, Elijah Wilde, Liam Skye, and Damien White. You'll get to enjoy two men of color, muscular bodies, and average to huge cocks where most are uncut. The videos are usually 20 minutes long and they come with around 20 pictures each.
In few words
Stag Collective launched around six months ago. It is dedicated to hunting the most promising amateurs who are set to give gay porn a brand new meaning. As the site's creators put it, they are after fresh faces who have the looks and the talents. The actions feature a mix of intimate solos and raunchy duos. As emphasized, the models are pretty much inexperienced. However, give them time, and they will surely make you a solid fan.