Introduction
Sperm Cocktail is dedicated to professional pornstars receiving blowjobs and swallowing sperm, but not before showing the contents of their mouths to the camera first. There are plenty of options to choose from on the site, including plenty of videos with girls chomping on multiple cocks. With Sperm Cocktail offering exclusive access to another 50-odd websites on the Pornstar Network, there is plenty of jizz flying around to keep you happy.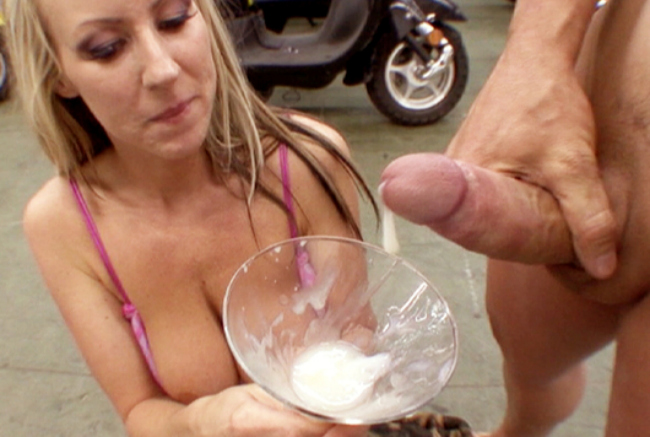 Site specs
Sperm Cocktail has almost 200 videos available for download in different formats, including mp4, m4v and WMV files. Viewers can rate each video, leave comments and save them to their Favorites list. The videos also display keywords, so it's easy to find more videos that relate to the same kind of situations or even the porn stars that star in the action. Tabs at the top of the videos allow you to switch from videos to the related photo sets, and there's also an option to browse related DVD titles when available. Additionally, there is a link to change from the standard site to the mobile version, which means you can surf the site on the go and download movies and pics directly to your mobile device.
The movies and the girls
The girls in the videos are all professional models. Some engage in one-on-one sex but the majority of videos on the site involve the girls sucking off several guys in the same session. That makes for a lot of cum action and some really messy scenes towards the end of the videos. The downloadable file formats vary among the videos. Most are mp4 files, although you are given the option to choose from a number of file sizes to suit your individual device. Some of the videos also have the option of downloading m4v or WMV files. The WMV options have a resolution of 720×480, so are obviously larger than the alternative options.
The site has a great in-browser Flash player for streaming too, with smooth playback and a video resolution of 640×480. The player allows you to jump forward and back in the scenes with smooth buffering. There are also DVDs available to buy from a link on the website, although there isn't a great deal to choose from. Photos are downloadable as individual JPEGS or you can download a complete set as part of a ZIP file, and they're all high-res pics. There are over 40 sets of photos available at present for download.
Membership to Sperm Cocktail also gives you the added bonus of access to almost 50 other websites that make up the company's database. There are some good alternative options based around the same niche, such as Load My Mouth and Jizz Mouth Wash. And in addition, there are loads more sites available which cover different categories from Lesbian action to Interracial sites and fetishes, in fact, the A – Z list covers pretty much everything within reason, as do many of the categories included in these video-based porn sites.
In few words
Sperm Cocktail offers value for money, but mainly because of the bonus access you receive when you sign up. You can access downloadable videos and photos, as well as Live Cams and categorized material from a wealth of different websites. If you enjoy seeing women in oral orgy scenes, this is the site for you, with the bonus of being able to filter and search for your favorite porn actresses in action.