Introduction
Formative years were always fun and exciting. There were no rules and regulations that you had to follow, there was no supervision, there was no one making you do things and there were always crazy parties around. This is a rather free environment. You are almost, but not quite, a fully-fledged adult, able to do whatever you want, with the entire world at your doorstep. Wasn't it so, so much fun, to be carefree, unshackled and open to new experiences? There are these sorority houses and these crazy parties that keep happening and before you know it you are having a brilliant time and your inhibitions are at an all-time low. That's when all the fun really begins.
Everyone is getting frisky and naked; all the girls are getting horny and want to expand their sexual boundaries, and before you know it, you are in the middle of multiple naked women and people making out surround you. These girls really want to suck some cock and get fucked. All the dopamine and adrenaline are released creating an all-time high, with a sea of tits and booty's floating all around you up for grabs. Isn't this a dream that you wish you could fulfil, instead of just fantasizing about it? If these sorority chicks with their perfect asses and outstanding tits are what you desire, SororitySluts is the website that you've craving your whole life.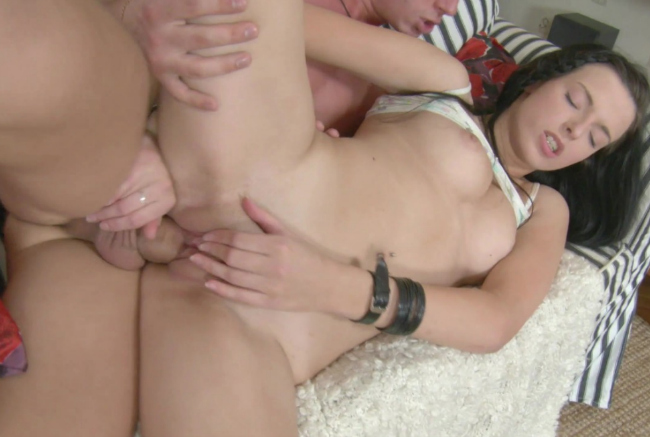 Site specs
The website really has done a marvellous job at making the website uncluttered and non-fussy. They have kept the design very clean, simple and all the content which is on the website is well organized. There are different links which will help you navigate through the various parts of the website. There is also a search bar where you can add keywords to refine your search and find the perfect content to match your desires. The creators have used white as the predominant background colour, with blue used to match the white in various places. Black is used for text and highlighting the videos, separating them from the background. There is a green chalkboard, notebook page slips, bras, and of course, lots of hot, sexy and naked girls. The banner is attractive and there are links to various parts of the site.
Let's talk about the technicalities. The number of videos that this website has in store for you will totally amaze you; over 1800 videos are available to all subscribers on this website! All the content is in excellent quality and you can stream these videos online on the flash player that is embedded in the website. Most of these videos are in high definition, making your experience as real as it can possibly get. All the scenes have an average run time of about 20 minutes, so you get to see a brief storyline, but mostly it's all the fucking and that is what you have come for! The best part about this website is that they upload videos on their website regularly, almost every day, so you know for sure that you have a ton of latest videos to watch every time you log into the website. Since this website is part of the Hustler's network, you get access to 20 of their other websites as well! As you can see you have found a hoard of never ending porn content! The average resolution of these videos is about 1280 x 720 @ 3200 kbps.
The movies and the girls
Let's talk about all the girls that they have in store for you. I'm sure that all the chicks on this website will leave your mouth hanging. SororitySluts is a website where all the girls love to take cocks in all the orifices possible and they are blatant about it. This website is part of the Hustler's network. If you have seen any of their work you will know that they have some of the craziest and most erotic content out there for you to watch. You are going to get hooked with all the content that they have curated for you. Their website has a lot of women doing things the human mind cannot even conceive or imagine.
There is a lot of hardcore porn, with one on one action, lesbian porn where these girls are getting each other off using various toys, as well as the numerous orgies taking place inside the sorority houses! These videos have girls wearing plaid skirts and showing off those skills like they are absolute professionals. They'll do anything to please you; maybe they just want better grades in their paper! The possibilities are endless. Not only are the girls eager to please, but the makers and producers have managed to rope in some of the most beautiful and hot women that you will have the opportunity to lay eyes on, and, the best part, these girls are amateurs.
I saw a lot of the videos on this porn site; these girls are dressed in plaid skirts and kinky shirts, all to make you really feel like you've entered a sex institution with uniforms. Since they love to fuck and blow so much, they will do absolutely anything to make sure that this is the best experience that you have ever had, doing things that will make your cock rock hard with pleasure. If you have a certain preference in women, then you need not worry because you will have a ton of different women to choose from.
In few words
Let us be real, SororitySluts is one of the best porn websites that you will ever encounter. All the girls on this website are so hot that your cock will be begging for more and not just that, the sheer number of videos on this website is sure to make both you and your pocket happy. The video and sound quality of this website really can't get any better and I'm sure you'll always come around looking for more knowing that there are latest videos being uploaded almost every day. Affordability can be kept in the backburner for long-term subscription will give you significant discounts. The deal doesn't get any better than this!

Check out the other best pay porn sites OR read more on Sorority Sluts from other popular review sites.