Introduction
If you are an absolute porn fan, then you are actually living in a very good time right now. Before, way back before the dawn of the internet, our elders would have to rent tapes and the pictures in them were not only grainy, they were fuzzy as well. And even before that, all there was available were magazines. That's it! Those were the only sexy stuff that they had in order to live by.
But now, with the internet and different available technologies? It is awesome. It is a great time to be into porn. First, the different porn sites today cover a vast amount of different niches from the really simple to the really weird ones. Gonzo, tranny, anal, you name it, chances are, there's a dedicated specific porn site for it. Also, there are different portable devices like smartphones and tablets that would allow you to carry your porn anywhere with you. Finally, and most importantly, external hard drives are now available where you would be able to save up to how many terabytes of data. Just imagine a four terabyte hard drive just filled with porn, that's endless hours of viewing bro!
Speaking of drives, it really is a must for a porn fan to have one. This maximizes the membership plan that you would register in. For instance, you have signed up for a one month plan. To be able to get the most out of that one month plan, what I would suggest is for you to download as much as you can first. Then, once everything is stored safely in your hard drive, you can simply watch later, even long after your membership plan has already expired.
We have discovered a porn site though that is already like a porn network in a way because it provides its members the content of different porn sites. To be more exact, it is like an online drive of the best porn content online. In fact, the name of this site is even called SinDrive. And by signing up with this single porn site, you can already enjoy different content coming from sites like Big Tits On Screen, Golden Shower Power, Vintage Fantasies, and more! According to the navigation in the homepage of the site, there are twenty-eight sites in all, and each of these sites covers a specific niche or theme.
To those who are interested, all you need to do is to sign up for an "all-inclusive" access to be able to enjoy all the scenes. There are two types of plans: a monthly plan and a one-year plan. I have some good news. The one year plan is actually on a special offer price right now, and it's just ridiculously low priced. We are not connected the site in any way so we really cannot tell for how long this offer is going to be, so if I were you, I would sign up for the site already.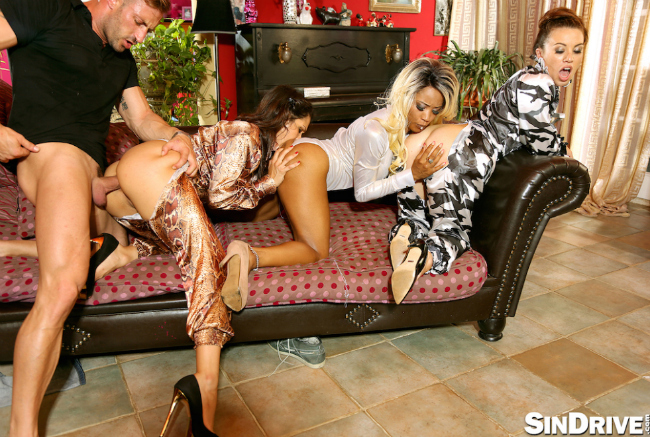 Site specs
SinDrive's site is amazing. Well, what can we expect from a porn site that kinda serves as an umbrella site covering other porn sites as well? If it did not have a proper layout, then the massive library of content that they have would probably end up as a huge pile of confusing mess. But no, the website design and layout of SinDrive made a marvelous job of organizing the huge collection content and everything is in its proper place. In fact, it is really easy to search for your videos.
First, you're going to see the website banner. It is like a welcome banner of sorts and it shows the main features of the site which are the different resolutions that the videos are available in (more on this later), the unlimited streaming and download options, and finally, the safety features of the site. Then, below this banner, you will already get to see their latest videos. Like what we have mentioned a while ago, the porn site is pretty organized with their collection. Hence, in this part, you will get to see different options on how you would want to view your video thumbnails. The choices are either by website, by category, or by an actor.
The movies and the girls
And now let's talk about the ladies and the videos. Going back to the resolutions, this is one thing that I really enjoyed about the site. Did you know that SinDrive offers five different resolutions that you could enjoy your video in? That's right. Five. It's from the simplest SD or standard definition, up to the best resolution, ultra high 4k. If you haven't tried 4k resolution yet, you are actually missing half of your life. You have to try it. A word of caution, though, you would not be able to enjoy other resolutions anymore after experiencing 4k. That's how awesome it is. As for the ladies, all I can say is that with all the different sites being featured here on SinDrive, expect to see all the different types of women that you could imagine!
In few words
SinDrive is truly like an online hard drive of a true porn fan. It contains the different niches that any porn fan would enjoy, and each of these videos is available in the latest 4k technology. Not only that, the servers of this site are ultra fast as well. This porn site is just so awesome that I really can't ask anything else from it anymore. So don't miss the opportunity to be a part of it today.

Check out the other porn paysites list OR read more on Sindrive from other popular review sites.