Introduction
Shemales from Hell is a tranny teaser that features exclusive content from Brazilian trannies. There is a lot of action and naughtiness here. If you are ticked by very feminine-looking trannies that would give a beauty queen a run for their money, try checking out the flicks on Shemales from Hell. The quality of the videos is commendable. You also get weekly updates that will keep you on the edge of your seat once you subscribe.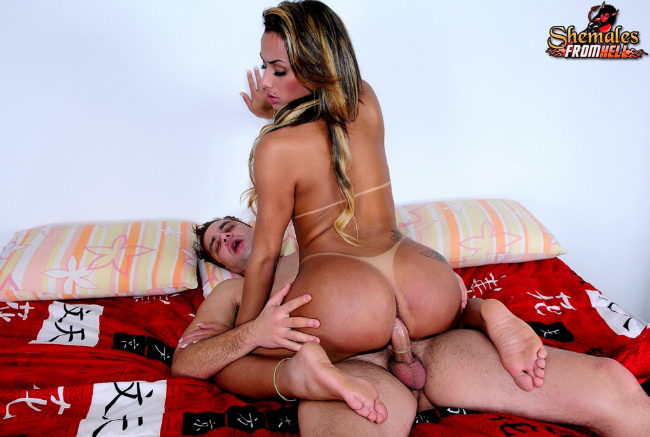 Site specs
The platform is wrapped in exciting scarlet and black background hues. The top pane on the home page creates a feeling of a fireball. Well, there is indeed a lot of fire burning in the scenes that feature the hot and daring Brazilian trannies. I was invited to a host of browsing tools that made my visit worth my while. There is a clear list of categories provided just so visitors can quickly check out the content that is lined up for entertainment on their subscription. I could search for content using the elaborate search tools, or even use the advanced search tool to key in specific attributes of the models I would like to catch or movie titles. A model index is handy to offer users a clear impression of what they are to watch. You will love the action because there is sufficient information provided before each scene. Some models on the index also come with their data and stats. Users can stream the videos in a variety of formats including AVI, WMV, MP4 and MOV. I loved it when I discovered that I could access the content straight from my mobile phone. I could check out the flicks from the comfort of my work desk, while stuck in traffic or just when I needed to switch off from a boring conversation. The loading speed is fast and smooth. Although there are no bonuses provided under the basic subscription to Shemales From Hell, there is really no reason to think about it. The platform already has sufficient content to keep you watching for a long time.
The movies and the girls
If you wish to watch trannies that have completely transformed to the other word, you only need to watch one video featuring these hot sexy and gorgeous Brazilian trannies. I couldn't help but erect at the sight of these successfully transformed cuties. The videos range from fairly soft scenes involving solo performances of masturbation to real hot, smoky encounters that feature the trannies fucking with fellow trannies, dudes, and girls in hardcore bareback modes. I loved the scenes that show one of the t-girls drilling her shaft deep into the asshole of a male. I mean it felt great to see the dude raise a rock-hard erection as the tranny rocked and squeezed him from behind. One of the naughtiest cuties on Shemales from Hell is Eliseangela. The tranny loves to try out things that leave you stunned but really aroused. In one of the scenes the girl reaches down and sucks her own cock. She is an avid fucker too. She is captured in another scene as she drills her long cock into the asshole of her fellow tranny. Well, action just doesn't stop on this platform.
In few words
You have great variety and real beauty on show on Shemales from Hell. The Brazilian trannies know how to rein you in and stimulate you to the max. I loved the frequent updates and the many user friendly tools. Most of the videos come in full HD form.

Check out the other best pay porn sites OR read more on [SITE NAME] from other popular review sites.
[REVIEW SITE 1] | [REVIEW SITE 2] | [REVIEW SITE 3]