Introduction
Sarava Productions has a great collection of gay porn videos that show handsome guys in a variety of hardcore acts. Subscribe and grab your favorite devices because this site has all of the hottest well-hung dudes you could ever dream of.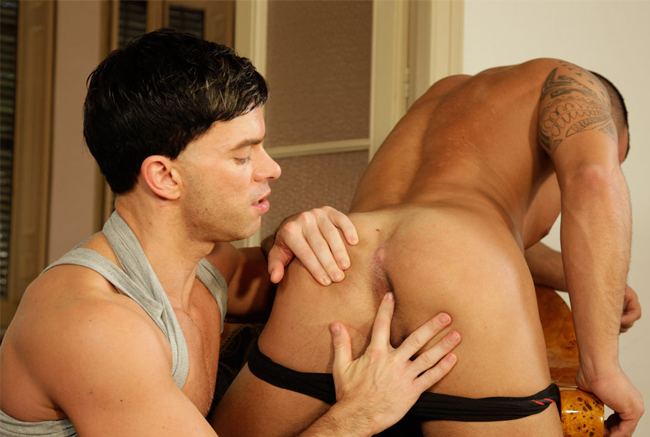 Site specs
Sarava Productions has a well-designed layout, which puts ease of use as its priority. In particular, the texts are big enough for you to identify what an icon does. At the home page, you can log on to your own account or click on the Instant Access icon to sign up. There are also some tabs at the very top of the page. You can reach the different sections of the site by clicking on these tabs.
When you scroll the page down, you can see the latest-released videos, some of the featured DVDs, and the list of models. The videos are all arranged in a neat grid. By default, all of the videos are displayed with the latest ones at the very top. You can customize the display though by using the site's filter options. This is an easy way to browse the videos, especially when you are looking for a particular scene and you don't want to go through hundreds of videos one by one. Each video clip comes with a brief description that includes the names of the performers.
The movies and the boys
Do you enjoy muscular hunks getting nasty in front of the camera? You can visit Sarava Productions to watch the works of famous gay porn director Kristen Bjorn. Inside, you can see a wide range of gay performers. They have hairy dudes, clean well-shaven jocks, or tattoo-covered wild guys. All of these models are hot and eager to get down and dirty in front of the camera. While most of these models are White, there are also some Black and Latino actors here. These performers are a mix of amateur and professional porn stars.
You can't find any softcore solos in this site; all of the action is hardcore. You can find guys kissing, giving head, or taking in big dicks in their ass. Most of the scenes are couple sex, though there are plenty of three-way hardcore scenes as well. You can also enjoy a few 5-man orgies inside, with lots of double penetration and deep ass drilling. The scenes are pretty intense, and should be impressive to any gay porn video fan.
All in all, the site has more than 489 hardcore porn videos. Each video clip has an average length of 24 minutes. You can browse all of these videos as long as you have a membership account. While the site only offers streaming of its MP4 video collection, you can watch all of the movies in full HD with resolutions of up to 1920×1080. You can also view the videos in lower-resolution SD versions. The best thing about these movies is that you can play them without any worries because they are all DRM-free. Since the site is mobile friendly, you can access the site using any mobile devices. This means you can watch any movies wherever you are.
Apart from HD videos, the site also has downloadable image galleries. It has around 47 galleries that contain an average of 40 pictures per set. You can choose to download the galleries in zip or download the pictures individually. Sarava Productions offers 3 membership plans to anyone who is interested in joining the site. There's also a three-day trial you can try first before subscribing. Check the site for a particular payment method that fits in with your budget.
In few words
Sarava Productions is hands down the best online destination if you are looking for uncensored gay porn movies that feature handsome muscular guys. The site has a wonderful collection of videos that's also accessible using mobile devices like tablets and Smartphone. You can use several sorting tools to easily navigate through the movies and image galleries.