Introduction
Top virtual reality porn site, Real Hot VR gives you a variety of hot ladies in JOI, masturbation, and lesbian-themed scenarios. These ladies talk to you like you are their man and they will do anything raunchy to make you cum. You can enjoy the scenes in 6K and other amazing resolutions, with all of them compatible with today's leading virtual reality headsets. Although the site needs some time to grow, it is recommended to join as early as now because the videos are just pure joy to see. The plots are exciting, the scripts are offbeat and naughty, and the breathtaking beauty and heartfelt performances of the models will surely capture your full attention.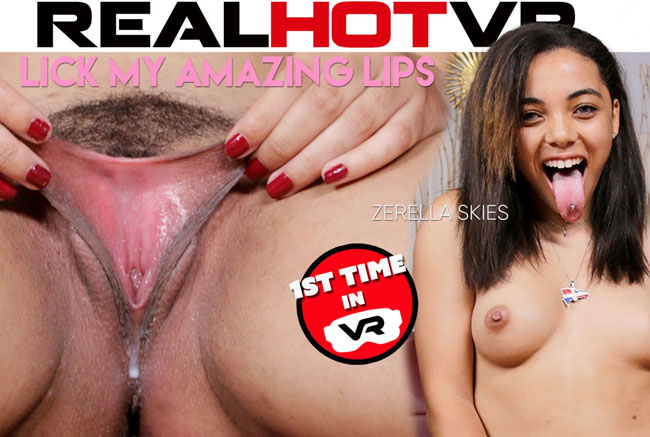 Site specs
The official website is simple yet fantastic. It has a dark backdrop that somehow makes the vibe mysterious yet inviting. You'll be met by a full-screen banner that features two naked ladies, with their juicy butts and wet slits seeming to kiss your face. Following this warm welcome is the list of the site's most promising features that include 6K, 3D True Stereoscopic, VR180, and Head Tracking.
Below this bragging, you'll find the latest scenes. You only have to point your cursor on your desired thumbnail and a few photos will automatically appear. For the trailer, you have to open the video on a new tab. On the left of the viewing screen, you will find other amazing offers that will surely inspire you to become a member. You don't have to go through many links and deal with annoying adverts, it's that simple.
Now, if you are not yet familiar with the technology but want to enjoy the scenes in VR offering, just visit the site's support page. The customer support representative will walk you through the process and ensure you'll be an expert VR viewer in no time at all.
The movies and the girls
Do your fantasies involve hooking up with your stepsister? How about your stepmom? Perhaps, just a wild guess, you got into porn because you have certain fantasies which you can't fulfill in real life. Well, now is the time for those twisted fantasies to come out of the shell! Real Hot VR and its amazing models are more than willing to fulfill your closed-door fantasies. They will treat you like a king and worship your cock like no other. They will play with their pussies and finger them while begging you to take out your dick and fuck them. Sometimes, they will even teach you how to jack off that shaft properly. Or, if you are in a super horny mood and you want to have two girls getting naughty while you are watching, all you have to do is to search the galleries because the site offers lesbian scenes filmed in your POV!
In few words
Virtual reality offerings have undoubtedly changed the way we enjoy porn movies. This immersive experience helps us make our naughtiest fantasies come to life. And with the advent of VR porn sites, it becomes increasingly hard to find something that upholds the industry's premium standards. But the good thing is, you can confidently bet your money on Real Hot VR and never regret a thing.

Check out the other paid porn sites list OR read more on Real Hot VR from other popular review sites.