Introduction
If you are into endearing and delightful twinks, muscular and athletic jocks, or even both. I guarantee you: RawFuck will bring you the best of both worlds and even combine it to make the most passionately deep and powerful bareback fucking you will ever stumble upon. It isn't just the bareback fucking that makes RawFuck standout though. You will also be captivated, absorbed, and gripped by the most sexual and sensual of blowjobs, cum eating, threesome plays, gang bangs, piss play, role play, and plenty more. As you become aware of the naked and sweaty men all over the place, your desire heightens and so will your pleasure. Even just by watching them getting it on. Over at RawFuck, there will always be a pretty line European twinks getting all cum sloppy. Sometimes these men do it indoors, sometimes even outdoors, it does not really matter, so long as they get the happiness and delight of fucking.
The studio has no embellishments and superfluities and the men aren't big names in the gay porn industry but what do they have is a good and productive studio and the men have, well, really huge dicks and very tight assholes. The quality of the scenes all boils down to the amount of inches guzzled and swallowed by a mouth or shoved up a really pink, tight, and stretched ass. The insanely large cocks will make you wonder whether they would actually fit inside the twinks whose body mass is just a tad diminutive. Because of the absence of condoms, which makes it really damn good, there are a lot of natural lube trickling and dribbling about, oozing in the mouth or in the ass. All the men in here are very eager to bare fuck some ass or to be fucked. It won't matter much which end these guys get, so long as they fulfill the sexual desire they have or the viewers have. Soon as you become a member, you cannot help but launch straight to where the action is found.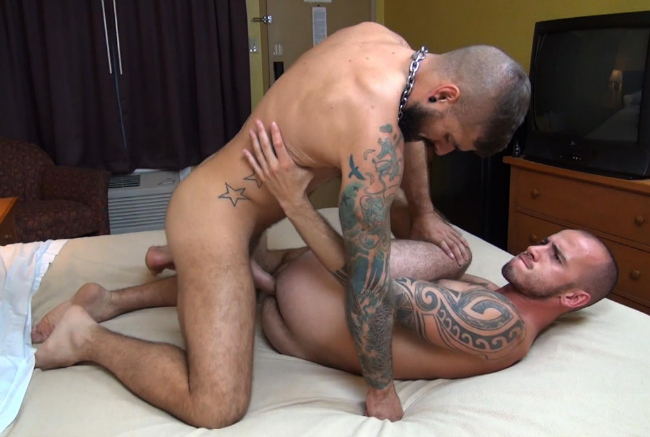 Site specs
RawFuck has mostly exclusive content, so you won't find majority of the videos anywhere else other than RawFuck itself. All the more reason to become a member, I always say. Rounding off, there about 400 videos to be found and watched in this treasure trove. Two videos are added every week, usually on a Monday and a Thursday. The updates are pretty fast so you'll get almost up to 8 videos per month. That's really a good thing since most porn sites I have run into don't update that much. The videos available are usually in MP4 format and they can be streamed or downloaded in a 960 x 540 or a 640 x 360 pixel resolution. The site also works well for mobile devices like iPhones and Androids, maybe even more. The videos aren't very crisp like I expected but they are still watchable, so that doesn't really fall on a bad category. The videos can be played in full screen at the expense of the quality it possesses.
The site offers both unlimited downloading and streaming, and the videos are DRM-free. Most videos come with a photo set of some sort, where you can be seeing stills from the video itself in pretty decent quality. You will be able to gaze away at them via slideshows or you can download them as zip files. As a member, you will have access to an estimated 15 bonus sites that are partnered with RawFuck which are usually focused on a selection of niches. They are really just third party videos though from popular producers like Jake Cruise and Raging Stallion. Still, that's great for a bonus. RawFuck is also associated with a gay porn site called French Lads, so you will gain access to it too. It's mostly French twinks and jocks in the same niche as RawFuck. Onto being a member, a downside that RawFuck offers is the pre-checked offer on the billing page, that, if left checked, will sign you up for a second inveterate membership .
The movies section doesn't have much, it's mostly just DVD's for sale. Back to the site, it is good to know that there is a model index where you can find the names of your favorite twinks and jocks, you can also find a corresponding photo and a short description of said boy. Members will see the usual sex acts that are performed between two consenting males (or maybe even three or four or five, who cares, the more the merrier) and it will never frustrate or dissatisfy you.
The movies and the boys
You'll find different kind of guys in RawFuck. You have jocks, bears, twinks, muscled men, the fetish and kink kind of guy, or even Asian amateurs. Physically wise, they are all evenly and uniformly dazzling and gorgeous. Skill-wise, they are actual friends, with dicks as massive as fists. Okay, maybe I'm exaggerating but really, they're colossal. Just like you expect European males to have. It's no surprise that the guys in RawFuck are mostly good looking and sexy with lots of meaty uncut cocks. They also enjoy lots of bareback fucking indoors, outdoors, or wherever they may find it satisfying to do. They both have erotic and hardcore videos to provide like "Work the Wood of Your Apprentices", "You Suck My Load and I'll Suck Yours", "Sporty Studs Home Gym Fuck", and even "Whose Got The Biggest Fuck Tool?". Yes, they may sound cheesy but they are really good, so check all the scenes they have.
In few words
I love how easy to manage RawFuck is. I also love how they mostly focus on the fucking and all. I don't have much care in the world for storylines so if you came for the cocks and the asses, go sign up and be a member. I also appreciated how the site owners respond almost immediately to any quips and queries you throw at them. Customer service is great and the updates are really good. I can also assure you that RawFuck delivers what they claim to have and they don't thwart potential likability.