Introduction
What started in 2012 and is still flourishing and in demand in the present, PlumpMature proves that BBW (Big Beautiful Woman) is a niche that is here to stay. It is a different term to use for plus sized or "plump" women, it is also a great way to imagine what awaits for anyone who comes into the website. The "mature" part is explained by the fact that the majority of the BBW's starring in the videos are women who have reached a look that means they already went through a lot in life (Mamas or just reaching a mature age). These women may be big and more experienced in life but that is why they are also so hot to watch. Those DDD breasts, XXXL booties and curves absolutely add dimension to the 1080 HD XXX experience.
The site boasts a semi-professional material base, with real Big Mamas posing for cameras, rubbing clits or cocks and coming in the large-scale. The pleasure definitely grows in proportion to the body being pleasured. Watching these Big Beautiful Women reach their peak is a revelation each time, from the moment they take off their clothes to the second they come back to earth from their orgasm, it's a larger than life (or at least larger than the mamas) experience. There's a new video coming out to show that adventure every month.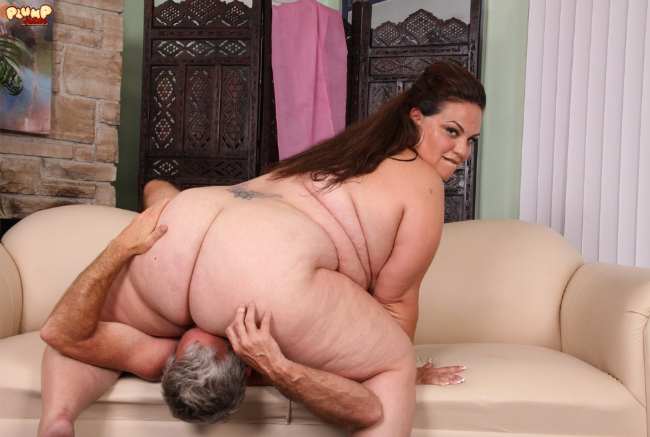 Site specs
The site makes sure to lure the visitor in from the first second they enter it. With bold colors and even bolder fonts and messages. Designs for the site stick to the name's theme making the site feel sassy and pleasant. The pictures featured from the headlines are the finest imaginable from a niche so bulky. What's not to like about fingers burrowing into folds and curves to find that pink, wet, hot center, a clit peeking out coyly at the site's visitor. What's better than big, heaving breasts being cupped seductively by a confident woman who's smiling suggestively at you. PlumpMature has an unassuming layout that makes it really easy to navigate around the site.
It's not going to take very long for anyone to find that perfect BB Woman to tease their weasel to. Top rated models and their videos give cheeky (wink, wink) previews of what's inside with very erotic thumbnail pictures. They convince you even further with fun little rundown on what happens. The BBW niche's rise in popularity didn't come that long ago. Since the start of the Body Positivity trend from the early 2000's more and more people began to embrace more curves. This site's edge against their contemporaries would definitely be because they've mastered the niche so well. Even from way back then they have since rode on the waves of acceptance for so long that they know exactly what their audience wants. Like a great BBW mama, they provide what's asked and tons more.
The movies and the girls
BBW aren't all the same, that's the advantage they have against non-BBW girls. Their body types vary from above average to more than outstanding. From leading homebodies named Ninelle and Jessica to the more outgoing and adventurous foxes named Cindy Sun, Arkadia and Nadia Cherry there is so much to see and so little time to enjoy them. A lot of them are ready to pose for the camera and masturbate with their fingers or with creative dildos and douches until they can't anymore, in the house, outside, anywhere at all. BBW videos of great, vast bodies fucking men and/or women are available too, just to cover all the bases and feature everything.
Body Positivity has done its job and helped these gorgeous women flaunt it all and be proud of it. They do not hide anything at all, showing as many curves that can fit in the camera. The ladies who do it solo are the site's hallmarks. They show you exactly how it is to love one's self. Feeling up every inch of plump and pretty skin and curve, discovering secret erogenous zones you'd least expect to find. They can get fairly loud, just from that alone, and when it gets loud, it gets sensual. And then they'll start to touch their more sensitive parts. Then it gets steamier than any sauna. They say bigger bodies produce more heat, nobody said it would reach these kinds of temperatures. It's a miracle nothing caught on fire on the set. The videos are quick to load and easy to download, letting anyone watch a big mama go at it again and again as much as they want.
In few words
If you want to embrace your true desires, embrace the positive and orgasmic vibes BBW delivers to a person, PlumpMature is the best site to be in. Joining the membership will not only give you access to the treasure trove of BBW dreams and fantasies it hosts. It may also support the niche further, enabling the producers of the team to make more and more videos. Encouraging more and more models to come and find confidence in their bodies, consequently posing for the camera and being featured in the site.
This site is a wonderful introduction to BBW for those who are just now exploring their actually large-capacity sexualities. It's great for those who are looking for BB Women who are not too popular yet but are just as worthy of attention and loving as the mainstream models are. It is worth more than the women in the entire site's weight in gold to be able to see the sexy sex and lusty masturbation that happens all the time in PlumpMature. Don't take my word for it, go check it out now.

Check out the other best porn sites pay OR read more on Plump Mature from other popular review sites.