Introduction
Awesome HD reality porn site, Perv Therapy's raunchy xxx theme revolves around troubled patients and experienced therapists who have discovered a very delicious and effective treatment method. The latter have distinguished clinics, and their costumes and props are also on point. Even the locations perfectly exude the vibe of their well-respected profession. However, these therapists do not simply listen to the issues of their clients. They take notes, yes, but the moment the patients step into their clinics, they already know what they need. Hardcore fucking sessions that often involve three-way actions, is there any other thing that can make their patients break away from their personal problems? Well, once you've seen the hot actions and the expressions of the clients after the session, you can only agree that there's none.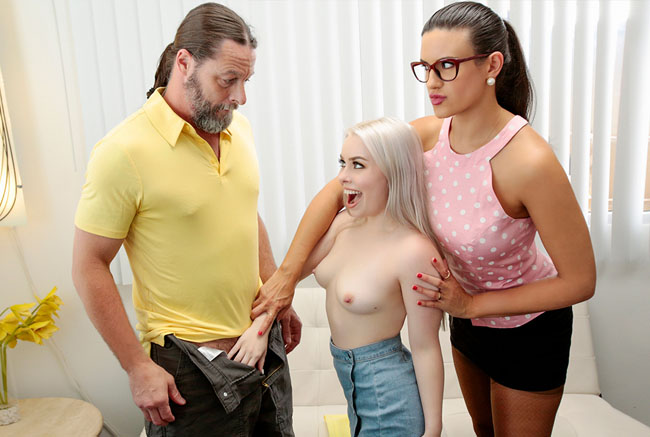 Site specs
One of the first things that would inspire you to browse Perv Therapy is the user-friendly interface. The neat content presentation provides you with an effortless navigational experience. The full HD display is very pleasing to the eyes. Even if the models are not yet naked, you will feel that your libido is rising. Probably, you'd even recognize some of the performers because all of them are already famous.
The site's default arrangements of videos are more than enough to give you a streamlined browsing experience. However, if you don't want to watch the videos based on their publication dates or popularity, you are free to rearrange and pick what you want to watch at your own will. You can use the basic search tool to find specific scenes or you can rely solely on tags. And, like any other sites released by the Team Skeet network, you are allowed to leave your comments on individual videos or simply rate them based on your satisfaction. Also, you will be happy to know that the official channel of Perv Therapy performs well on any device.
The movies and the girls
Once again, the creators of PervMom and PervDoctor have something exciting for premium hardcore porn fans! But, instead of seeing medical professionals, you'll see life coaches, counselors, and mental health advisors taking advantage of their positions. They are expected to cure the patients using words of wisdom. But of course, would you expect them to use words when they are feeling very horny? What more if the clients are as smoking hot as Jasmine Wilde, Penny Barber, April Olsen, Sophia Burns, Maddy May, Mackenzie Mace, and Christy Love?
In few words
Cheating housewives, stepfamily members engaging in hilarious sexual relationships, voyeur porn, it's no secret that these categories have millions of porn representations in the adult entertainment industry. But, have you ever watched cheating housewives seeking therapy because they want to get back on the right track? How about brokenhearted girlfriends who are looking for comfort from strangers? Well, Perv Therapy's original stories revolve around these issues. The way they get cured would surely linger in your memory for a very long time!