Introduction
Open the OnlyCuties and see it for yourself: on this site only cuties are allowed, and they are making the world go round every day. When we started to review this portal, we thought that the claims of the tour are way to bold to be kept, but as we engaged the site, and gathered the information our views changed. We started to wonder: we've really found a site that has cute girls, varied sex, and a strong update frequency… and it's all exclusive? That's just true good to be true, right? Well, it is, but if you read on our OnlyCuties review, you will see that wonders exist, and sometimes tales become reality. This website has been online for almost a decade, and during the years that has gone since the launch, it has been growing and expanding. The company that runs it has three other sites, though you gain access to only the OnlyCuties, and the HannasHoneypot.
Regarding the update schedule, the site claims to update daily, and the dates in the members' area also support this claim. What about the counts, then? That's a fine question, but the over 2700 piece of content (about 50-50 percent scenes and photo sets) tell us that the site may have been closed for a time, but the recently added videos are all in great quality, and that makes us wonder. Nevertheless, this is an exclusive collection, and that's an important benefactor for any porn site. We've found that most scenes here can't be located on other websites, so this fine collection, even if it's not updating, worth the try.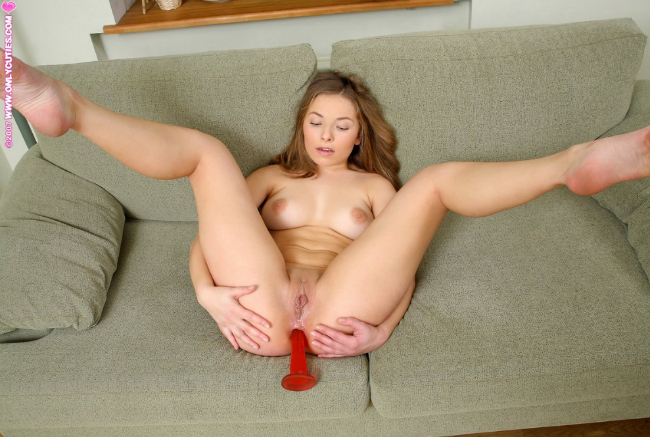 Site specs
If you try to gather some intelligence on the site's offers, you can take advantage of the tour it has: there are pictures throughout the home page, and you can view three trailers. Each trailer features a main category: solo, lesbian, straight. Regarding the members' area, you will see that it's simple, they placed the menu on the top, and that's where you can reach the site's different areas from. Also, that's where the search can be found. The content is tagged, you can search for models and categories.
The flicks are really great. There is a Flash-player embedded into every video's page, and it offers you a fine experience: HD resolution is available, and the playback is quite smooth. It looks like only MP4 files are granted for download, so you should take advantage of that option, because it offers a slightly better bitrate. There is a daily download limitation of 50 Gigabytes, but it's still enough to save everything you like in a month or so. Now, the photos are gorgeous: real High-Resolution stills, coming zip format for a convenient download.
The movies and the girls
The hot cunts at the OnlyCuties are certainly cute, and there are only them here, girls who are not cute didn't make it to the site. As the cutie is a niche in the porn industry, you can expect here one type of model: a bit short, naturally equipped girl, with fine and sexy appearance. Also, it's a kind of recommended from the "cuties" to be within the age range of 19-26 years, and it seems that these girls are perfect matches for this category. We found a lot of cute Europeans here, and as we dug deeper, we realized, that many of the content is feature hotties from overseas, however a major amount shows some your friendly neighborhood US cuties in hardcore action.
Sometime it's hard to decide, because some girls are just can't choose a name that could tell you about their origin, however, the fact that most of them are Caucasian strengthens our depictions that there are many Europeans among them. Nonetheless, there are some really cute girls here, and you might find yourself falling in love, because they are real charmers, and they smile a lot on their photos. Being natural is a must-have for them, so you have to brace yourself to enter the world real natural cuties, who seem to love what they do.
The OnlyCuties has some really sexy niches covered, and what he site offers ranges really wide. You can enjoy here softcore material, including some teasing and solo action, but that's not quite common: the girls are doing mostly hardcore stuff, even when they are solo. There are videos featuring these hotties as they use some big dildos to please themselves, however some of the hornier pieces don't stop there: they even introduce a dildo to their well-prepared and tight butthole. We're positive about these scenes, you are going to love them.
If you wish to see more pussies, the lesbian videos are what you must seek out, these have softcore starting, but in the end they are going to be plain hardcore with anal insertion, hard fingering and scissoring, and double insertions. In several cases we witnessed actual orgasms, and those make these videos so much more exciting. But, if you are a man with regular taste, the kinky and sexy straight hardcore might keep you interested for a time: the hotties are showing off their assets quite nicely and their horny partners are always eager to take advantage of them. There are group scenes, double penetration, and anal penetration is quite common.
In few words
These videos will certainly make you happy if you enjoy browsing through a collection of cute girls' videos, who are going through different sexually explicit scenarios. You can watch these girls as they get their fair share of solo masturbation, getting served by another girl, or get their fine holes filled with a real cock. Since the content is exclusive, and they keep the site updated, the Only Cuties is really one of THOSE sites, we recommend without any kind bad thoughts.

Check out the other best pay porn sites OR read more on Only Cuties from other popular review sites.