Introduction
Ever had the fantasy where you get to fuck your dad's gorgeous, dripping hot girlfriend? I'm sure most of us do, and Naughty America is here to cater to this particular fantasy with MyDad'sHotGirlfriend! Find only the sexiest girlfriends in this site, each acting in fantasy videos that's sure to have you cumming in your pants in minutes.
Cheating porn has never been better with My Dad's Hot Girlfriend, a sub-site of Naughty America. If you've already jacked your nut off with "My Friend's Hot Girl" or "I Have a Wife", some of Naughty America's other high quality cheating porn sites, then you'll find that the new level of nasty adult entertainment content that My Dad's Hot Girlfriend has got to offer doesn't fail to impress. Indulge your nastiest dreams of getting your dad's girlfriend to cheat on him by offering you the best sex of your life. My Dad's Hot Girlfriend has only the best, high-quality videos for you to enjoy, all uncensored and filled with beautiful, cheating girls ready to get down on their knees to suck your cock or get fucked to a screaming orgasm!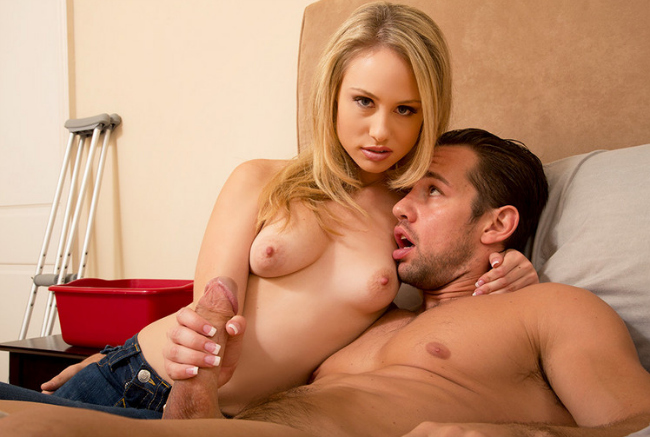 Site specs
My Dad's Hot Girlfriend is a large website in itself, with pages and pages of amazingly hot cheating porn content. The main page offers a huge introductory selection of videos, all ready for preview to get you excited for their full roster of content. You'll find that their videos are sorted by porn star, so that you can navigate through their content by looking for your favorite girls. If you want to find the newest and hottest porn videos, My Dad's Hot Girlfriend offers a page where you can get the freshest content available. This way, you won't ever got bored with browsing through the same content over and over again. Through their Find Your Fantasy® search engine, you can browse through their content by selecting tags like 69, Group Sex, Deepthroating, Squirting, and many other fun kinks. Whatever you're in the mood for, My Dad's Hot Girlfriend definitely has something for you to enjoy!
Another amazing feature in My Dad's Hot Girlfriend is their new Virtual Reality Porn page, where you can view specially-produced adult videos with compatible devices such as Google Cardboard, Oculus Rift, Samsung Gear VR, or other smartphone headsets available in the market. Bored with the regular, humdrum porn videos you see online and in adult video stores? Why not give their Virtual Reality Porn page a try? Now, let's say you've had your fill of cheating girlfriend porn and want to try some other content. Don't fret, because My Dad's Hot Girlfriend offers links to 45 other EXCLUSIVE websites under Naughty America's production banner. This way, you'll NEVER run out of videos to jack off to, whatever kind of porn you'd like to watch! Getting membership is easy and very much worth it. Upon joining, you're guaranteed access to THOUSANDS of videos under My Dad's Hot Girlfriend, as well as the other 45 exclusive sites under the Naughty America label. You also get unlimited access to download and streaming via online, mobile, and Roku, as well as their exclusive Virtual Reality porn. Get hours and hours of your hottest fantasies fulfilled with just one site membership at My Dad's Hot Girlfriend!
The movies and the girls
My Dad's Hot Girlfriend has only the sexiest, most gorgeous women on their roster. From popular porn stars like Sunny Leone, Asa Akira, Bethany Benz, and Nicole Aniston to the newest, most fresh faced actresses in the industry, you'll find someone to suit your tastes and needs whenever you click on a new video. Find a new favorite every time you browse their porn star page, with hundreds of beautiful ladies for you to watch and fantasize with. You can sort them by three categories: alphabetically, top rated, or most scenes. Start with the most popular ladies on offer, or find that fits your particular kink at the moment, My Dad's Hot Girlfriend always has someone for your fantasy!
As for the videos, My Dad's Hot Girlfriend regularly delivers fresh, high-quality content of the cheating porn variety, always uncensored and in high definition. And it's not just cheating porn, you've got every other fantasy covered with thousands of videos shot in various locations and showing many popular kinks and fetishes, from anal to threesomes to POV sex. All these are available for streaming or download when you've got your handy membership access. One of the site's amazingly sexy videos to note is a threesome shoot of Cassidy Klein, Veronica Vain, and Johnny Castle, where Johnny fucks his dad's beautiful girlfriends for Thanksgiving. Another video to search for is Nicole Aniston and Johnny Castle's hot scene where Nicole is doing a cam show for Johnny's dad and he catches her in the act, resulting in some very sexy fucking. These videos and many more are available for you to watch or download once you get your membership access!
In few words
My Dad's Hot Girlfriend is a great website for those looking to indulge their best fantasies of screwing their dad's gorgeous lover. Add to that the other kinks that the site's many videos cater to, and you've got an unlimited source of adult entertainment for your daily viewing pleasure. There's even virtual reality porn, if you've got the right gear for it! You'll never get tired of the girls, either, because they've got hundreds of models for your entertainment, from fresh new actresses to seasoned porn stars. Whether you're just here to stream videos or looking to build an archive of sexy porn scenes in every fantasy and kink, you can find content to suit your tastes in My Dad's Hot Girlfriend, as well as Naughty America's 45 other exclusive websites! All these are available just after subscribing to My Dad's Hot Girlfriend's membership content.