Introduction
The name of the site, mybabysittersclub is pretty self-explanatory. The obvious niche of the site is tata and the primary niche is hardcore sex, blowjobs and softcore sex. The scenes have a bit of a role play set up where the nanny is caught by the man of the house doing something awful or in some cases there is some conflict which needs to be solved and in most cases the tata ends up being blacked by the kids dad. The bribery leads to sexual activities such as blowjobs, solo masturbation shows, anal screwing, hardcore sex and more.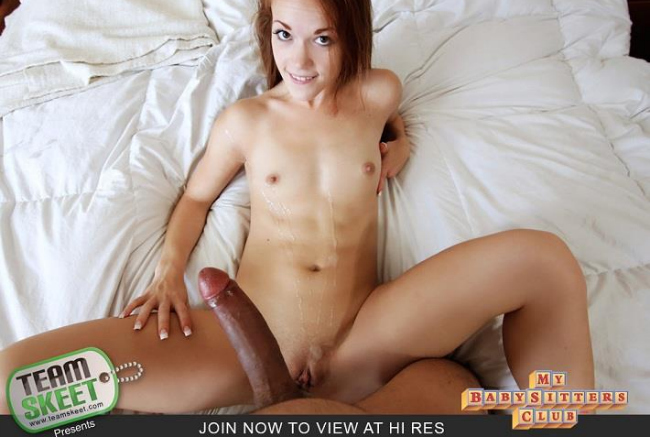 Site specs
When it comes to design and layout, it is very simple and plain. There is no use of colours to add the aesthetic value and menus and icons are just placed anyhowly. It's somehow disorganised. I am a huge porn fun and I have seen better sites before. It is designed in such a way that the homepage has several ways of browsing around the material available. Navigation is pretty much simple and easy. It has several menus which include model, updates which is further divided into popular, recent etc. There is also a list of tags on the left of the screen that allows you to sort for various attributes. A detailed search engine is also available where key words and category tags can be used. The homepage has some several video screen shots, displaying images of models in provocative posses showing off their tit's and bums, giving blowjobs, having hardcore sex and more. After signing up, members are also elligible for some good discounts too.
The movies and the girls
The girls are mainly 19-25 years of age. Their physical appearances vary though. We have blondes, brunettes, tattoed and pierced girls and more. This may be a deal breaker to some people out there and i totally get it. However, this is exactly my taste and preference and am totally intrigued. The porn site highly scores for me and I would recommend it to anyone who is into this kind of material. The site has 16 plus scenes and in addition, it has 16 plus photo sex galleries with each having an average of 170 plus photos in each gallery. In one of the scenes, it involves a amateur blonde fresh adult who is nanny at her parents friend house. After the kids are in bed, the girl calls her best friend. On the phone they are talking about the man of the house and it is not good things that they are talking about. The man is eavesdropping the phone and after she is done, he approaches her and threatens to tell her parents. The amateur blonde is very shaken and pleads him not to do so. Inorder for his silence he asks the blonde for some sexual favours. The guy wants a blowjob and man the beau can deep throat dick. She works on the shaft while she is licking the tip and caressing the balls. The guy is in cloud nine and you can tell from his growls and moans. It's a very steamy and raunchy scene.
In few words
So if you've read through this far it won't be a surprise to find that I am highly recommending mybabysittersclub. They offer some great porn with some of the freshest models working and they offer that on a network that does all the technical stuff well. This would be a great value at the full price so when you add in the TBP discount mybabysittersclub becomes one of the best values around.