Introduction
Lezkiss is an adult site that has some good quality movies of lesbians taking part in long make out sessions and hardcore lesbian sex. The movies are exclusively made for this site and there are exclusive photos accompanying them. All the movies are in High Definition, and can be accessed for a reasonable monthly fee, or for a slightly lower 90 day fee.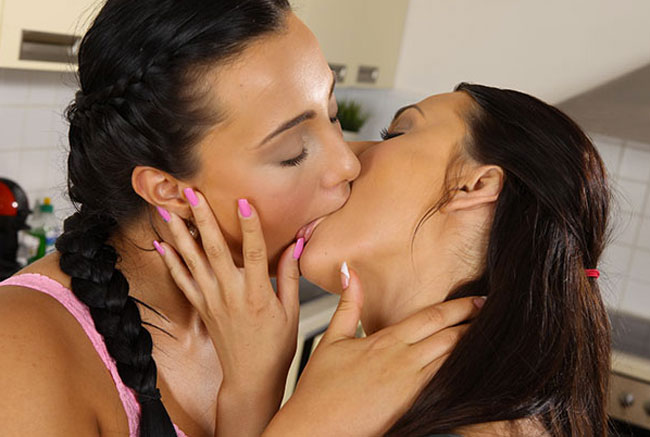 Site specs
The first thing you will note about the site is that it is clean, neat and orderly. This is perhaps to reflect the high-quality content that is promised here. The colours are feminine and ideal for the theme of the website. The navigation is very straightforward. Even though there is no specialized search function, most of the content on the site is easy to find. Lezkiss focuses on lesbian movies as opposed to still photos. There are however still images on every scene, which can also be downloaded. The images are of high resolution and can be downloaded in 2856×1904 size.
All movies are in HD, and can be downloaded at 5000kbps speed. There are no DRM, bandwidth or download restrictions that have been imposed for members. Lezkiss stands out thanks to the design of the website and the commitment to the highest quality, when producing the videos and the photos. The videos here are significantly longer than those you'd find on other top competing sites, which have videos that are significantly shorter than those you'd find on Lezkiss.
The movies and the girls
One thing that I can't complain about is the beauty of the models on Lezkiss. The women here are hot women mainly cast from European countries. They are fit, sexy and confident women. They all have flawless skin and beautiful hair. Some of them have tight tits, while others have big D size breasts. However, all of them are shapely and very feminine. The movies feature these sexy models in one on one lesbian action. The movies start with a lot of foreplay before progressing into intimate sex between the two. It starts with deep kissing and make out sessions, which takes a considerable fraction of the movies.The lesbians can't take their
The lesbians can't take their hands of each other as they engage in tongue twirling, scratching with their long fingernails, face licking, neck nibbling. They then take off their clothes in a sexual frenzy as they get even more intimate. They seem not to have a care in the world as the take off their bras and begin nibbling on each other's nipples. They both give each other long caresses, as they explore their slim, sexy bodies. They get completely naked as they progress to hardcore sex. A lot of fingering takes place in some movies. They also take turns licking each other bodies. Sometimes a girl pulls out a dildo and works on her partner until she orgasms. Tribbing, scissoring, deep kissing and the use of strapons may also happen at this stage.
The videos are fairly long and professionally done. There is some effort that has gone into this to ensure good lighting; precise editing and the right camera angles are taken. The result is captivating movies with great production values.
In few words
Since Lezkiss is fairly new, the site is still trying to catch up with other established websites that have been around for longer. However, if you are a big fan of lesbian movies, there is a considerable amount of high quality content on the site that you can enjoy.

Check out the other best pay porn sites OR read more on LezKiss from other popular review sites.