Introduction
This is the official porn page of the porn star Leya Falcon. Here you can find a large selection of scenes featuring this stunning nasty blonde, and as you will see, she knows what to do with a cock. What's really hot about this girl is that she is quite eager to get her throat fucked, and she always spreads her legs and loosen her asshole to get a huge black cock deep into it. In almost every video she either takes a big cock in every hole, or if there is no men around she uses her gigantic toys. In a few scenes she goes hardcore with other gorgeous models. By the way, Leya is a Caucasian, seemingly a natural blonde. She has two nice breast, upgraded, and a wonderful body. She is quite flexible and she can take on anything in any hole as the situation demands.
So, the LeyaFalcon is a one-star portal, but the scenes feature guest-appearances too. This site launched in 2013, thus it's a considerably new one. The update schedule is hard to determine, but it's certain that new videos arrive now and then. As far as the quality is concerned, we were a bit surprised to see the HD videos on the site, but we are glad about them. This site isn't a standalone one, it has the Puba network behind its back, and as you might expected, there are all kinds of juicy hardcore niches covered. There are about 40 sites included with your membership, though the majority of these portals are all solo star sites, focusing on one hot cunt who does a lot of nasty-nasty things. You can find here everything you might like: rough sex, interracial sex, facials, monstercocks, lesbian sex and gangbangs. Though the network is really big, it offers exclusive videos, and there isn't sharing between the sites, so it's a quite nice deal. Other extras include bonus feeds, live cams and forums.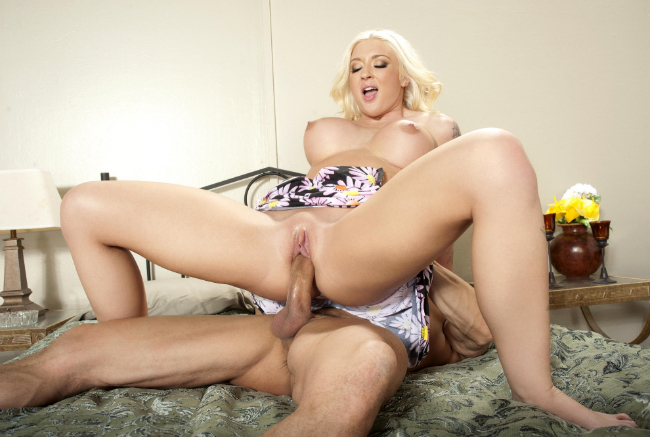 Site specs
The design and the layout of the site are really fine. As you pass the age verification, you will see a big banner, it's a player window in fact, with some info about the star of the site. Above this, they placed the menu, where you can take a look at the bonuses. If you want to gather information about the content, you should go lower. There are large pictures listed throughout the tour page, and as you scroll lower, the list expands. If you have enough information to make the choice, you should head to the signup form, and after the short process of registration, you can start exploring the content. The inner area is not overcomplicated: you can perform site-wise and network-wise actions with the help of the two separate menus.
The movies and the girls
If you've ever heard of bad girls, and you've never seen a video of Leya Falcon, then it's high time to catch up with her. On the LeyaFalcon, her official Puba site, you can see this hot blonde getting fucked, demeaned and destroyed in real hardcore, and very heavy sexual encounters. These scenes are hot, sexy and mean, and if you are not really up for dirty hardcore, then pick another Puba site instead. Leya is a gorgeous 28 years old model. She has blonde hair, sweet eyes, and a nice face which makes her look a bit more mature then she really is. Her body is fine, if not great. Two medium breasts are attached to her tight body, just to make her more fitting for some rough drilling. Also her pussy is nicely shaped, it's always hairless, and on the other side, her butt is also pretty awesome. This model decided to leave the mainstream and get to the dirtier side of porn… at least for the time she has been shooting videos for this site. She has a tattoo on her left upper arm. There are some other girls appearing here, and they are amazing too. Leya works with girls like Mia Lelani, the tattooed beauty Payton west, and she has a threesome scene with Vanessa Cage and Daisy Monroe.
The basic nature of the scenes here is really hard. These scripted, studio-made videos usually cover a fantasy, or at least a situation that may have come to your mind recently. And it's important to note, that they usually feature a fetish. There are costumes in use, and Leya usually has a sexy make-up on her face. You will see that the movies here often feature Leya taking on Black guys. Now, this is another important aspect, because it looks like interracial sex is still a kinky, somewhat forbidden or frowned-upon thing, even in porn, and those who do it are really nasty girls. Apart from being interracial, the sex here is heavy in other ways too: Leya gets her throat fucked, and she also goes through some ass-hole widening, and these sessions usually end with her being left behind with a gaping asshole and a body covered with man-milk. The lesbian videos are also quite nasty. These usually feature some worshipping, the most common fetish you can find here is the foot-worshipping. The girls lick and kiss each other's feet, then get on with some actual lesbian love.
In few words
Though the LeyaFalcon is a model-focused site, it represents the good kind of such pages, because it's not a collection of scenes and photos which features 2-3 files with the girl and the rest has nothing to do with it. No matter what happens, every video features Leya and her partners, so you can see a lot of her. Considering the heavy nature of the videos this site might satisfy many men, and the network access is really hot extra to consider.