Introduction
They're your everyday-type of girls. You may have bumped into some of them in shopping malls, along the streets, at the beach… You might even recognize their face or the curve of their hips! Aren't you curious what these girl-next-door type of chicks are doing behind closed doors? Tell you what, some of these chicks actually have a naughty side behind those innocent and cute smiles. At least that's the case here at JuicyGirlfriends! These amateurs don't just want the usual familiarity, they want you to take a closer look and come in for a much deeper, if not more intimate, act of familiarity.
JuicyGirlfriends is filled to the brim with hardcore amateur sex highlighting stunningly gorgeous first-timers who are just about to dip their toes into porn stardom. That's right, these are the kind of chicks you see on the street every day, but here they baring it all, pussies and asses exposed for your pleasure! These girls are not afraid to do dirty and naughty stuff that you'd otherwise not see them doing in public (lest they want to get arrested)! Currently, subscribing at JuicyGirlfriends doesn't come with bonus content but this site itself has more than enough HD porn goodness to satisfy your raging libido. It may focus more on amateur porn content, but the site could still appeal to those who are not into this sort of genre. It's mostly hardcore banging here, with occasional softcore action and a sprinkle of lesbian sex on the side.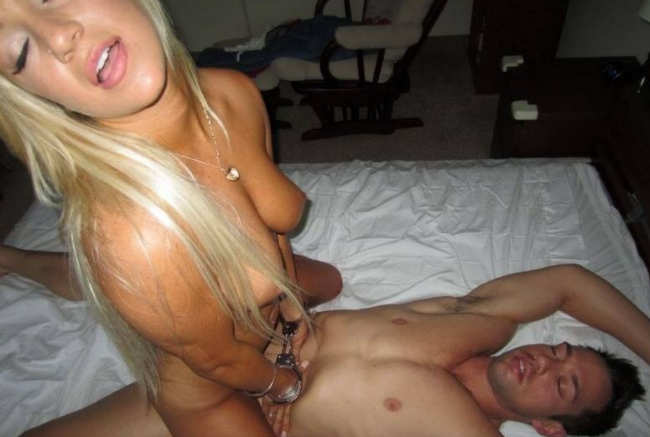 Site specs
JuicyGirlfriends has a user-friendly website with a visually appealing white and yellow color scheme. From the moment you enter the site, you'll be welcomed with screen caps taken from their latest videos; featuring girls spreading their labia and showing off their clit, women getting facials, lesbian threesomes, a chick getting banged by dudes in the ass and pussy, and many more. The preview is displayed with a screen cap that appears to have been taken from the movie itself. Each preview comes with a tagged caption that briefly described each scene to give you an idea what it's about before you click and play. There's also a rating and comment system, as well as the ability to save your favorite scenes. Given that the site has a huge repository of videos and photo sets, it's only natural for JuicyGirlfriends to have a few search tools to make the viewing experience more convenient for their members.
All content are properly tagged and categorized so you can easily find what you need. There's also a handy search engine where you can type in a specific keyword. Sadly, there doesn't appear to be a models page, so you'll have to browse through the videos to find your favorite model(s) and make an effort to collect their videos and/or photos. Seeing as the site caters to amateur porn, expect plenty of innocent-looking girls who are exposing their slutty side by performing all sorts of naughty deeds. You'll occasionally see the usual scenes such as masturbation, blowjob, handjob, dildos, and pussy and anal fucking; but there are a number of kinky scenes too that fetish fans might find particularly appealing. There's a number of outdoor sex and a dash of lesbian action, as well. And just like the content, the girls at JuicyGirlfriends vary. They come in all ages, races, and sizes. You'll seldom see pudgy chicks though but when you do, trust that you'd still get a huge boner at the sight of their huge tits and fleshy pussies!
The movies and the girls
There's all types of action going on here at JuicyGirlfriends. There are chicks giving yummy blowjobs, enjoying cum facials, getting it on with two or more well-hung dudes, and plenty of pussy licking and fucking, too! Some of the girls prefer to go solo by playing with their tits and pussies using their slender fingers, while some prefer to do it with their trusty dildos. Other girls want to get it on with a big-dicked boyfriend, while other chicks prefer to lick a fellow chick's ass and/or pussy! I tell you, even if these hotties are new to the whole porn thing, they are just as naughty and creative as the pros! I've come to love a lot of videos here at JuicyGirlfriends.
One of my favorites is a scene featuring three dykes getting hot and heavy while they take turns giving each other juicy cunnilingus. Another video sees a dainty, tattooed Asian slut playing with her tight hole, followed by a cock stunt pounding her raw in the ass. I've also seen plenty of yummy orgies and double penetration, as well as a number of cumshots. Right now, JuicyGirlfriends has well over 700 videos and more than 300 photos, most of which are in full high definition. I can't say they're all exclusive though, since I think some of the videos have already been uploaded in other sites. This, however, doesn't mean you won't enjoy the variety of scenes and amateurs you'll find here at JuicyGirlfriends.
Video quality is pretty impressive overall. Sure, some may appear a bit grainy and DVD-ish, but it's safe to say that most of their flicks are in excellent viewing quality, probably surprisingly better than what you'd expect with most homegrown amateur videos these days. The high-quality ones are marked "HD", so it won't be too hard for you to find steamy porn videos that allow you to see even the basic of details. The average length of the videos is a rather short 5 minutes, though there are some that run as long as 20 minutes. You can opt to download them in MP4 format, or stream them via the embedded Flash player. As for the photos, most of them display at a best of 1280×960, sometimes even higher. You can opt to download and save them in a ZIP file.
In few words
JuicyGirlfriends is a budget-friendly premium porn hub for hardcore porn lovers who have a thing for cute and horny first-timers. They may not offer exclusive content all of the time but through the years, they've managed to stack up hundreds of high-quality flicks and stills featuring different types of amateur girls doing the nasty in various ways. There's a good mix of softcore and hardcore action, though I think most of the content you'll find here are hardcore. I'm enjoying what I see in this site, add to that the fact that there's always fresh content to look forward to every week. Who needs bonus content when there's plenty of porn goodness to satisfy your cock here at JuicyGirlfriends? So settle down with this site, whip out your dong, and tug away at the sight of these juicy amateur girlfriends getting pounded like there's no tomorrow!

Check out the other best pay porn sites OR read more on Juicy Girlfriends from other popular review sites.