Introduction
Great solo porn site, Joon Mali gives you one of the prettiest seduction queens of Thailand in this self-titled softcore porn collection! This Asian sweetheart has a unique beauty that would surely take your breath away. But, aside from her deep almond eyes, you would surely never want to take your gaze away from her delicious booty. This girl knows she's oozing hot and that she can turn you on almost effortlessly. Watch her pick a sexy outfit for the day, play with her proud tits and pussies, and of course, shake her mouth-watering booty while giving you a look that seems to say come and fuck her.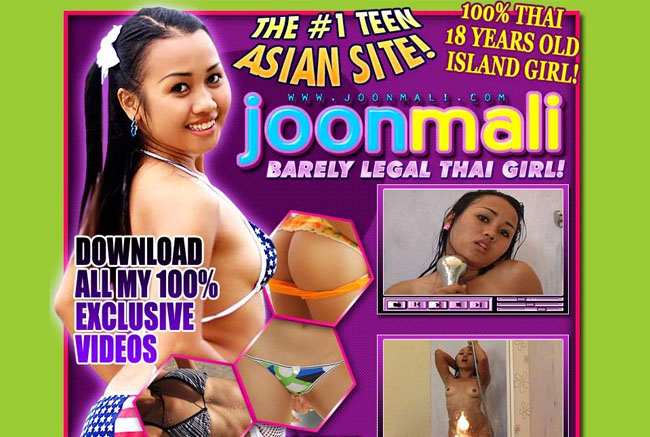 Site specs
Joon Mali's official website reflects the porn sweetheart's personality, very feminine and bubbly. Her hometown is a beautiful island in Thailand and just by looking at her colorful porn channel, you can almost feel the tropical and vibrant climate of the country. On the landing page, you would surely feel light and relaxed as Joon greets you with a dazzling smile.
Inside the official members' area, you'll find a comprehensive page that tells you pretty much everything you know about Joon's private life. There are also neat and well-organized sections for exclusive videos, photos, wallpapers, news, games, and even a diary. All the videos have corresponding photo galleries and you can browse them separately. They also come with descriptions that perfectly sum up what Joon has done in each particular scene.
Perhaps, what would amaze you even more in this softcore porn collection is the kind of bonus treats for members. You won't get bonus porn collections as you would normally expect. Instead, you'll find computer games such as Mahjong. Once you have cleared all the tiles, you can unlock a nude photo of Joon. This girl rarely appears fully naked so that would surely keep you motivated to play and win.
The movies and the girls
Joon Mali is all about hot teasing scenes. So, if you expect to find a girl being fucked, you might want to exit right away. Or, you can stay and find out how this porn sweetheart has successfully entered the competitive world of adult entertainment and got a porn site of her own. Her erotic videos prove that a porn star does not need to suck dicks and bear hardcore fucking just to gain fans and stardom. Joon simply carries on with her day-to-day routines, occasionally experimenting with creative costumes and picking out different characters depending on her mood. Most of the time, the videos only feature topless nudity and pussy playing through her panties.
In few words
Are you tired of watching repetitive scenes in hardcore porn? Why don't you take a break and check out Joon Mali instead? This porn site that features intimate teasing scenarios from a beautiful Thai sweetheart would surely give you an inexplicable kind of erotic orgasm. Surely, you would love to watch her daily routines and wish that you can be on the island with her. The overall collection is presented in high quality and the bonus treats that await you inside the official members' area are also very refreshing.