Introduction
Who needs a dose of BBW porn? If you love buxom ladies with their big tits and fleshy pussies, then you'll definitely love what JeffsModels has in store for you. That's right, this site loves big beautiful women as much as you love great, mind-blowing sex! If you've spent a lot of time looking for some quality BBW smut, now's the time to end your search and stick with JeffsModels. Here, you'll find some of the raunchiest BBW hardcore sex, as well as the most gorgeous plump ladies that'll surely make your dirtiest dreams come true. They're definitely worth paying for a small monthly or annual fee and once you have your own account with them, you'll have instant access to all their exclusive porn content, and in glorious HD, too!
The site's name may leave you wondering what the fuss is all about but whoever Jeff is, you'll certainly thank him for being the BBW porn expert that he is. I mean, he's got an impressive collection of high-quality porn videos, plus some real pudgy chicks that'll surely make your cock hard. If you still haven't guessed the gist of things, JeffsModels centers on seductive women with big bellies, gigantic breasts, grope-worthy ass, and yes, fleshy pussies! This is your online hub for the hottest, steamiest hardcore BBW sex where the fat chicks leap right into action to get your shaft all stiff and hard. JeffsModels has one of the most diverse collection of high-quality BBW porn videos so anyone who loves fat fuck buddies would consider it a safe haven.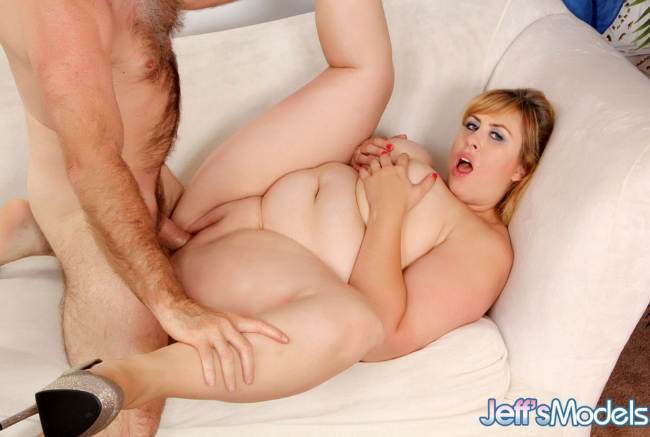 Site specs
JeffsModels has a no-nonsense website design. It's ultra-simple, clean, and free of annoying ads. The girls aren't skanky at all. You know how some niche sites give you nothing but trash but at JeffsModels, the busty vixens are all hot and cute, especially when they're teasing you as they slowly roll down their lingerie and expose their delicate pink pussy. Their content is an overwhelming array of BBWs giving blowjobs and getting fucked raw, but you'll also find several scenes that treat you to steamy threesomes and orgies. The moment you enter the site, you'll immediately be welcomed by plus-sized ladies with boobs as big as watermelons, and pussies gleaming with wetness and desire. Scroll down and you'll immediately be teased with a number of video and photo sets featuring some of the hottest gals in the fold. Some are Latina and ebony, while others are Asian and Brit. There's a few interracial action going on, too. So whatever your preference, trust that JeffsModels will deliver.
My only real concern with this site is the absence of content categories and a search feature that could've helped subscribers easily find what they need. All of the videos and photos are simply listed on one page. The fact that this site releases new videos on a weekly basis doesn't make things any easier to the subscribers. As their archive continues to grow, I sure am hoping that the folks at JeffsModels does something to change or add a few things on the site that could make the whole porn-viewing experience a lot more convenient and of course, less of a hassle! After all, you're not here to break a sweat clicking and scrolling just to find what you need; you're here to break a sweat while beating your meat at the sight of luscious BBWs getting rammed hard by huge cocks!
The movies and the girls
The ladies at JeffsModels are radiating with raw beauty. Their breasts are so huge you could drown your face in them. Their asses are so smooth you just couldn't resist spanking them. Just imagine drilling that delicious pink fleshy pussy as her tummy jiggles with multiple rolls of sexiness. If you find these traits overwhelmingly hot, there's no doubt you've found the perfect porn site for you, and that's JeffsModels. This porn site caters to gorgeous and adventurous pro and amateur BBWs who won't think twice to go on all fours and spread their legs to give you a close-up view of their glistening pussy so wet with desire to get fucked hard. There's nothing quite like the hardcore BBW erotica you'll find in this site, and every single scene is taken with quality production value. I mean, just look at the sexy brunette MILF Amazon Darjeeling and her dripping wet pussy waiting to be pounded hard. And then there's the vivacious ebony plumper Marie Leone with her cum-starved pussy getting glomped by her fuck buddy as he spills his thick load of jizz.
These are just some of the many ripe big-titted ladies you'll get to meet at JeffsModels, and they're waiting to be drilled real hard by one… two… multiple raging cocks! Hardcore BBW sex is the only thing in everyone's mind here at JeffsModels. Most of the videos have an average length of 27 minutes so there's plenty of time for you to jack off not just once but twice (or even more)! The usual scene begins with a little striptease but after a few minutes, these fat chicks will immediately jump the initial pleasantries down to the blowjob entrée. From there, everything goes wild and raunchy as breasts and pussies are exposed, and cocks explode. Each film goes through the usual porn formula, but these BBWs go above and beyond to make things more interesting. From the striptease, the pussy-eating ensues, and then the breast-fondling, down to the pussy-drilling as XXL panties drop to the floor. These plus-sized ladies get all the pampering they need as they're being maneuvered in various wild positions just to get the deepest possible drilling they can enjoy! All of their videos are in crisp and clear HD so expect to see all the naughtiest details the moment you press Play.
You can choose to download the videos or just watch it online using the site's built-in Flash player for instant playback. Streaming the video loads up perfectly fine and works without a glitch as long as you allow buffering and don't skip ahead in the fun. I mean, what's the point of skipping when every second of their porn films will have your cock throbbing and pulsating with desire? For the latest videos, you can choose from 420p, 720p or 1020p, though I strongly suggest you go for 1020p for the most crystal-clear porn-viewing experience. All of the videos come with matching photo sets taken from the film itself. You'll see the big girls in their hot lingerie down to the hardcore sex sessions where they get their pussies dumped with loads of cum. If you're up for some quickie time with your schlong, don't forget to save these stills in ZIP files. Who knows, you might just need them during your horny moments when you're away from your computer!
In few words
The ladies at JeffsModels will give you the hottest fuck you need with a smile on their face, a twinkle in their eye, and a seductive lick on their lips. They don't have any problem doing all sorts of nasty stuff to cater to one or more erection at a time. They find joy in playing with their pussies while sucking off hard, veiny cocks. Whether it's solo or through group sex, these plump women are ready to cater to a man's carnal desire. There's plenty of one-on-one man and woman action, and there's a great number of solo and lesbian action, too! It all comes down to the final ecstatic cumshot moment where the lustful BBW licks all the hot cum on her face, and swipes up the rest on her big tits and pussy. It's a legendary cum splatter you don't want to miss! So go ahead and click that Subscribe button and treat yourself to what's arguably one of the best premium BBW porn you'll ever find online. If you ask me, I'm going to follow JeffsModels.com for as long as I could and wait for more explosive updates to come!