Introduction
Do you love Germany? I love Germany, with all the nice places and all the unique pride of character they possess. But you know what's even better than Germany? It is the girls who live there, and you know what's even more better? A Porn site that's just full of German girls being fucked as hard as hell! Yeah, that's what I'm talkin bout!!! Now let me introduce the site I'm about to review. It's called Inflagranti. Inflagranti is a German word "Blazing Offense", they sure ain't joking with that blazing part. This article was founded on 1997. Another shocking fact about this website is that, the guys who created this site, made by total accident. None of them were planning to create a Major Porn site in the first place, or even a simple one at that… But while they were just filming for fun some sex videos they could have for keeps, there was an accidental leak. But then, WAM, they got famous for it, and now their website is the number one Pornography in Germany and for anything that has to do with German Porn! Now if you're into Asians, or any of those porn types, then maybe this ain't the one for you, but if you're into Hungarians, or Europeans, then this would pretty much be the best choice for you. But let's not get ahead of ourselves just yet.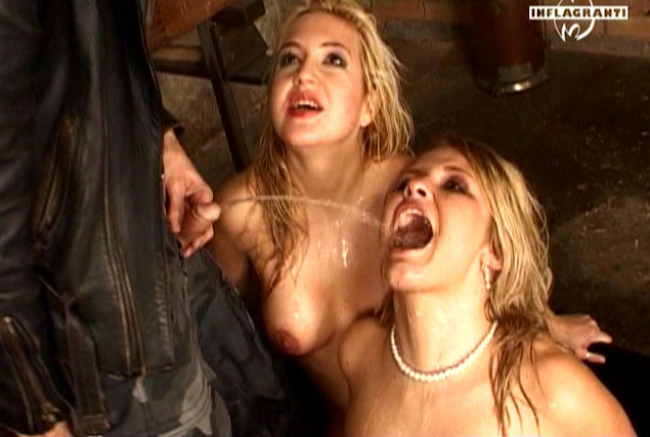 Site specs
The website of Inflagranti is just stunning. First thing that captured my eyes was this huge video that just played when I entered the site. It didn't even give me a warning, it just fucking played this amazing video of German porn. I'm impressed by this site's confidence to give instant previews even if you haven't done any registrations yet. The video is also pretty hot, a lot of hardcore going on, but we'll be talking about the contents later. The site has been splendidly decorated with red, white and black color schemes. To have an easier overview of how the website works, you'll need to see the four main tabs in the site. The Home, Videos, Pornstars, Photos and Niches. I know you already understand what Home, Video, Pornstars and Photos do. But I would like to talk about the Pornstars and Niches page. Why Pornstars too? Because there's something unique about it that I didn't see in all porn sites I've been through in the past. First off, Pornstars page. In this page, you'll see your average porn star selections page. But try hovering your mouse over those sexy pictures, you'll notice the pictures enlarge in response to your mouse. It gives this cool animation effect so you could get a good look at these amazing models. These models by the way are handpicked German models, of which, we'll be talking about later on. The Niches Page. This page is the pride and glory of this site, because here you will be able to categorize your favorite stars and select for yourself what category will be presented to you. I know it sounds kinda common but this ain't your average category style. This site has a unique name for each star's category. The names are AllPopp or Hopp, Public Sex in Berlin, German Pornstars, Wives from Germany, German Fetish Freaks, German Lesbians, Dominatrix of Germany, Gangbang Germans, and also Machine Fuckers. All I can say is, these models truly deserve these category names. Just wait till you see what these models are capable of. Finally, after seeing the website's flash capability, many mobile devices might not be able to handle it. But do not fear, this site has a mobile site that's optimized to give you a good mobile experience as well.
The movies and the girls
Now we're going to talk about the models. All models in this site are Germans. All made from this great land of Germany and has possessed the character of a lion. Full of pride and dignity, of which, they have surrendered their bodies to Inflagranti. I've seen these models get fucked so hard, that it could have you thinning if there's any dignity left inside them. I've seen them moan, shout, and even get so drained of all energy but the fucking still won't stop. This is what's Inflagranti is all about, seeing dignified women get fucked to the floor and make them remember their place. But it's not that they don't want it, in fact, they love it. They even ask for more! There are also unwary amateurs in this page, and you'll actually notice the surprised face they get when the fucking starts. THEY DON'T REALIZE WHAT THEY GOT THEMSELVES INTO! This is German fucking at its finest! The video quality is great as well! In fact, in all German porn, this has the most top-notched quality in all of them. The downloads are also reliable and unlimited!
In few words
My friends, this is where we get to decide for the final verdict, and not a hard decision at that. I've seen a lot of country make dedicated porns in my lifetime. But in all that I've seen, Inflagranti really made it out. It has portrayed the character of Germany in these amazing models and have fucked them so hardcore that you'll really have this feeling of wanting to visit Germany and see these girls in person. The fucking sessions are so intimate yet hardcore, so innocent yet lustful. The models really did an amazing job performing. The video quality is also very good. The close-up scenes as well as the distant scenes blend so good that you might think you're watching a movie in some scenes. The web features also did their part very well. So if you're looking for the best Porn or German Porn there is, search no more. This site is exactly what you are looking for.

Check out the other best pay porn sites OR read more on Inflagranti from other XXX review sites.