Introduction
Searching high and low for some realistic MILF porn action? Then look no more than the hot Trisha and her wild antics at HotMatureTrisha! Trisha, the owner and star of this premium porn site, describes herself as a hot and horny cougar who will do more than just jiggle around her huge tits in the hopes of satisfying her, and YOUR, carnal desires. The website boasts a massive collection of Trisha's exclusive porn videos and photos where you'll find her in action as she plays with herself or with a bunch of gals and guys who are just as naughty in bed as she is. The site has a nice mix of softcore and hardcore action, with steamy fuck sessions involving plenty of huge boners, wet cherries, and a lot of moaning and thick loads of jizz! Trisha and her buddies may be old, but they're a solid proof that age is just a number and when it comes to sex, they still have the energy and passion to do it as effectively as their fresher counterparts! This lustful chick will prove that most people's notion about sex is wrong. Despite the graying hair and wrinkly skin, Trisha will show you that she's still a champion in making both men and women experience mind-blowing orgasms. She's a good example of a slut who's gotten better with age, and her experience and know-hows have earned her a respectable spot in the porn industry. Trisha may consider herself an amateur but once she's in front of the camera, she'll be quite the mistress of sex you couldn't resist.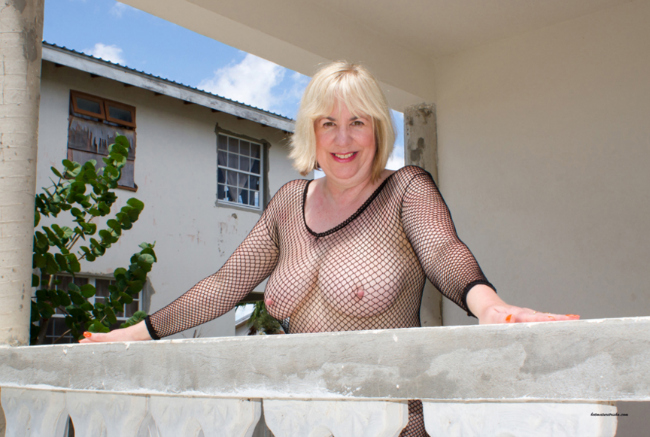 Site specs
HotMatureTrisha presents a great mixture of masturbation, group sex, fetish, role-play, and lesbian sex, with our special lady Trisha as the main meal. My first impression about the site is that it's a bit amateurish. Once you get past that, however, you'll immediately realize that you're going to be overwhelmed with high-end videos and photos that will keep you busy for hours on end. The site has a visually appealing white-and-yellow color scheme; with a handy menu bar and navigation keys displayed right in front of you from the moment you enter the site. With a single click from specific sections in the menu bar, you can get to various parts of the website at once. Becoming a member of HotMatureTrisha is just as easy as navigating the site. Simply click on the Join option from the menu tab, which will direct you to the signup area. There, you'll be required to enter some basic information. After filling up the form, simply submit the request and wait for confirmation. You can choose from a number of packages that will suit your budget and from there, you can set up your account. Once you become a member, you'll immediately be treated to a list of the latest videos and photo sets in the form of clickable thumbnails, with a sample shot and a short description of the scene. The videos are arranged in alphabetical order, along with the date and time it was released.
The movies and the girls
Trisha is a self-confessed exhibitionist who not only loves to suck cocks and pussies, but also enjoys watersports and a little bit of pussy-fingering. She's a real cum slut who just can't get enough stiff cock. She'll do everything to get that thick load of hot, creamy spunk in her mouth and all over her face and tits, making sure she never empty a single drop. There's plenty of MILF action going on here at HotMatureTrish, and it's all brought to you by the horniest granny in Britain. Each scene is shot with state-of-the-art cameras, with quality sound that will have you tugging your schlong at the sound of moaning and heavy breathing. The videos sure have that amateur style to it but make no mistake, the videos can be viewed in astounding HD so you get to see every bit of juicy detail. At the time of this review, there are well over 500 videos and more than 400 photo sets at HotMatureTrisha, with the latest ones served up in HD. The older content are in lesser resolutions but they're still good enough for quality viewing. Most of the videos have less dialogs, although you'll find ones with subtle dirty-talking taking place between the actors, sometimes even with the camera men, which is often funny. There's a nice blend of solo scenes and threesomes, as well as lesbian sex and cumshots that are filled with squirting and hardcore pounding. The videos can be viewed through streaming and can also be downloaded in MP4 video format. The photo sets, on the other hand, contain high-res stills, though there's no set amount of photos contained in each set. The largest ones display up to 1200×800, sometimes even higher. And just like the videos, the older ones tend to be in lesser resolutions.
In few words
Trisha is the star of HotMatureTrisha and she's more than enough to satisfy all your sexual desires. She may be a mature slut who's a bit of a plumper but the sight of her huge breasts and graceful figure is more than enough to make your cock stiff. Once the cameras start rolling, this horny granny will transform into a sex fiend who will spread her legs and expose her most delicate parts, ready to be fucked hard. She's often accompanied by a number of horny ladies and gents, all equally hungry for some hardcore sex. Trisha and her pals have no qualms revealing their assets to the world and would never back down as long as there's some steamy action to enjoy. So if you're into horny matures who do the dirtiest deeds on the Web, simply visit HotMatureTrisha and be part of Trisha's huge following of lustful viewers!