Introduction
Top taboo porn site Hot Crazy Mess is filled with amateur and inexperienced darlings who wanted to explore the pleasurable world of sex and fucking. The site literally describes these sluts' qualities. They are hot, crazy and an absolute mess. Who would not be messed up after being fucked by your very own brother and father? This site offers a kind of stepfamily theme sex contents. And if you have a kind of fetish for such things, then you should definitely check out Hot Crazy Mess.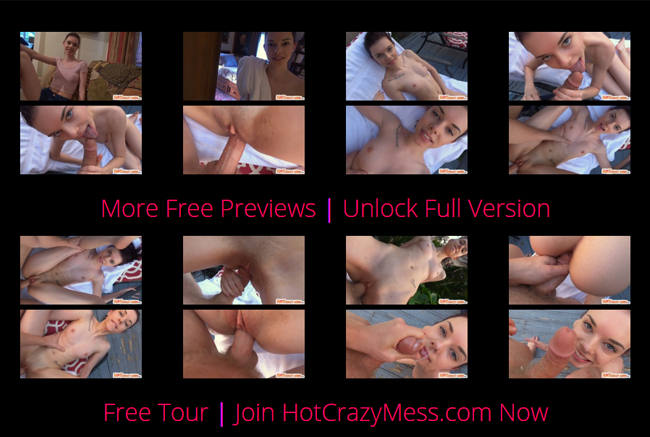 Site specs
As of today, Hot Crazy Mess has still a brief collection but you could see that this is because they really exerted a lot of effort on all of their sites' contents. The site has only been in the business for several months so it's really understandable. You don't have to worry though. The site is constantly uploading updates every week so their collection would surely become an empire anytime soon. This site is from the makers of NFBusty, NubileFilms, BrattySis, and Anilos, NubilesCash.
NubilesCash did not just successfully cast great porn models but they also did great in creating their website. The site interface is impressive and the navigation features are cool too. Upon entering the site, you will definitely love the fact that their homepage is filled with naughty screen captures and thumbnails. You will be welcomed by a darling happily sucking a dick with her mouth. Instead of offering a slideshow, Hot Crazy Mess presents a gallery located at the very top of their site. There are several photos available and since it's individual and separate photos, you will be the one to decide if you wanted to satisfy yourself staring at them. However, browsing a little more will absolutely take you to the verge of orgasm. The videos are arranged in the homepage and without any efforts, once you point your mouse on them, the video's teaser will automatically play. One look at this site and you will absolutely know that it is exceptional and a worth a shot.
The movies and the girls
If you are into inexperienced but absolutely horny darlings, then without any doubts, Hot Crazy Mess is the site for you. These darlings are always horny and that's why they never really cared if they were sucking their stepdad's or stepbrother's cock. They are very addicted to dicks and they were very proud of it. This taboo themed porn site is absolutely one of the best in the industry. Mainly because sluts from this site have an unstoppable drive for sex and their pussies are always craving for orgasm. You can look forward to scenes such as a naughty blonde purposely teasing her stepbrother as she gets into her bikini or an innocent-looking darling confiding his stepbrother about the other dudes she had sex with. Expect that all of these scenes end up with steamy blow jobs and one-on-one hardcore fucking.
In few words
If taboo is your thing, Hot Crazy Mess will gladly welcome you with hot dick and pussy sucking scenes from a sweet darling together with either her stepdad or stepbrother. All of the sweet darlings in this site have nothing in their minds but to release their orgasm as much as you do. If you want a refreshing taboo porn experience, Hot Crazy Mess is highly-recommended.