Introduction
You know how there are so many porn sites out there, and most of them are really good, but you also know that there are some sites that are not as good. Well, if you want to find a good porn site, then you should definitely check this one out, as it has everything that you might want in a porn site, and more. The site is called Hanna's Honeypot, and boy, do you really get to see her honeypot. She is a sweet blond, who loves getting naked and playing with her dildo, in a hardcore way, as well as playing with her friends, too, girlfriends, of course.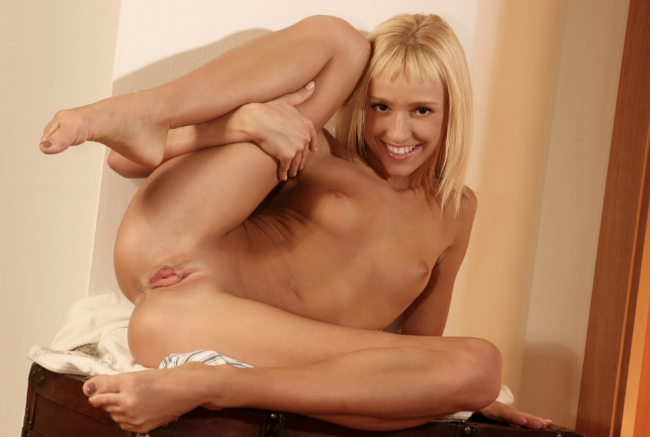 Site specs
The site has quite a lot to show you, and with a name like this one, you can expect to find an actual honeypot of a home page, and that is exactly what I found when I came to the site's page. At the top of the page, you will be able to find a collection of images, one of Hanna herself, in pink stockings, her undies peeking from skirt dressed completely in pink, like the rest of the page, though you do have hints of yellow. The site also has many photos there, too, and all of them are nice, even though resized to fit the large preview windows.
Alongside every photo, as well as in the middle of the image, lies a description, sometimes of the photo itself, and one longer one, that is of the site. Below, you will find a menu bar in blue, which makes it that much easier to spot, which takes you to the home page, the videos, the photos, the webcams, as well as the members' area and the joining page. The button for the joining page is pink, while the rest of them are blue. Further below, you will find more previews, of Hanna in solo action, and of Hanna with friends.
The movies and the girls
And the content is amazing here, do not get me wrong, as Hanna is about as sweet as she is hungry for orgasms, and when you see her touch herself, you will realize that she is indeed not just hungry for orgasms, but starving. She loves playing with dildos, showing off her sexy body, as well as her flexibility, and not to mention that she also loves to fuck with her friends. Yeah, they get together, two or three girls, to have their slumber party, which turns out to be a fuck fest.
The site has many a good looking video, good in terms of resolution, as they come in HD, and there are over 152 of them. They last for 15 minutes, and you can download them in the MP4 format. The site also has over 9000 photos, all of which you can download, too, but in the ZIP format. With another site at your disposal, for free, you get to browse more content and download it, too, and that comes as a bonus with your membership, so you get two sites instead of just one, which is great.
In few words
Hanna's Honeypot is an amazing site, and you get to see her, a cute blond who loves to fuck her girlfriends, and spend her time touching her pussy whenever she can. This site has a ton of content, and you should definitely join it if you want to see cute girls fucking one another, as well as some bonus stuff.
This site is no longer updated, you can find similar content here.