Introduction
Goldwin Pass may sound like your typical mega site but it's not. It's just a really big porn site with lots and lots of models of different variations. It also tackles a whole lot of niches available in the porn industry. Goldwin Pass' activities revolve on hardcore sex, with sub-niches like group sex and deep throating. Of course, that is not all. In Goldwin Pass, there is so much more to be explored. The site has been around since early 2015 and is being profusely managed by "ExtremeMovieCash", a veteran in this already growing commercial enterprise. Goldwin Pass has a very diverse content and you will be spending a lot of time already, just to get your way through. They claim to have the "most complex and most satisfying" content that you will ever find. Well, they do have an impressive model and video count, so I'll give them that. So then for you guys out there, get ready to explore a world filled with women, their different antics, and a whole lot of hardcore fucking.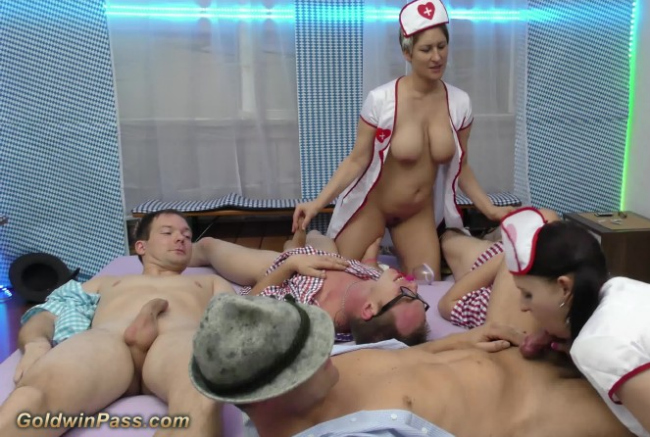 Site specs
Goldwin Pass has a pretty comprehensive site. It is both stylish and simple, all the while maintaining a very minimalist environment. The site has been given a major make over after quite some time and they have been adding a whole lot more features compared to when it was just newly launched. First of all, unlike any other porn sites you have encountered, this one does not offer you any trial versions, even for a fee. In order to access all of their given features, you will have to go all out and register as a member. Of course, fees again, are needed. Fret not though, it is worth every single penny of yours, just a heads up. The scenes and movies are all exclusive, meaning, you will not be seeing them anywhere else other than in Goldwin Pass.
Moving forward, once you become a member, you will only need your registered user name and password in order to gain access to this porn site. When you are inside already, it becomes pretty easy to navigate and you will be able to find most of things you want to see with just a few more clicks of your mouse. Goldwin Pass has a bevy of links lined up at the top of their site and these are mostly links that will lead you to their home page, to their model index, the categories present, and their members page. So, feel free to browse around and explore some more. Right below those links are huge blown up photos in slideshows that feature the latest and hottest updates, so don't be shy and go ahead and click those if you feel a little adventurous.
If you scroll a little bit further, you will be greeted by their "Trailer of the Week". Trailer of the week practically just informs you about the upcoming update or the upcoming videos they will be putting up later within the week. Speaking of which, updates do happen daily. They essentially put up one new video each day, or if pressed for time, after two to three days. Goldwin Pass has over 380 videos or more and most of the new ones are in HD or in 4K UHD. For those of you who aren't familiar with 4K UHD videos, that's generally a resolution of very high form. It usually refers to a display device or content having horizontal resolution on the order of 4,000 pixels and vertical resolutions on the order of 2000 pixels. Several of these 4K resolutions exist in the fields of digital television and digital cinematography, so it is kind of a big deal when it is being implemented and used in a porn site.
Scrolling further down again, you will be seeing a lot of thumbnails. These thumbnails are basically the portals to their corresponding videos and once clicked, you will be able to watch them with no hassle. You'll notice that some of the thumbnails are labeled HD, or 4K UHD, or none at all. Here, you are already being informed of the underlying resolution you will be provided. Right at the very bottom of the site, you'll be able to view the featured models. They have their photos and names plastered, as well. You'll also be seeing a number of updates that these each and every single one of these ladies are starring in. Click their photos and you'll be directed to their profile pages. Typically, Goldwin Pass has a ton of browsing features. They don't have photo galleries with professionally taken photos available though. The only thing close to photos are just mere video caps but you'll learn to live with that.
The movies and the girls
There are almost 200 models featured in Goldwin Pass and they are all of different ethnicities and body shapes and sizes. You have blonde girls, brunettes, red heads, and many others. These ladies may differ in so many physical aspects but rest assured, they are all very good at what they do. In Goldwin Pass, you will find shemales, normal females, and a whole lot of fucking. There is fisting, anal, amateur, BBW, big breasts, bukkake, big cocks, deep throats, exotic, fetish, facials, gang bangs, orgies, mature, massage, lesbian, outdoor sex, strip shows, toys, and many more! I certainly loved how there are so many niches to explore. The videos and scenes can either be streamed or downloaded. Streaming will need an updated version of Flash and runs at 3840 x 2160 pixel resolution while downloading will give you the same resolutions but in MP4 format. Another resolution is also available in a lesser number which is 1280 x 720. All of these can only be downloaded in MP4 formats, though.
In few words
If you love tons and tons of porn, covering different niches and that is basically in HD, then this is the porn site for you. You'll love how most of the content are in high definition or higher and there are just so much scenes to choose from. I am totally recommending this site for those of you who are into great porn adventures.

Check out the other adult pay sites list OR read more on Goldwin Pass from other popular review sites.