Introduction
Some breakups are pretty bad and all the parties at times want to get revenge. For example if you caught your girlfriend on her knees giving another guy a blowjob and you have her sex tapes all you want to do is to release them to the public and get back at her. Gf Revenge is all about getting back at your ex by submitting their sexual escapades online. Others even submit the sex tapes of their ex lovers in exchange for cash. How cruel can people be but in fact I don't mind because I get to see girls naughty on camera.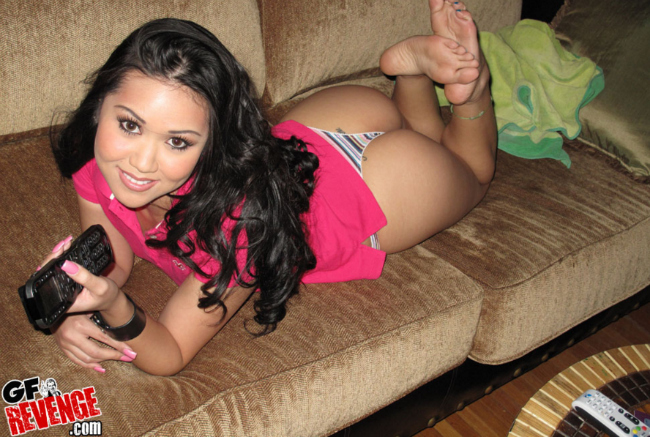 Site specs
Gf Revenge is a part of the huge network called Reality Kings. As a part of Reality Kings, I think they could have done better with the design and layout. The homepage is pretty plain with just a white background. However, there are tons of images of naked girls showing off their pussies, boobs and butt holes. In some cases others have cum smeared allover their faces. These images have girls in provocative posses and I think the main purpose of the layout is to market the models and the videos and photos. At the homepage, it has a few menus which aid in browsing around the site. These menus are home, member's area and instant access. The member's area is quite similar with the homepage. When I keyed in my personal information, I was directed straight to the member's area page. What I loved most about it is the organized content. The videos have been secluded from the pictures.
The movies and the girls
The girls found on Gf Revenge are breathtaking. They all ooze sexiness. The site has slender models, middle sized and BBWs. You don't have to look for another site because all your tastes and preferences will be met on this particular site. The site does not specify the number of models it has so far but they have quite an impressive number. Considering the content is amateur and shot from the comfort of the model's home, there are so many new faces. Therefore the material is fresh and new. If you are into white girls, Ebony girls, Latinas, Asians whatever is your cup of tea is readily available. These bunch of girls just look like your next door neighbors considering there are no professions found on the site. So far the site has around 350 plus videos. The videos are shot with high resolution cameras.
At the era we are living in, smart phones are even clearer compared to some of the cameras and this has been an added advantage in the porn industry especially the sites that have user submitted materials. The videos found on Gf Revenge are crispy clear. However, I was not impressed by the fact that they can only be streamed and watched online in full length videos or short clips. The site has no download option. Most of the people I know prefer to download porn into their laptops or phones so that they can check out their collection whenever they please. However, the site being mobile friendly cancels the disadvantage. The videos are divided into different categories. We have horny girl videos, cheerleader's videos, nasty girls' videos and more. The videos are all accompanied with a background story which gives the members a glimpse of what the video is all about before they decide to download it.
In few words
One man's poison is another man's meat and clearly this proverb is well demonstrated here. The site has a very impressive number of videos and photos and it is totally worth every cent that I paid my membership with. I would urge everyone who is into amateur porn to sign up and enjoy the videos and photos.

Check out the other best pay porn sites OR read more on GF Revenge from other popular review sites.