Introduction
If you are turned on by bukkake porn scenes, German Goo Girls presents a host of gorgeous European models dowsed in steamy, gooey jizz that flows in streams from some rock-hard cocks around them. You have videos made in high-quality HD specs just for your ultimate porn enjoyment. You will be impressed with the amount of hardcore porn videos on German Goo Girls.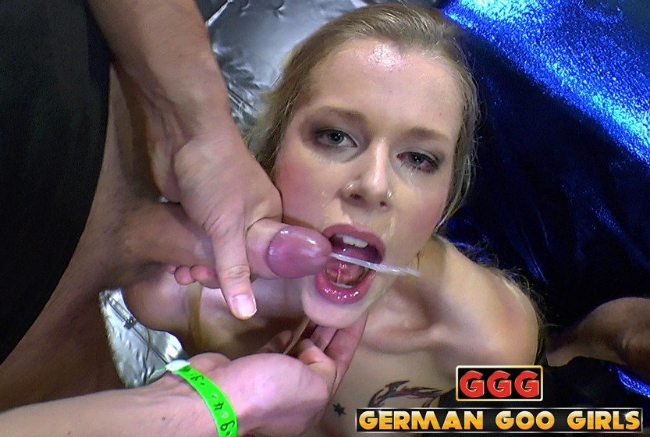 Site specs
The home page of German Goo Girls comes in a creative mix of background shades and tagged images. Many of the tagged images are presented in interesting classic black and white. This seems to be just a unique way to catch the user's attention since the scenes unfold in full color. German Goo Girls is wrapped in glossy black and some splashes of orange background thrown here and there. One of the most interesting and impressive aspects of the platform is the amount of effort that has been put into making sure that users comfortably access the content. In fact, visitors are provided with several free sample movies to catch before they subscribe.
If you wish to enjoy more for free before subscription, there is an offer to catch several scenes after parting with only one dollar. Users can check out the content on the basis of updates, producer, popularity, pornstars, and movie titles or by scene descriptions. The scenes come complete with model names too. The host of navigation options is clearly impressive and commendable. Users can also access content via their mobile devices too. I loved this tweak because I could check out my favorite porn content on the go. You have over 700 flicks to check out in the form of DVDs on German Goo Girls. You are treated to a host of bonus sites that present you with more content. I loved the fact that I could also check out the scenes and the models in live cam performances.
The movies and the girls
Although most of the models on German Goo Girls are drawn from Europe and Germany in particular; and I must admit they rocked my world, some of the cuties seem to have various exotic characteristics. In fact, I was treated to several scenes in which black girls are fucked hard by muscular giant sized white dudes with equally large cocks. You are treated to a lot of hardcore action that features the girls bending over, lying down and even spreading out both holes for dudes to have a piece of the pie before they ejaculate and spray loads of sperm on their faces. You are treated to great looking cuties pole dancing and allowing dudes to penetrate their pink holes while still holding to the pole. Girls drink so muck cum that I doubt they will need any more proteins in their diet for the next couple of months.
The videos are captured in full HD form. The videos and photos provided are exclusive. Although the scenes are on DVD; a fact that casts doubt on whether you are really exclusively watching; they are certainly original material that debuted on German Goo Girls. You also have in an impressive set of galleries numbering over 398. Each of these sets contains over 100 photos in high res specs. Over 700 DVDs are available for your entertainment. Each of the DVDs comes with an average of 1 hour and 20 minutes.
In few words
If you are looking for bukkake fetish with a variety of hardcore sex performances, German Goo Girls is an eligible stop. You are provided with high-quality videos and photos, plus a host of bonuses to add value to your subscription. German Goo Girls presents a wide variety of porn.

Check out the other best paid porn sites OR read more on German Goo Girls from other popular review sites.