Introduction
Hungry for some steamy bareback action? Can't wait to see cum-starved hunks who love monstrous cocks up in their asses and mouths? Then you're in good hands here at GayVideosNetwork! As the name suggest, GayVideosNetwork is a premium porn hub that caters to gay porn lovers who want to enjoy some softcore and hardcore action featuring all sorts of gay dudes partaking in steamy bareback sex. The site has one of the largest collections of hardcore gay content with different types of men, from beefy well-muscled athletes, to well-shaven twinks with slender waist and legs. There's plenty of cock-sucking, cum-slurping, and ass-fucking goodness here at GayVideosNetwork, and you'll never run out of juicy content to keep you entertained. At the time of writing, there are more than 400 videos and matching photo sets in their archives. What's so unique about this site is that, apart from the usual porn films, they also serve up a series of episodes. That's right, you can enjoy a whole slew of videos that actually come with steamy storylines! Enjoy titles like Charlotte Cum, Bred This Way, Toronto Cum, and many more. The site may not update on a regular basis and currently doesn't have bonus content, but that doesn't mean you're not spoiled for choice with cum-filled gay porn action that will have you tugging your schlong all day long!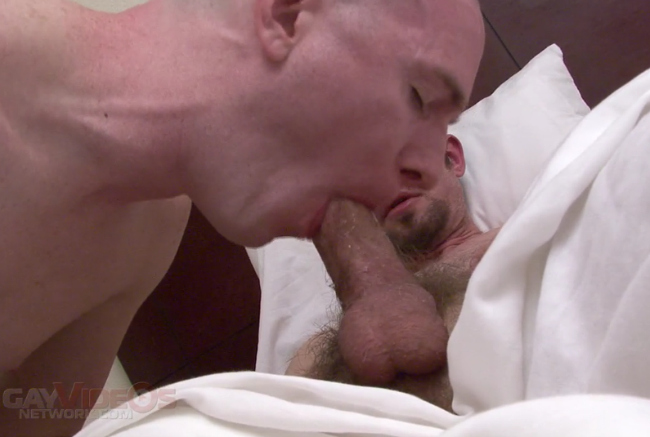 Site specs
GayVideosNetwork brings all types of gay dudes in one paradise, from hairy and brawny Papas, to Average Joes and cute insitute boys. These hunks love raw ass-fucking and getting dumped with thick spunk on their faces. Some want it in the ass, while others enjoy being sprayed with jizz all over their faces or bodies. From the moment you enter the site, you'll immediately be welcomed with cum-inducing scenes of men giving blowjobs and handjobs, and getting hard and raw ass pounding. It sports a classic back background, with the latest releases and most popular movies and series displayed on the main page in the form of clickable thumbnails. One of the things worth mentioning is their menu tab which gives you access to other aspects of the site, including the homepage, members' area, categories, as well as the models page. The site comes with YouTube-style sliders that set out up to four flicks in one row, for more horizontal navigation. From the Categories page, you can browse through all kinds of niche such as amateurs, three way, anal, blowjobs, and more. This makes things a lot easier for those who are looking for more specific content. Besides the ones mentioned above, GayVideosNetwork also sports dedicated pages for their models, movies, and series. And if that's not enough, the site also comes with plenty more search tools to further specify what you want in a scene. Sadly, the videos are only available for streaming, which is accelerated by the use of the embedded Flash player. The photos can be viewed in your chosen browser or downloaded and saved as individual files. You can also use the Flash player for resizing the videos and photos' dimensions.
The movies and the boys
Expect all-exclusive, original gay porn content here at GayVideosNetwork, which means you won't find them anywhere else! Here, you're spoiled for choice with loads of solo scenes, threesomes, cumshots, anal, ass-to-mouth, and all sorts of hot gay banging in one place! The men and scenes vary a lot, and the videos are largely produced in a number of different studios, by various porn directors. Each video offers up something unique, and each come with their own preferred type of gay dude. This means you'll find lots of frat boys ranging from slim to athletic, to more brawny and hairy men (sometimes even with dadbods). Other dudes simply defy categorizing, like Average Joes with slender bodies or well-defined muscles, as well as hot 40-somethings with a few extra pounds on them. The guys here at GayVideosNetwork vary in age, ethnicity, and size, though there's no denying that most of them are in their 20s and majority are white guys. There aren't many well-hung black guys and sizzling hot Latinos, but GayvideosNetwork occasionally serves up fresh content featuring all sorts of men from all over the world. And while most of them have unfamiliar faces, there are a great number of porn stars too, like Cory Koons, Jesse Idol, Jimmie Slater, Brett Bradley, and the hairy bear Matt Stevens, just to name a few! Again, you can view and resize content with the embedded Flash player, with little to no buffering issues. Most of these videos fare just fine in full-screen, though some of the videos' sharpness gets affected when viewed in bigger screens. I didn't have any issues with their videos, despite the varying production values. While some of the older videos don't come with photo sets, expect to find plenty of high-res photos with the newer ones. Some photos have that typical amateur quality, while others are far better. You can navigate through individual photos without much hassle, although it would be much better if GayVideosNetwork gives you the option to download the sets in ZIP files or just view them in slideshows. You can still download the photos one by one, although this would be pretty time-consuming, especially for those who want to get in on the steamy action at once.
In few words
GayVideosNetworks may just be a streaming-only gay porn site but it's brimming to the lid with exclusive, high-definition content that will keep your hand glued to your dick for hours on end! It's a really great online destination for gay porn fans for a number of reasons. The site is navigable and it comes with original content, plus you can stream in multiple bandwidths. Perhaps the real issue here is the fact that there's no option for you to download the videos, and there are no ZIP files available for the photo sets. GayVideoNetwork also doesn't get updated that often when compared to the competition but seeing as they've been around for a significantly long time, there's plenty of porn goodness for you to enjoy in a lifetime! Overall, GayVideosNetwork does a great job at keeping gay porn lovers satisfied, so you better sign up and join in on the raunchy, jizz-filled gay porno party!