Introduction
Top fetish porn site, FFStockings is where you'll meet Julia, a hot MILF porn actress who has an intense passion for stocking, nylon and other undergarment fetish. You can feast solely on her as she is getting naughty and filthy with both males and females in the scene. The photos and videos come impressively with HD quality. She also loves to educate her viewers about the right way on how to tease everyone with pantyhose, girdles, garter belts and more.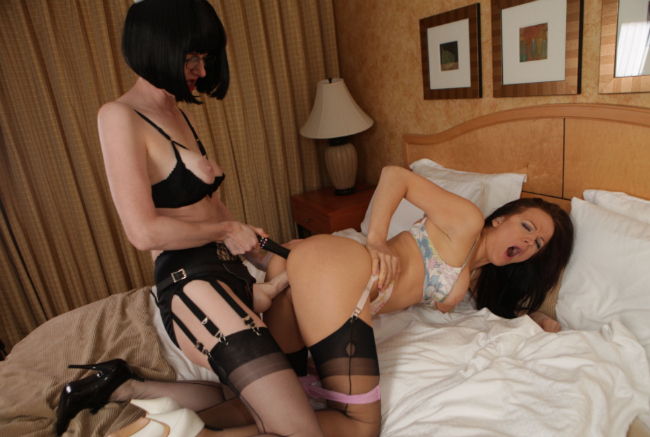 Site specs
A passionate MILF porn actress who has made herself famous in the porn industry, Julia is all set up here to satisfy your erotic cravings involving sexy undergarments. Anything you could ever imagine, from stocking to nylon and pantyhose, she can make you wet just by merely tagging on her skimpy outfits. Her passion and sensuality with her every move are amazing and even alone, she can take you to the highest level of sweet and intense arousal. You can fully understand what I'm saying once you've landed on the website. Julia in her sexy uniform is waiting for you here with her warm and welcoming smile. You would instantly notice that even at her age, Julia has managed to maintain her sexy and flawless body. If you're a great fan of MILF darlings, you would instantly fall in love with her lively demeanor and personality.
Browse down cause Julia has plenty of erotic surprises for you. The videos of her erotic and sensual escapades are all in full display, represented by thumbnails that are neatly arranged for easy viewing. There are indoor and outdoor scenes. Each scene offers a free trailer. You can take a sneak peek and the options for joining will be shown to you below. You can check out all the deals offered and you would surely love the deals. Below each page, you would see the huge number of videos to be enjoyed. There are steamy categories that would let you streamline your experience. If you want stocking fetish, you can get it. If you want lingerie fetish, you can watch it. Whatever sexy undergarment you want to see, Julia has tried them all and has a video ready for you. If you are in the mood to see live performances, you can easily do so as well, because there's a link here that would take you to her webcam. Just make sure you're a member, my friend.
There are movies here that are broken into episodes and you can both stream and download them. Julia is so active that the collection is being updated on a weekly basis. As a member, you will always be given the best option. Throughout the huge library, you'll get tons of erotic videos where aside from teasing, you'll get masturbation videos and fisting shows. Julia is open to engaging both in female and male erotic interaction. Membership here also gives you access to bonus porn sites, including GlamourFlash. Julia performs exclusively on this site, so if you want to feast on her, you can join today and start your erotic fantasies!
The movies and the girls
FFStockings brings you Julia, a hot and naughty MILF porn actress that performs exclusively in this community. She loves to flash her sexy undergarments that would make you grip at the edge of your seat. You'll be surprised to see that even as a MILF performer, she's still got her fresh and sexy body well-maintained even after all these years. She has this intense passion to tease viewers with her stockings on and her lively demeanor would surely draw you to her shows. Her videos include masturbations using sex toys. She is expert in using those sex toys and you would love her even more as she rubs and inserts those dildos and fucking machines in all of her glory holes. There are male lovers here too that aid her in fisting shows and there are self-acclaimed lesbians as well.
In few words
FFStockings is a fetish porn site that would make your stocking and nylon fantasies come to life. Julia awaits you here with all of the sexy undergarments and sex toys you could ever imagine! Enjoy fingering, pussy licking, and strap on dildo shows in full HD videos and images.