Introduction
The FetishClub is a fetish porn portal, with a fine selection of hardcore porn, which has been growing for nearly twenty years. You can find a lot of adult fetish videos in the members' area, and we are certain that the scenes here will satisfy all your fixations, because they cover fetishes from the straight BDSM to lesbian BDSM, and there are videos with rough sex, "abductions" and a whole lot more of dirty and kinky things. We were able to depict that the site launched in 1995, so it's one of the oldest porn portals. It has been updated since then, usually 2-4 updates take place every week.
Nowadays however, the FetishClub is considered as clone of the FetishNetwork, but we don't agree with this: in our opinion the FetishClub is the original, and the FetishNetwork is the modern clone, or sister of it. But it's not big deal, the most important thing that you get everything you hope to get. There is new content add to the site's collection every week, and though the page itself looks a somewhat old-fashioned, the content is fresh, and increases in quality. Currently, you can access about 4900 scenes and 1450 fetishist photo galleries, so we are certain that you are going to like it. There is no way that you can't find something you might enjoy.
Apart from the hardcore fetish content of the site, you are going to get an exclusive collection. Though you might find the videos on the FetishNetwork sites, they are exclusive to the company, so you won't be able to watch them at any other sites. Also, there are some neat bonuses for you to enjoy if you become a member here. There are short stories, with full-round action and storylines, they are really erotic and hardcore, we recommend them for you to read. You also gain access to live shows, and many of the available models are appearing in the site's videos. Also, you can view some bonus sites, and video feeds too; even IPTV streams are available, so it's a full-round service you get.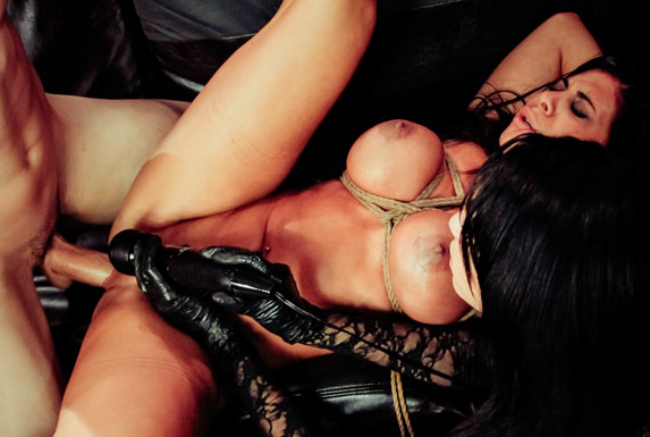 Site specs
The home page of the site is probably the same as it was in 1995, only the statistics and the promises were updated to be actual. But, since it's only a kind of front for the amazing world of fetish porn, we can forgive it for being old-fashioned. This look is simple, and gives you that chilly feeling you seek when you are searching on the darker side of the porn world. There isn't much you can do in tour mode, you only have the option to browse the tour page, and read the informational texts shown. There are three pages you can view, and they offer every bit of information you seek when you are looking around here.
After this short, but informative and convincing tour, it's time to head into the members' zone. It wasn't too much of a surprise to see that the members' page is just as simple as the tour was. There are a few menu options, be we couldn't find a search field, so we had to stick with the offered menus. Fortunately, the content is carefully categorized, so you can find the nasty porn you seek quite easily. The most important options are always on the bottom of the page, so you can get to the photos, videos, and the live cams from there, and you can always get back to the home page.
The content of the FetishClub is available in a streamed Flash-video format, which grants you immediate access to the hard porn. Those who also want to enjoy some good quality should go with the download options, which usually offer some fine HD resolutions, in MP4 or WMV formats. The photo galleries are also fine, you should check them. They grant you a different type of excitement, but also cover hardcore niches. It seems that zip downloads are not an option.
The movies and the girls
What you can watch on the FetishClub is real hardcore. These girls are really bringing it on, and they seem to like it when their pussy is filled with their man's cum… also, they like to go rough and have different stuff stuffed into them. The models here are professionals. There are actual porn stars among them, while others prefer to do live cam shows, and shoot porn videos occasionally. They come from different ethnicities, and from different countries, so you won't find here the same chicks all over again.
Among these hot cunts, you will see some real fake-queens too, and some busty and well-equipped naturals too. There is too much to tell about these videos. We have to say that you should watch them yourself. There are so many hardcore niches, and kinky fetishes covered that it's quite hard to find where to start. There are "regular" stuff, like foot fetish, cock-worshipping, and a few more. Also, you can view several series with rough sex, leather and latex, facefucking, CBT and BDSM. Apart from the straight and the lesbian content, you can also enjoy a fine selection of solo fetish porn too, which is a really nice change.
In few words
The FetishClub is recommended to every heavy hardcore and fetishist porn fans, because it has a huge collection for you to explore. As the site's claims are all met, it won't be long before you start to like it, you just have to get used to the bit strange and way too simple navigation. With the long list of extra video feeds, and the large collection of live cam performers in the stable, the FetishClub is capable of serving anyone's need. You don't have to join the FetishNetwork, because you get everything at one place here too.
This site doesn't accept new members, have a look at our good fetish porn sites collection!
Check out the other adult pay sites list OR read more on Fetish Club from other popular review sites.