Introduction
On visiting FemaleAgent, you will have the pleasure of not only getting to see incredible videos but also get an opportunity to see gorgeous models and couples getting interviewed for some porn roles which, most definitely will end up with them getting to do some crazy, kinky stuff. And ever the sites' inception, the material has never been compromised as far as the quality is concerned. You will get to see amateur couples getting down to some hot, out of the box sex that will leave you tongue wagging for some more action which is an important hallmark of an amazing porn site altogether. Here are some of the characteristics that you ought to know about FemaleAgent.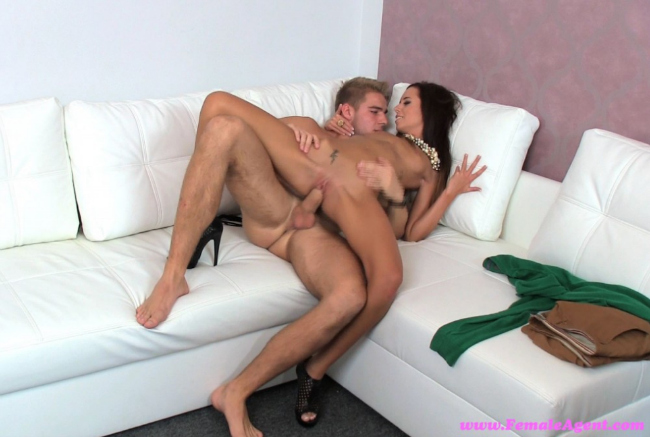 Site specs
One of the most scintillating features that seem to put FemaleAgent ahead of the game is the fact that the members will get a chance to enjoy bonus videos, personals as well as live and video feeds which will go a long way in making sure that they aren't bored with being tempted to watch the same material over and over again which can be, without a doubt, a very boring this altogether. Even though there is a download limit in FemaleAgent, it is apparent that you will still have to download plenty of material since the limit stretches up to 20GB which is more or less an amazing thing altogether.
MP4 and WMV formats are usually very popular for downloading purposes as they are in a position to maintain the high quality of the videos. And that said, you will also have the chance to stream without having any buffer-related problems thanks to the Flash format. The site also allows for the possibility of the user to resize the videos and also get to download in MOV formats which means that you can get to play the videos from a wide variety of gadgets, making the whole thing more or less interesting for you.
The movies and the girls
Over 292 scenes of adventurous action that will always get you all excited and ask for some more titillating action/ over 750 gorgeous models across the network, meaning that you will have all of the steamy entertainment that you need in order to keep your porn life a little bit healthy, all pun intended of course. Three girls, Cynthia, Silvie and Celine who act as casting agents will most definitely get you all heated up getting to see them casting hot couples for porn movies. It almost always starts with the usual visit to the casting office where the couples are asked a couple of questions. And then as expected, things start getting steamy and they end up fucking and doing some of the most erotic things in the name of wanting a spot for the adult movie.
Different couples will stroll in and it also goes without saying that they have different body types and will most definitely appease different members of the site in different ways which are an added advantage altogether. In short, you won't have a big problem getting horny and get entertained fully by whatever these sexy girls are more than ready to do. And that said, you will always have the time of a lifetime each and every single time that you get to check out this incredible site.
The girls on this site are all different, different body types, races, hair coiffures and are also getting fucked in totally different position. So it is upon you to find whatever floats your boat and sticking to it. And to make these videos hot and attractive, the model couples featured in FemaleAgent are nothing short of sexy. And I can guarantee you that you will get to enjoy every single thing that you watch since they are bound to give you erections for days, which is without a doubt, an added advantage altogether.
Even though there are no photos in this porn site, there are plenty of videos that you can kick back and enjoy all the time. And it also goes without saying that even though this is a reality porn site that also features somewhat amateur couples, you will not find any video that has a compromised quality and that said, you will always stay on top of your game at all times which is a good thing. And as it has already been stated above, these videos can be streamed live or better yet, they can be downloaded without tempering with the quality which is an added advantage altogether. All that you will be required is to make a point of signing up to become a member and it goes without saying that you will have all the entertainment that you need.
In few words
My time in FemaleAgent was amazing considering the fact that I had the opportunity of getting to see some of the most beautiful girls getting to do things that I never thought they had the guts to do. And it does go without saying that such is what makes a porn site successful.
Unlike the cliché story lines that are synonymous with most porn sites, I got the chance to see porn from a totally different point of view where beautiful couples are cast for porn movies and the casting always ends up in some non-stop, adrenaline induced sex that left me yearning for more. The latter is what people go to check porn out. Another very amazing thing about FemaleAgent is that you will find high-quality videos and even though there are no photos on the site, you will be bound to enjoy all the material that you get to see there. The general navigation is amazing and I was bound to enjoy looking for my favorite videos which were such a breeze. I would highly recommend this site to anyone!
This site doesn't accept new members, you can visit our best amateur porn sites collection!
Check out the other best porn paysites OR read more on Female Agent from other popular review sites.