Introduction
Why is a flip flop the best thing ever for people with a foot fetish? Simple. Because it shows the naked splendor of a woman's feet. After all, the only thing that this footwear has is a sole base and a meager strap. You can see every detail of a woman's foot without the same obstacles that you would with shoes or high heels. Thus, you should be able to relish the foot fetish fantasy that you have without any hindrances if a woman just wears a flip flop instead of high heels or shoes. If you want this kind of fantasy to give you sexual gratification, then visiting Fantasy Flip Flop website should be a good deal for you. Not only will you see sexy and erotic women who have the best pairs of legs in the world, you'll also see them only wearing flip flops which will surely hit you at the right spot when it comes to your foot fetish. The Italian models who are featured in Fantasy Flip Flop know how to seduce a man with just their flip flops. If you want to be one of the men who are seduced to arousal by hot Italian ladies in their flip flops, then you have to go to Fantasy Flip Flop.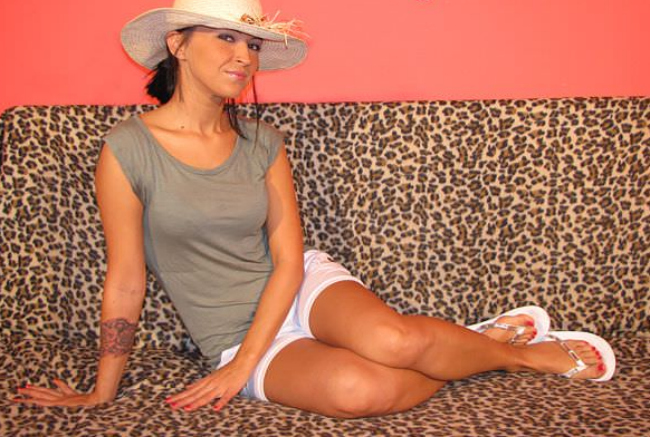 Site specs
Visiting Fantasy Flip Flop gives you a chance to enjoy a wide range of features. You have the home page where you can get teaser pictures of what you can expect from the said website, who the girls are and what they usually look like. There will be girls in their flip flops, barefooted or with stockings, shown right in the first page. If you wish to buy the items that these seductive ladies have worn personally during their video shoot or photo shoot, then you can click on the Shop link. You will be redirected to the shopping website. It may be in Italian but you can just have the browser translate the text in the website so that you'll come to understand what it means. Amazingly, you are also given the option of creating a custom video or photo according to your wishes. There will be a professional crew to take care of your requests. All you have to do is to choose the sultry girl you want to take a video or a photo of. Do not forget to include a description of what you want to be taken. The producers will review your request and reply once everything has been decided. Of course, you'll have to pay the standard price to be able to get the custom video or photo that you want to enjoy. The minimum duration for the video is 10 minutes while the minimum number of images for the photoset is 90. If you want more than the minimum, then you'll have to pay accordingly. The producers will give you a quote, by which you can accept or decline after you have inspected the deal. After you have made your payment, just wait for a reasonable amount of that. You can then download the video or ZIP file. The idea behind this feature is to bring out the best foot fetish video or photo that will surely arouse you. No matter how peculiar your foot fetish is (shoe play, revving, pedal pumping, footsie, or crushing), the professional crew can take care of it. The link page is another page you'll want to check out too. In this page, you'll be able to find links and resources that are relevant to foot fetish, i.e. other foot fetishism websites such as Red Polish Feet, Diva Foot Fetish, Piedi Velati, Foot Fetish Sunny, Ballerine World, Italian Black Pantyhose, Celebrity Dream Feet, Foot Fetish Cosplay, Feet Under the Table, and so much more. There's also the updates section where you can see what are the latest updates in the site. Of course, you have to be a member to be able to completely watch the latest video updates. You won't regret being able to watch these videos since these are exclusive raunchy content the Fantasy Flip Flop producers have made. You can download or stream these full HD videos that boast of excellent video quality (1080p). You can surely get instant access as soon as you join in the website. Moreover, you will be billed discreetly so no one will come to know your fetish, if ever you are keeping it a secret.
The movies and the girls
The sexy girls in the website are all amazing European girls. They take part in this softcore erotic materials that are still sexually arousing, especially for those who have a foot fetish. You can't expect the models here to be naked. In fact, they are fully clothed most of the time. The main focus of the videos is these seductive ladies' feet, after all. Of course, it is more often that they are wearing flip flops but they are not limited to that. They can wear leather sandals, rubber foam shoes, and other footwear types. In almost all of the photos and videos, it seems that most of the videos are shot inside a studio. There are times when an outdoor location was used though. Some of the girls that you will surely find attractive with their perfectly shaped legs include Monique, Lilith, Jessica, Thena, Alessia, Ammalia, Daniela, Diana, Antonella, Eden, Tessa, Janelle, Chiara, Sharon, Bianca, and Gioia.
In few words
The girls in Fantasy Flip Flop are quite amazing. They are professionals in seducing men who have a fetish for adorable legs and feet. They specialize in this niche and they have quite a following. After all, these women have perfect shaped legs that no man will ever want to let go. The features are also amazing and the website is user-friendly.