Introduction
Fake Taxi is a website belonging to the Fake Hub network. The entire site is dedicated to picking up people in a false cab and them paying for their ride with ass instead of cash. The girls are amateurs, although sometimes it's exotic dancers and other professionals requesting a ride, which means there is a lot of diversity when it comes to the women. The videos are shot in HD. By becoming a member you gain access to the entire Fake Hub network, which includes seven websites. The billing is anonymous and secure and 24-hour technical support is offered by the website. The site is mobile friendly and updated daily; you'll never run out of content no matter where you are.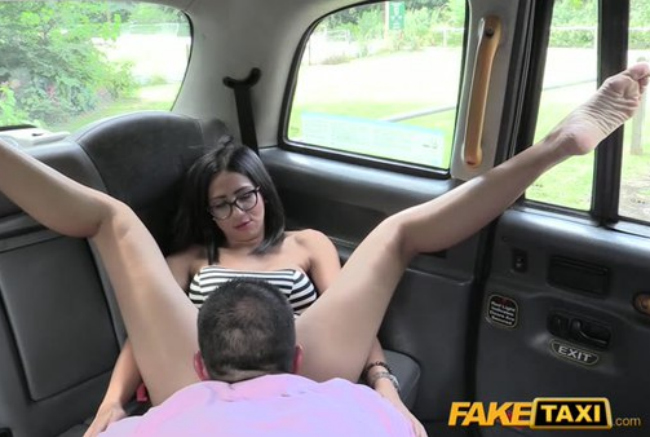 Site specs
Once you open up Fake Taxi there will be two buttons leading you to sign in or sign up, on the left hand side. At the top there are buttons to help navigate through the pages. Each page contains at least eleven previews. Each preview has a short trailer showing highlights of each film and a set of six, explicit, high resolution photographs. You can click on any of these to gain access to the video. All of the videos stream fast. Once you become a member you have unlimited downloads and all of the videos become available to you.
There are no advertisements and everything is in HD, which means there is nothing to take away from your viewing experience. The idea of a fake taxi is genius. You'll be surprised at how many people offer to exchange sex for a ride to where they need to be. All of the videos are accessible from your cell phone or tablet. There are live cams available. The website also offers security features, anonymous billing, and constant technical support for your convenience.
The movies and the girls
These girls are all amateurs. The beauty about picking up girls in a cab is there is no screening process, which means that all kinds of women can climb on in. Each video begins with the driver picking the girl up. Sometimes they don't have anything happen and other times they offer themselves up in exchange for the ride. Some of the girls are shy and just give blow jobs, where as others go all out; getting fucked in every which way.
In one video a long haired, slender brunette climbs into the cab and asks to go to all the local strip bars. She wants the cab driver to wait outside for her each time. When he reminds her it will cost, she flashes a coy smile and ensures him he'll be looked after. Within a few seconds of the ride you find out she is a stripper looking for work in the area. He decides he needs payment up front and it's not long before she's naked and sucking his cock. She spends a lot of time sucking and licking his balls. Then she tries her best to fit as much of his cock in her mouth as she possibly can. She pulls down her tights and positions her with her legs in the air and fucks her hard for the camera to see. She fingers her clit and moans through the whole video.
In another video a short haired, punk, blond uncovers her hairy, tight twat for the camera. She divulges she's a lesbian and it's been a long time since she's had sex. She lets the driver get her wet by licking and fingering her wet pussy. The whole time she plays with her soft, white breasts and thanks him for helping her cum. When it's his turn to get off, she lets him dive in balls deep. He pulls out and lets her jerk him off and suck on his cock. They continue fucking until she wants to take it outside of the cab. They set up with her bent over and leaning up against the wall. He continues to fuck her until they both cum and he leaves a cream pie inside of her. A sexy girl with long, black hair gets into the cab and within a few minutes demands to get out.
She had fucked him before on the other side of London and even though she's asking for him to drop her off, she's laughing and blushing about it. He asks her why she wants to get out if they had fun and that's all he needs to say for her to stay after he pulls over. He strips down her multiple layers of clothes, except for her purple socks, and disrobes a beauty beneath. Her voice trembles and she curses as he eats her pussy. She takes his cock into her hands, remarking on how big it is and showing her tits off for the camera as her head bobs up and down on his dick. Once he begins to fuck her she begs him not to stop and bucks and moans as he jack hammers her pussy. At one point she bends over the dividing window and you get a beautiful view of her ass being pounded and the view switches to the front where you see her pretty face distorted with pleasure and her tits bouncing off the divider.
In few words
This experience is a fantasy for both men and women. Have you ever wondered what it would be like for a girl to offer herself up under the pretenses of a forgotten purse? Or what about the erotic chance meeting of a hot cab driver who is willing to give you excellent customer service? This is a dream many people share and here you get to actually see it in the works. These girls are gorgeous and there is so much variety in what you can find that anyone can find exactly what they want in here. Not only that, but members gain access to the entire network and all the content is updated daily, which means you're sure to continue to find exactly what you need whenever you need it.