Introduction
As far as individual model sites go, I am yet to find one that surpasses EveAngelOfficial as far as quality and erotic stimulation ability is concerned. Eve, who is a sexy and skilled blonde girl with a nice, wet pussy not only comes alone but with a host of her friends. And it's because of how dedicated and flawlessly beautiful she is that Eve was awarded the prestigious AVN Foreign Performer of the Year Award. That means that signing up in here, you will have the opportunity to pick from a wide variety of hot girls who are either in mouthwatering solo acts or, even better, in lesbian situations with equally hot and erotically stimulating friends.
These girls, using their fingers, get to open up their pussies and finger their way into an orgasm that they enjoy. The site is generally simple and thanks to the fact that it is well organized, it always has a very clean appearance which will blow your mind away for sure. And in addition to that, there are live feeds, personals as well as VOD to always bring you the latest, most erotic and high-quality videos to keep you entertained. Without any further delays, here is what EveAngelOfficial has to offer: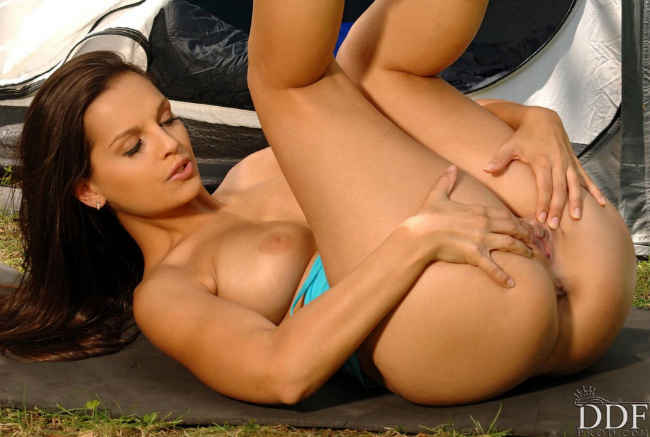 Site specs
The simply designed EveAngelOfficial has got an advanced browsing tool that is keyword sensitive. So, if you are in need to see Eve and Bettina Di Capri getting naughty in their lingerie. Or even better, sucking the juice off each other's throbbing pussies, you get to use the relevant tags and you are good to go. There are live feeds, VOD, and personals that will also keep you entertained apart from the usual high-quality and cleverly directed videos. All content is exclusive here, which means you won't be able to see them anywhere else which is a bonus. There are close to 20,000+ high-resolution photos for you to consume. And they are made available in three sizes, and you get to choose whichever size that you fancy.
EveAngelOfficial also allows for you to search your favorite video via tags. Some of the tags that you can use include gothic, MILF, long hair, blonde and brunette. Upon signing up, there are about 20+ bonus sites for you to access for free. Some of these bonus sites include OnlyBlowJob, DDFBusty for the love of big, well-endowed girls, HotLegs&Feet and HandsOnHardcore. You can also get to check out HouseOfTaboo and get the chance to enjoy all kinds of fetishes that are considered taboos.
The movies and the girls
EveAngelOfficial has got Eve, the individual, super sexy pornstar with a tight, raunchy body that oozes with nothing but erotic and sexual appeal. She has got beautifully long brunette hair, nice juicy boobs, and nice straight legs. Her skin is soft and with a healthy complexion that will always catch your attention over and over again. In total, there are about 90+ models in here for you to pick. They have either long or short hair, which might be blonde, brunet, redheads or colored white or some other nice, attractive color.
If you are a lover of big, round butts that vibrate with each dildo thrust in between them, you will definitely get your fair share of hot girls in here that will fulfill all of your fantasies without any problems at all. If you love sweet looking redheads, there is Monica Sweet whose beauty will blow your mind away. She had the nicest pair of breasts with cherry like nipples which are always erect, meaning that she is always horny. For the most erotically charged MILFs, there is Aria Giovanni with her healthy looking, longish hair that compliments her beautiful face. Most of the girls in here are slender with some being normal and curvy. Always go for whatever you feel turns you on a personal basis. And that way, you will always be winning since you will have the best erotic entertainment every time that you log in.
Others such as Cameron Cruz look innocent and classy with clothes on. But you will be surprised just how naughty she changes once those clothes go off. Each of the scenes has a lengthy description, which you can read and get to know what the videos are all about beforehand. That way, you will most certainly have the best time watching it. You can also get to see all of the videos in high-definition. And so, if it's a girl playing with her cum on her face after a mind blowing, mouthwatering CIM, you don't get to miss out on any details.
In few words
EveAngelOfficial has clearly what it takes to not only turn you on but also to give you the best erotic entertainment ever. Eve and her girlfriends are surely beautiful and are skilled in the art of erotica. All of the naughty and kinky sexual fetishes that you have ever imagined can be found in here. Lots of lesbian as well as solo sex goes down in here. And judging by the way that these girls go about it, you can always be assured of nothing but the very best of erotic stimulation. They never shy away from showing their pussies and breasts because they are all perfect. And in addition to that, there are features that will get you to exactly what turns you on.
There is bulk erotic content in here for you. And in addition to that, there are 20+ bonus sites as mentioned above, including DDFBusty, HotLegs&Feet, and OnlyBlowjob. So if you want those sensual, mouthwatering and raunchy blowjobs from hot and skilled models, OnlyBlowjob is the site to go to. And the good news is that you will gain access without any problems or charges. EveAngelOfficial, once again, is an impressively simple site. And that said, navigation should be a piece of cake for you. In addition to that, there are superbly convenient features that you can always use to get ahead of the game at all times. I personally loved it.
This site has been closed, check out our good European porn sites selection!
Check out the other best porn paysites OR read more on Eve Angel Official from other popular review sites.