Introduction
Two words: Interracial and bizarre. These are the two words that would best describe DogFartNetwork. Having 23 sites under it, you must think that you're already in heaven. It mainly serves as the main site or portal to other porn sites under it. These sites include Blacks on Blondes, The Minion, Cuckold Session and many more. What I love about this website is it's like your one-stop convenient store. They highlight the best and most entertaining videos of interracial sex. They have been around since 2007 and they have gathered quite a huge number of loyal patrons.
These members are the living proof that DogFart always wanted to have sexually satisfied members. On top of that, they have grabbed awards and other AVN Nominations. Their reputation is consistent since they got the Best Interracial Award for 2013 and Best Membership Website for 2015. I know they'll definitely get another nomination for 2016 based on the quality of the service and entertainment that they offer. If you wanna know what this portal has to give, you better browse through the entire website. You'll be surprised to find what's inside.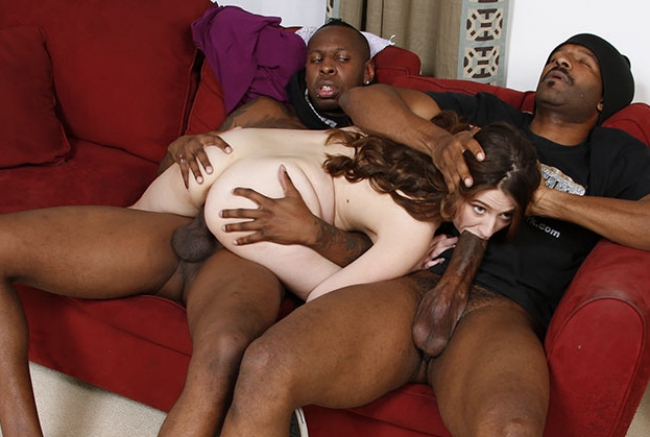 Site specs
I like how large their header is. It even has a slideshow of different scenes from different websites. The slideshow displays holes that are penetrated with black penises. Yes, we're talking about double penetrations, gangbangs, orgies, and anals. Navigating through the page is as easy as pleasuring your girl's nipples. It's not complicated and it doesn't contain unnecessary clutter and buttons. Everything that is placed on the page has a distinct use and function that will be deemed convenient and relevant for visitors' and members' browsing experience. Just below the obvious and loud header is a row of different menus wherein you can see different buttons like Sites, Scenes, Top50, Girls, Categories, and a button that serves as a member's lounge.
The layout is so simple and plain that even the people who aren't familiar with using the computer will be able to surf on the website without hassle and problem. I like how they made it simple and just focused on the content instead. After all, we didn't visit the porn site for its web design but to see horny chicks getting wild and dirty. Since DogFartNetwork got the award for 2015's Best Membership Website, you can't experience the entire website unless you become one of its lucky and privileged members. Signing up will not give you blue balls, don't worry. All you need is to provide the information that they need in the sign-up form. Then choose what type of membership you'd like to get and what type of payment is convenient.
Once you become a member, you now have access to the 23 websites, some of which I've mentioned earlier. Not only do you have access to it, you also have the privilege of downloading the contents, both videos and galleries, for your own perusal. Now, you can get frisky even without the presence of your internet connection. Just make sure to use your earphones and lock your doors.
The movies and the girls
Even though the body type varies from one niche to the other, all of them have a common denominator. They're all hotties and are up to anything you want them to do. All of them are horny and are ready to get some pounding! They all have pussies that are wet and ready for the penis to enter and exit them. Not only do they offer their pussies but you can enter them through any holes they have. You can watch black girls being fucked by white men. These chicks have the perfect set of booty! You know how these black chicks are, they have the perfect hips and booties.
Looking at them would make you wanna squeeze their bottoms until the craving stops. Those big and bouncy pair will make you wanna slap it and hearing that echoing sound will sound like angels singing up in the sky. That's why, they have websites that don't only highlight interracial sex but combines it with BDSM as well. The acting skills of these ladies are impeccable! They could portray an in heat animal who's hungry and thirsty for some cum, or portray the cute and puffy animal who's waiting for her master to pet and rub her swollen clit. The guys in the videos are also different in every scene. They surely know how to act. Some of them portray the role of a rich guy coming from a rich family and some of them portray the role of a construction worker who wants to seek revenge on his boss' wife and tagged along in a gang bang together with his other co-workers.
If other people talk about business after their shift at the office is done, they try to be a badass by fucking their boss' wife together, while still on site or at work. When we talk about the videos, it's difficult to miss a single detail because almost all of the videos are in HD. They try to give their members the best porn viewing experience by satiating the viewers' different preferences and fetishes. They try to provide a variety of interracial sex with different highlights in order to meet the viewers' secret desires and sexual fantasies.
In few words
If you have a thing for contrasting colors of black and white having sex, DogFartNewtork will definitely do you a great favor. They will provide you with enough number of other porn sites under its umbrella and will satisfy your craving for some booty humping and pussy fucking. Enjoy watching big cocks rummaging through white pussies and hear these women scream their lungs out from too much sensation! So hurry and enjoy the porn site as one of its valued members! I'm sure you won't regret spending petty amount for a ton of adult entertainment.