Introduction
Divinebitches is the website where all your submissive fantasies come true. It is a website dedicated to dominating women, but also for men that like to be in that position. The website features the legendary dominatrix Maitresse Madeline and a bunch of other highly skilled dominatrices and it is dedicated for everyone that loves to see women take the reins.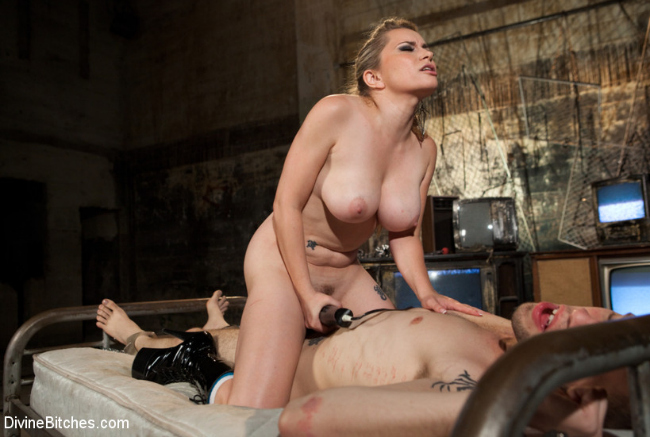 Site specs
Divinebitches is an award nominated website so it goes without saying it looks very professional. It has a dark purple background and a layout that is easy to navigate. The menu below the banner on the homepage contain several useful features. The first one is the update page. The website updates weekly. Then you get a live shows page, with all the information necessary if you want to see the dominatrices live in action. Then, you have the forums page, where people can discuss their fantasies and make their suggestions and Madeline's wish list that directs you to an Amazon wish list, in case you want to please the mistress. Next there is a store link, a tour and a page where you can sign up and purchase a membership. As you scroll down, you see the update of the week and then a few thumbnails from earlier updates. There are about seven rows with three thumbnails per row. The website is compatible with tablet screens and mobile devices. At the bottom of the page you can see an extensive list of other recommended websites.
The movies and the girls
The videos are in high quality and they are filmed in a professional manner. After purchasing a membership, you can download the videos and have them ready whenever you need. With divinebitches being a female domination website, you can find a lot of interesting a diverse categories such as cuckolding, hardcore, toys, submission, machines and devices and plenty of other fetishes that you can explore. By purchasing a membership, you get a two for one deal, with free access to the content of meninpain. There's a lot of material you can choose from, because the website has over three hundred hours of video content and a lot of awesome pictures as well, almost ninety thousands of them. They upload a new HD video every Wednesday, as well as bonus updates from time to time. You can also watch many great live shows and what I liked is that you can either buy a membership subscription or you can just pay for what you watch. As for the girls, divinebitches is all about female domination, so the girls do inspire that type of devotion for their pleasure in men. They are all beautiful and classy, very well put together. They dress in sexy lingerie or cater to your fetishes in leather or latex. They really know how to use a lot of complicated pleasuring devices and the fans must really feel like they are approachable too, from what I have seen in the comment section of a dew of the scenes.
In few words
If you've ever dreamed of a hot, sexy female taking control over your orgasm, divinebitches is the place for you. It is one of the best BDSM websites on the Internet, receiving a nomination in this category. If this is your fantasy, look no further. The dominatrices of divinebitches put themselves first and know how to get the best out of their playthings, the men.