Introduction
Awesome amateur porn site, Dirty Couple features the raunchy sex life of beautiful Diana and her chubby lover. They are their own directors, and amateur they might be, they certainly deserve credit for being able to shoot their content in hot and excellent angles. This couple's sex life is very active, and they are both experimental when it comes to pleasing each other. Aside from the usual hardcore scenes, Diana and her man also engage in several kinds of fetishes such as foot fetish, nylons, pantyhose, and mask. Their xxx content looks fantastic both on mobile and desktop, and they permit streaming and downloading.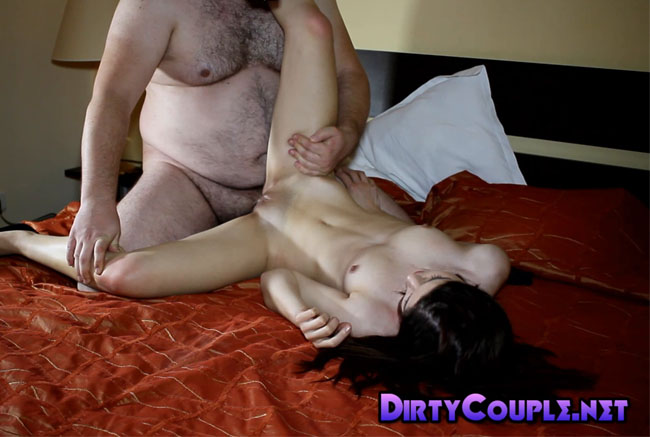 Site specs
The porn site's name is very relevant to the kind of content you will see on the official website. Diana, a lovely brunette, and her mysterious boyfriend make up one of the naughtiest tandems in the world of amateur porn. They are not professional porn performers, they are simply two lovers who want to boast to the world how delicious and fulfilling their sex life is. But while Diana has already thrown off all of her inhibitions by showing her face to the camera, her man seems to add a mysterious air. He always wears a mask in the videos. He doesn't have that perfectly chiseled body like most porn actors, but it is clear that Diana doesn't care. She worships her lover's cock like it's the most delicious cuisine in the world.
The layout and design of the official website are simple and standard, a proof that it is under the amateur category. However, it is neat and organized, and you can find videos and enjoy them without difficulties. Currently, Dirty Couple has 453 videos that members can watch in full HD. The majority of these amateur movies feature Diana and her man, but you can also find a handful that features a threesome. When the couple is in their wildest mood, they invite their friend Maya to come over and make their sexual session even dirtier and more exciting.
The movies and the girls
For an amateur collection, it's fair to say that Dirty Couple's xxx content is definitely a must-watch. Unlike most porn sites that claim to star real-life couples, Diana and her boyfriend don't need to act just to make you believe that they are a couple. You can tell that they are in love through their body language. The emotions are perfectly captured in the videos and their take on bringing a hardcore collection to the table looks effortless. Their sex life is one of a kind, and I couldn't blame them for wanting to share it with the world. They enjoy their lives to the fullest, and they make money. It's the best combination, right?
In few words
Dirty Couple is all about a real-life middle-aged couple who knows how to make excellent porn movies together. They shoot their movies using iPhones and professional cameras in their bedroom. Despite being tagged as homemade porn, the content comes with excellent lighting, positions, and angles that will definitely give you a good time.

Check out the other best pay porn sites OR read more on Dirty Couple from other popular review sites.