Introduction
Do you find pleasure in watching men spreading their legs and opening their mouth to get some of those juicy man-jizz? At CumPigMen, you'll get more than your fair share of grizzled perverts obsessed with dicks and cum! At CumPigMen, you'll see plenty of sizzling hot gay models that enjoy blowjobs and ass-fucking as their main course. It's a juicy banquet of gay porn goodness, with plenty of cocks to suck and lick, and guzzling love juice to enjoy. It's the official website of renowned gay porn studio, Factory Videos, which is known to be an expert at providing exclusive male-to-male bareback sex to all sorts of gay porn lovers. Once you become a member, you'll get all-access pass to the hottest cum-loving hunks partaking in raunchy acts of cock-sucking and ass pounding, captured in a homegrown amateur style you so love! CumPigMen ensures their members will always have fresh content to jack off to by updating the site every week. What's more, signing up with CumPigMen gives you instant access to 3 bonus sites, all of which contain more gay porn for you to enjoy. So if you like hot men who love to give blowjobs, then this is the site for you!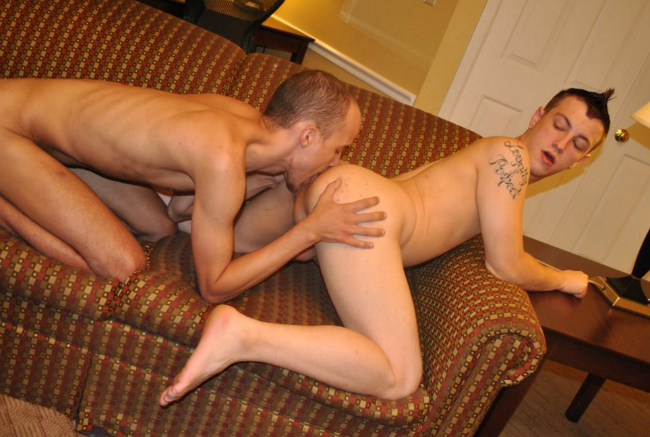 Site specs
The site looks pretty standard and wouldn't stand out much when compared to other porn sites in this niche but get past that and you'll see why CumPigMen is one of the best premium sites for gay porn. From the menu bar on top of the page, you'll immediately be linked to other parts of the site, like the Models page, Categories, Movies, and Members area. From the main page, you'll immediately be treated to some of their most recent updates, with clickable thumbnails that will link you to the full-length version of the film, as well as the photo set that comes with it. These thumbnails appear to have been taken from the film itself, showing some of their hot hunks and the scenes they partake in. Apart from viewing scenes, subscribers are also encouraged to rate each video and leave comments, which is very interactive. So make sure to send some lovin' to your favorite models and scenes, and don't hesitate to share your naughty thoughts! And if you have a favorite model in mind, you can simply check out the Models page to find a whole list of CumPigMen's models. It's arranged in alphabetical order, and each model's page comes with a little bit of info about them, including links to their videos and photos. Apart from this, there's also a handy Categories page where you can sort content based on the type of action, like solo, group sex, sex toys, cumshot, and more. If you want more search options, the site also has a basic search tool that allows you to easily find what you need simply by typing in a keyword. CumPigMen, as the name suggests, caters more to men enjoy cum facials, but there's plenty of hardcore banging going on here too. Movies can either be streamed or downloaded, and they're pretty well-made for amateur videos. The folks behind Factory Videos sure are hard at work in producing these exclusive movies, and are still able to maintain that amateur style.
The movies and the boys
Lips wrapped around swollen cocks, tongue licking every bit of creamy and salty jizz, and plenty of cum-swallowing that gives the cocksucker the ultimate pleasure. These, and more, are what you can expect from a site like CumPigMen. Most of the hot hunks you'll find here are in their early 20s, though I've also seen some horny Papas in their 40s. From well-muscled, hairy bears to cute twinks with slender waists, these horny men are really hungry for some juicy cocks and cum! There's no doubt it's the perfect place for all sorts of blowjob action, as well as some steamy bareback sex. There's a good mix of amateur and professional gay models, although there's no denying that most of the dudes here at CumPigMen are first-timers. Perhaps you'll find familiar faces here, like the porcelain-skinned Andrew Collins, the well-hung hunk Hunter van Hiese, the gangbang-loving Drake Stone, and many more. Most of the models you'll see are Caucasians, though you'll surely find a number of Asians, Africans, Latinos, and many other hot dudes from all over the world. The quality of the videos vary depending on the date the content was released, as well as the format you choose. The older releases tend to appear grainy, though the folks behind CumPigMen appear to be gradually remastering them to make them clearer and sharper. As for the more recent updates, expect them to be in high quality. You can download most of the videos in MP4 or WMV format. There's also a streaming option that lets you watch the flicks online. The average length of the films vary, from a short and sweet 5 minutes, to a much longer 20 minutes. Take note, however, that CumPigMen imposes a 3GB per 12 hours download limit, so you better not be too greedy because there's enough dicks and cum for everyone at any given day! Apart from the videos, there are dozens of high-resolution photos for you to enjoy. I really appreciate the fact that some of these stills are crisp and clear, although there are occasionally some sets that mix in blurry screencaps. You can enjoy these photos through a slideshow, or download and save them one by one.
In few words
CumPigMen is an excellent online destination for porn lovers who enjoy the sight of eager hunks serving up their faces and mouths at the sight of huge cocks. The quality of the videos and photos may vary a lot, but I can't deny the fact that most of them are in full HD, way too good for your typical amateur porn. You can find some of the steamiest, most cum-inducing blowjobs and anal banging. The folks here at CumPigMen suck monstrous cocks like there's no tomorrow; and the cum-drinking is so hot you'd surely tug your meat all day and all night long at the sight of tongues licking every bit of jizz sprayed on these hotties' faces.