Introduction
Cum Bang is a hardcore porn site brought to you courtesy of the Dog Fart Network which satisfies the fantasies of a very narrow niche of porn. Interracial bukkake fetish porn. You heard me right. So let's expand on the topic.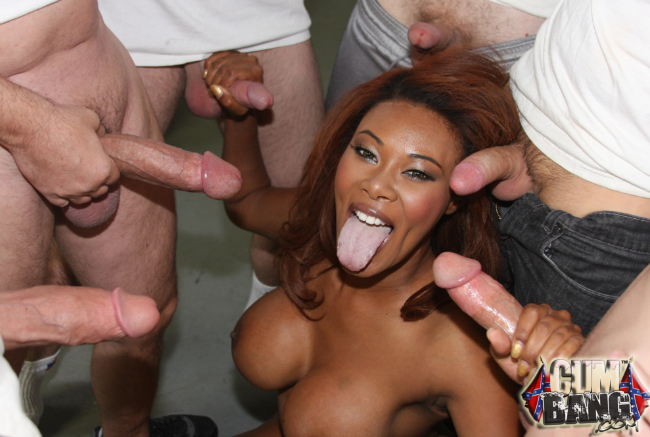 Site specs
As already specified, Cum bang is part of the Dog Fart network, which means that with membership, you get access to all the other websites in the Dog Fart network and which also means that Cum Bang meets the same high quality standards as all the other websites in the network, so you can expect to find a good, intuitive layout of the website as well as great quality content. Cum bang has a very basic black background which works great with all the images and sample videos on the site because it means the images and content are that much clearer and stand out in a more crisp and clear way.
There is also a mobile version of the site, so there are absolutely no issues when it comes to using Cum Bang off of a device with a little screen because the website is already optimized for mobile use which makes for great on the go use. All the content on Cum Bang is available for download by members, which means that as a member you have access to all 80 or so episodes and movies that can be streamed or downloaded in MP4 (1920×1080; 10110k) or WMV (1280×720; 4357k) formats as well as all the galleries that go with each individual episodes, which can be downloaded in Zip format with an average photo resolution of 3000×2000 which obviously means that they will translate well on pretty much any screen, given the great resolution.
The movies and the girls
All the videos are recorded in HD format, so they will look great on any screen as I have already mentioned, and the quality is obviously very good. The models are absolutely gorgeous, all stunningly beautiful black girls with amazing bodies and mind blowing skills and as I have already mentioned in the overview section of this review, this is a hardcore site. Not VERY hardcore, but hardcore none the less. The basic premise of the videos on Cum Bang is that the black girl decides to get revenge on some guy (boyfriend, husband, what have you) and is convinced that the best way to do that is to instead get fucked by a dozen or so white men, usually portrayed as rednecks.
I am not exaggerating, sometimes there are as many as 12 white men in the videos. Again, this is an interracial bukkake fetish site, so if you are into creampies you are definitely in the wrong place because you can imagine how these videos usually end. What is so special about Cum Bang is that more often than not bukkake videos feature Asian performers, or, at least, Asian women so it is really refreshing to see a bukkake site with black girls.
In few words
Cum Bang is an absolute must if you are into interracial scenes and, more importantly, gang bangs. The girls are smoking hot, the guys are well hung and the sex is amazing. Once again, Dog Fart Network does not disappoint.