Introduction
Great HD lesbian porn site, ChloeCoed brings a hot HD collection of the naughtiest escapades of a lesbian lover. Meet Chloe, a sweet amateur chick who can turn on every type of horny fans out there! The collection boasts full HD contents so viewers would surely have a great time watching these sweethearts kiss and make love with each other!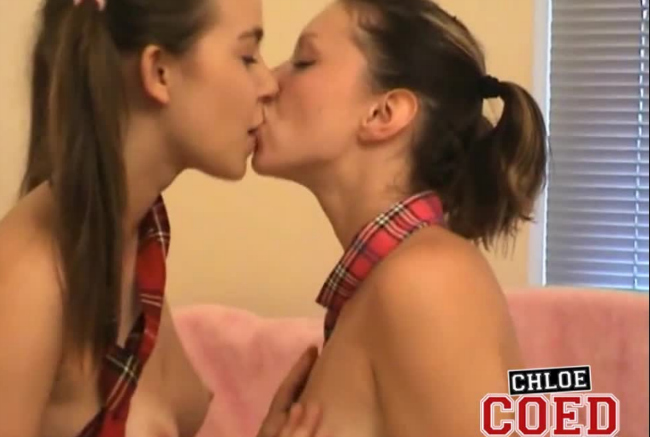 Site specs
Chloe and all her guest performers here are sweet and horny. As the leader of the team who mostly appears in solo performances, Chloe is really something to watch out for. She might be amateur to look at but her lesbian skills are certainly unquestionable. Together with her slutty girlfriends and roomies, feast your eyes on HD videos of wet and wild sweet cum.
The homepage will pretty much give you a delicious idea of what to expect within the collection. Chloe is shown topless in the banner, smiling sexily and looking directly at the cameras. There are differently sized images and screenshots that feature her with different lesbian lovers. There's a horny title for each escapade and a brief introduction about her sex partner. The images are all captured in high definition and browsing this website from top to bottom is a real delight.
There's a good amount of full-length films to start with. ChloeCoed covers almost all types of lesbian fantasies and the performers are really exceptional. Led by Chloe, there's a wide spectrum of tits and pussies to feast on. The softcore scenes feature plenty of catfights, teasing and sweet bullying in every session. There are ice creams, popcorns and other sweet foods that make the scenes look filthy hot and yummy.
New videos are added to the collection in a regular manner. The site is very good in keeping on schedule so new escapades are awaiting you four times a month. Online streaming with an advanced Flash player is available for members. All videos can be downloaded in various formats as well. The playback quality is amazing and everything is clear from streaming to download. Indulge yourself with rich content videos showing Chloe in ass licking, face smothering pussy worship, oral sex and more! There are slut-shaming, tits sucking and finger fucking as well. Giant dildos and other pleasure instruments can also be seen. Whether you want her soft or aggressive, you can expect to see the best videos in miles around!
So if you want to see Chloe and her circle of friends doing all the nasty things you could ever imagine, just visit the members' area today and sign up for an account. Lots of delicious lesbian porn sites as waiting for free as well once you've become a certified member.
The movies and the girls
Chloe has a perfect body which would surely give you a rock hard shaft or flowing warm jizz between your legs. She is so nice to look at with her freshness and lively demeanor. She can easily make you feel that lesbian sex is the most delicious thing in the world! She performs masturbation as good as a pro and she can make you want her right there and then.
Chloe loves to dress and undress. She has a good fashion taste and teasing is her art. Once she starts stripping, you shouldn't miss even the simplest of details. Good camera angles will show you perfect shots. Sex toys being sucked and licked by her also adds to the thrill and excitement. Once she can't get enough of pleasuring herself, she wildly goes out in the open and hunt for a willing lesbian lover who wants to make love with her. The passion between Chloe and the performers is strong and inviting. You would surely scream with pleasure from deep kissing, sensual fondling and horny lovemaking.
In few words
ChloeCoed is the hottest stop for lesbian porn sites with breathtakingly beautiful models all in one package. A membership pass here gives you unlimited access to the archives of the most erotic and high def lesbian porn sites. There's a great mix of lesbian cravings fantasies here, from Chloe who knows how to lick pussy and suck big titties to her naughty friends hazing new members in hot group sex to oral sex and more! This is really one of the wisest porn investments you can make today!
This site has been closed, have a look at this good lesbian porn sites selection!
Check out the other best porn paysites OR read more on Chloe Coed from other popular review sites.