Introduction
Have you ever been to one of these bachelorette parties where there are girls all dressed to kill drinking and having fun then walks in a guy who starts stripping and in their woozy stupor the girls cheer him on and make loud noises? Most of us have been to one of these wild parties where the girls are in control and the guys are made to do ridiculous acts just to entertain the girls. Of some people, this is a huge fantasy; being in a wild party where men are subdued and taunted while they are naked. This is the idea behind the clothed female and naked male line of porn. It is all about putting the women in a position of power where they make the men do their bidding n o matter how dirty. Or some people, watching this happen is a huge turn on and that is a reason why many clothed females naked males sites have come up. One of such sites that have gained a huge following is cfnmshow.
Cfnshow is a site that features a host called Miss Pepper. Miss Pepper goes around town with her production crew interviewing men and trying to get them to go naked for her group of friends. Some of the men are genuinely turned off while others are happy to give it a try. When Miss Pepper finds a guy who is willing to put on a show, she gets her girls together for a time of fun. As they make the guys do just about anything, they stay clothed all the way while the guy remains naked. The idea is to put the guy in a position where their control is taken away from them and what better way to do that than to get a guy to stand naked before a bunch of clothed females. Sometimes, Miss Peppers negotiating skills are so good she manages to convince more than one guy to come play with the girls. Most times, the show takes place in public places with some onlookers following every detail. When the girls are together, the guys are made to take off their clothes and asked to do certain acts. Sometimes the girls play games with the guys.
For example, in one scene, Miss Pepper brings a couple of guys and ask the girls to imagine the shape of the dicks as well as how big the dicks were. This they were to do before the guys undressed. They were handed drawing boards on which they were to draw the expected shape of the guy's penis. Most times the girls are really enjoying themselves and the guys are left to play with their cocks and get a hard on. However, as the girls tease the guys they make sure to do it in such a way that it will help the guy gets arouse. Sometimes, if a guy has been good, they will reward him by letting him cum in their faces. These are some of the videos that members will have access to, however, you who is just visiting on the site may not get to see much. As such you may have to click on the join button to follow the steps to become a full member.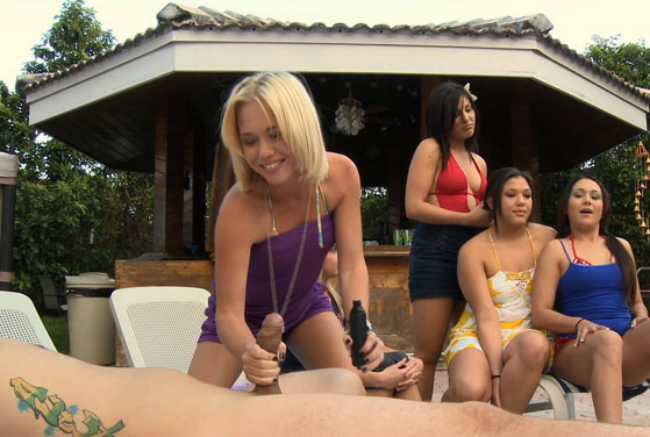 Site specs
The cfnmshow is part of the big bang bros network as such when you become a member, anytime you sign in, you will be redirected to the big bang bros site where you will have to click on the logo of cfnmshow to get to the site proper. As you enter the site, you will be impressed by the bright colour pictures that feel the home page. Most of these pictures are scenes from some of the footages that are on the site. You will see pictures of guys naked with a rope tied to their cocks while the girls tug on the rope. You will find pictures of naked guys working in a hair salon and giving the girls a hair shampooing. Sometimes the guys will be taunted and teased and as they cum, the girls will collect their jizz in their hands.
The movies and the girls
The models on this site are all professional models and most of them are easily recognizable from other porn movies. They are hot and sexy and love to party wild. These girls that could be anything from a brunette to a blonde are all happy to have men in submissive positions. They love to see the men being teased and naked. While the men remain naked, these wicked naughty girls remain clothed hence ensuring that they succeed in their plan to subdue the men. In the videos, you will find them playing with the guys cocks and using sticks and objects to measure the length or girth. You will find them eating from a human table which happens to be a naked guy.
In other scenes, they will make the guys wear some funny dress and make them parade about in public with it. The interesting thing about these videos is that they are all shot in public with onlookers watching on with awe. The site producers know how to choose their shooting locations with most being in some exotic place. There are about thirty of such cfnmshow videos on the site all of which last at least 20 minutes. These videos that are all shot in HD can be downloaded or streamed depending on the member. There are also photo sets available and these too can be downloaded in zip format. As a member of this site, you are free to download as many videos as you so, please.
In few words
If you love the clothed female and naked male kind of porn, then cfnmshow is a great place for you to find quality videos.