Introduction
Do you have a thing for lanky dudes with bodies that look almost like a girl's? Imagine them getting huge, veiny dongs up their asses. How about one more? I don't know about you but the cute twinks at BoysDP certainly love getting rammed in their tight hole with two monstrous dicks! Twinks and barely allowed age dudes getting hot and heavy while engaging in threesome and enjoying themselves in juicy double penetration, that's what BoysDP is all about. It's one the very few porn niche sites that's dedicated to offering exclusive HD content featuring horny twinks getting rammed in the ass by two huge dongs. Yes, behind those innocent-looking faces is a horny cutie who loves to play with two cocks at once!
Every aspect of the DP scene is explored, from glomping and sucking double dicks, all the way to taking in two into a single asshole. There's nothing these cuties can't do for a taste of yummy dicks and thick loads of jizz! The site has been around for quite some time now but surprisingly, there are only about 10 HD episodes in their collection. It might not be enough for hardcore porn lovers which is why becoming a BoysDP also gives you the privilege to access hundreds of erotic sex stories and 4 bonus sites, including BoysFingering and BangedBoys. Just like BoysDP, these sites feature more bareback sex and hot, cum-starved guys. While these sites don't have a large collection of gay porn either, the content are impressively naughty and arousing so make sure to check them out while waiting for fresh content releases from BoysDP.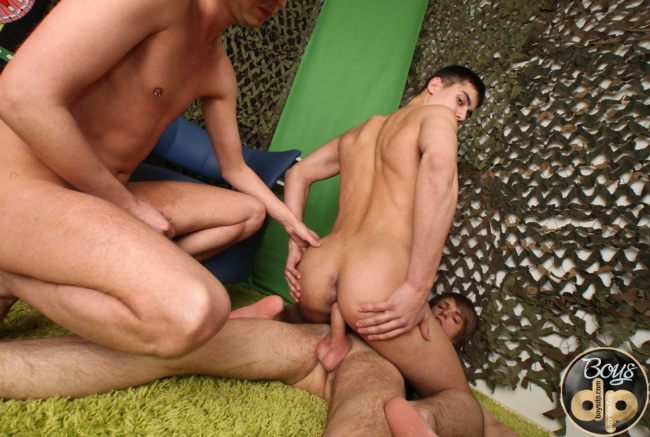 Site specs
I was already familiar with gay double penetration but most gay porn sites usually highlight a guy getting fucked in the ass by one of his fuck buddies while the other guy jams his cock in the mouth. BoysDP is a little different in that it showcases real and raw DP action featuring cuties getting two huge schlongs at once in his tight hole. It's not something I see on a regular basis, and the fact that these boys can take in such monstrous dongs in their super-tight orifices is simply amazing, if not too arousing! There are no apparent issues with streaming and downloading their videos, although I can't deny the fact that loading speed is slightly slower than I would've liked.
I have to give them credit though, for creating a site with a nice and user-friendly interface that's well thought-out and visually pleasing. Most porn sites these days won't bother making their website design visually attractive but in the case of BoysDP, both the site's layout and the content are just as impressive. Perhaps the only issue I have here is that they could use some basic search tools, though I think that's unnecessary at the moment since there's not a lot of content to peruse. Overall, navigation is easy and simple. While BoysDP is a bit lacking in content, I can't deny the fact that each episode is produced with careful attention to details and are clearly created by directors who are experts in this niche. If you think you need more DP goodness, make sure to check out their steamy sex stories, as well as the bonus sites.
The movies and the boys
BoysDP serves up cute, well-hung Eastern European twinks with uncut dicks. And guess what? They love to engage in hardcore threesomes! Each video you'll find here contains steamy bareback DP sex, which is the site's main meal. These cuties are so eager to get dicks hard, they'll do anything to get rammed in the ass not just by one but TWO veiny shafts! While the number of videos are disappointing, I can't deny the fact that the quality of the videos and the performance of these cute models still encourage me to hold on for more updates to come. So if you don't mind a few collection, BoysDP is worth considering. The good news is that members have the option to download or stream content. You can download them in 3 different sizes in WMV format, with the largest playing at a crystal-clear 1080p. Sound quality is just as impressive, with not a lot of dialogs but plenty of arousing moans coming from these twinks getting ass-fucked.
Most of the episodes were filmed using a handheld camera, with a number of juicy close-ups, as well. When watching the videos online, keep in mind that you need to memorize your username and password because you have to re-enter it over and over again. Honestly, it's a bit of a hassle and I hope BoysDP does something about it to make the porn-viewing experience a lot more convenient and hassle-free. You can opt to watch the videos in full or in a series of clips. You might need to use a media player for some browsers, though. And just like the downloaded version, the streamed movies are available in 3 different sizes, up to 1080p. There are over a dozen photo sets here in this site, some of which contain screenshots taken from the videos. Some of them also have actual photos. All in all, you'll get around 250 stills that show at 1280×853 or more. These are high-res photos that you can enjoy in hands-free slideshow. If you're an avid photo collector, you can also download and save them individually or in bulk, in ZIP files.
In few words
While I didn't really find any major issues with BoysDP, I found download speeds to be a little slower compared to most other porn sites. There's wasn't a lot of content either and without the bonus sites, it might not be worth signing up for at all. I would definitely love to see some improvements in the weeks or months to come, and members could really use a fixed update schedule so they'll know when they can anticipate fresh content. With all that said, I have to commend this site for offering some very unique content, especially for gay porn fans who want to steer away from the usual sleazy-guy type of homo sex. It's all twinks with slender bodies here at BoysDP, and they all love gay DP to boot! I have no qualms with the quality of their content and their models, and if the site gets a few improvements in the future, I'd definitely recommend it to every gay porn lover out there. If you're patient enough to wait for the site to grow and you like the bonus content, then BoysDP is definitely worth taking a closer look.