Introduction
Top foot fetish porn site, Ballet Flats Fetish is undoubtedly a perfect match for you if you are a fan of sexy girls with delicate feet and flawless legs. Unlike most foot fetish collections that throw in some hardcore sex scenes and nudity in the mix, this porn site stays true to its niche by offering videos and photos that are solely dedicated to girls wearing ballet flats. They simply wear these classy shoes and go on with their usual business. They also toy with it in such a sexy manner that would have you panting in erotic excitement. The videos and the photos are all in full HD and once you've become a certified member, you can enjoy everything via streaming or downloading.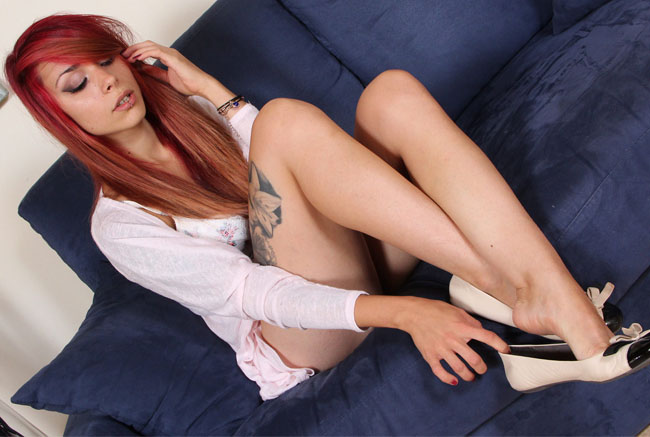 Site specs
There is no question about the site's main theme, they know what they offer and they stick to it. So, how about the technical aspects? For a porn site that is still in the process of making it big, the official website of Ballet Flats Fetish is pretty impressive. It comes friendly and welcoming with its vibrant and alluring visuals. The sample photos and video previews on the tour are more than enough to show you that this site is the real deal when it comes to ballet flats. The color scheme evokes a feminine vibe that makes the scene look more passionate and more exciting.
You might notice that the site lacks an advanced search tool, however, there are a handful of options that can help you browse everything without going in circles. There is a main menu that has the content organized and labeled for easy access and viewing. You can choose to watch the scenes at random or do it in a customized manner. Aside from the available videos, you can even spice up the experience by purchasing what the models have worn on the videos. Right after uploading the scene, the creators also upload the actual ballet flats, pantyhose, stocking, and other costumes that the models have used on their online shop. However, you can only access the merch store if you're a member. So, you better sign up if you want some of that stuff delivered discreetly right on your doorstep!
The movies and the girls
Ballet Flats Fetish has European models, mostly Italian darlings who are just in their early twenties. They are no ballerinas nor professional porn models, but they certainly have the charm and appeal that would draw you in and more. In the videos, you'll often see these girls in different settings and scenarios wearing their ballet flats, mostly complemented with stocking or pantyhose and some really nice dresses. There's always an erotic instrumental piece playing in the background which makes everything look sexier and intriguing. The scenes give you a combination of shoe-clad and bare feet.
In few words
The name of the porn site tells it all. This foot fetish collection is all about pretty girls wearing ballet flats on different occasions. It is devoted to the niche, so don't expect that the scenes would change halfway and you'd find the hot girls taking off their clothes. But even if you don't get to see tits and pussies, you'd surely have the time of your life if you're a sucker for foot-oriented xxx materials!

Check out the other best pay porn sites OR read more on Ballet Flats Fetish from other popular review sites.