Introduction
One way to spice things up in anything you do is by being part of something new. You can add a whole new itinerary to your adventures or you could be part of a new group. You could take up a new hobby or you could learn something new entirely. Anything that takes you out of your comfort zone will help you get back on your feet. Porn sometimes gets boring now that many producers try to emulate the same kind of sex over and over again. But there's a new kind of porn that's taking the world by storm.
Badoink VR is the place to be to experience porn in a whole new light. Virtual Reality is a new way to experience porn as if you were in the future today. If you've ever wanted to know what it must be like to be in a room with the porn star of your dreams then VR is the way to go to experience that. So, let's take a closer look at this website to fully appreciate what virtual reality has to offer.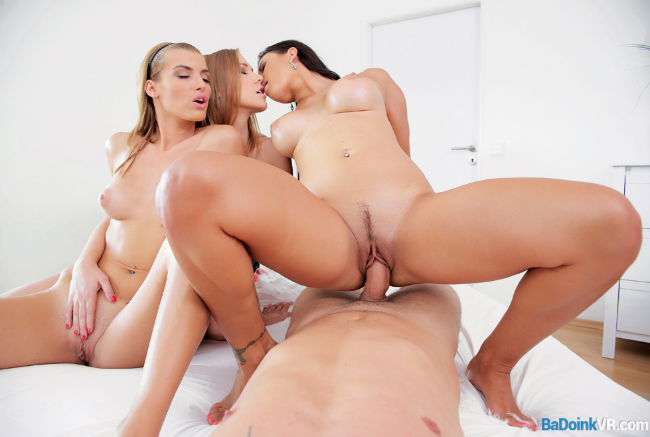 Site specs
Badoink VR is designed like any regular website on the internet. It is meant to convey a sense of freshness since this whole new gimmick of virtual reality is something that not everyone has had experience with. The goal of the site is to bring this whole new world of virtual reality porn to the world and the website adheres to that goal pretty well.
The home page starts out with the typical huge banner on top with a lovely lady ready to get some action going on. There is a box on the left that states: joining the crew and becoming one of the users of the site will warrant you free Google Cardboard that serves as the virtual reality goggles your smartphone needs for the VR experience. This fits on most smartphones to a T and helps you get into the future.
Every video on the site was shot in 360 stereoscopic angles, meaning that every video you find yourself diving into gives you the whole 360 degrees view of the video. So you can turn your whole head backwards and still find yourself in the virtual world without a hitch. All the other amazing VR devices like the Oculus, HTC Vive and even the Playstation VR headsets are compatible giving you a taste of all the videos on the site no matter what kind of VR gadget you use.
The movies and the girls
The standard of good porn not only comes from its amazing video but also from its gorgeous starlets. The girls are the true selling point of any porn video out there and Badoink VR makes good use of its amazing videos by bringing out the hottest names in the porn industry to the stage. Both porn veterans and rising starlets have come together for a sexual frenzy that's out of this world here in this porn site.
First name to take center stage is August Ames. She is the sexual goddess whose name resounds in the world like a beautiful song by a siren. This bombshell is known for her crazy antics and making them work like no other porn star can. Using her drop dead gorgeousness to her advantage, August is out to set the world ablaze with her fiery libido. Her beautiful curves could kill a man, taking his heart by stripping his clothes right open. August is a girl to look out for in the amazing world that Badoink VR has to offer.
Next up we have the darling Gina Gerson who looks just as sweet as she sounds. This lovely lady can take on a dick like a pro and her tight and slender physique could very well be anyone's favorite aspect of Gina. Her smile lights up the room any day and her pussy could get a dick hard in no time. Gina's auburn locks accentuate her smooth and beautiful face so well as she sucks on a cock like the true porn star that she is.
Lastly we have the sultry sex kitten Aidra Fox who will knock you out with just one look. This girl has mastered the art of seduction and her looks could very well be your own demise. You will be sucked into the lust filled hell that she made especially for the likes of you! A demon in disguise, Aidra Fox is one hot lady whose curves are men's Achilles heel. She is such a fun dame to look at and seeing her up close and personal the way that VR does is stunning. Keep your eyes on the prize as they say and her body is like that trophy you've been dreaming to have. So, come and join Badoink VR to have that one night stand feeling with Aidra and the other girls today!
In few words
This porn site is a revolutionary website meant to give the world a taste of the future today. Virtual reality might just become a staple in the porn industry tomorrow so, having a website that was made to bring this amazing technology to us now is quite a treat! Subscribe to Badoink VR today and be treated to amazing perks such as weekly updated videos of the hottest famous porn starlets of today, a 360 view of the virtual world in your porn and just being part of the future in this amazing world of virtual reality. Enjoy it all here at Badoink VR!